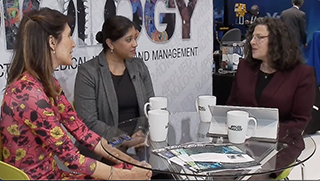 Dr. Nina Kottler from Radiology Partners in El Segundo, California, and Dr. Tessa Cook from the University of Pennsylvania in Philadelphia are leaders on the forefront of using Artificial Intelligence (AI) to transform their radiology practices, and they are passionate advocates for advancing women's careers in radiology leadership roles.
As more radiologists implement artificial intelligence (AI) solutions into their practice, the demand for AI experts has grown exponentially.
Yet one report has found that only about 22,000 PhD-educated researchers in the world are capable of working in AI research and applications, with just 5,400 knowledgeable to take AI from research to practical application. These numbers are made even smaller when we look at women in AI. It's estimated that only 12% of leading machine learning researchers are women.
In addition, only one in three radiologists is female; women and people of color in leadership roles are even fewer. According to two expert radiologists, these statistics underscore the need for greater representation in both the clinical field and the research roles behind AI.
"Diversity isn't something that we need to just talk about, rather something we need to take action on," said Nina Kottler, MD, MS, a radiologist and Vice President of Clinical Operations at Radiology Partners, headquartered in El Segundo, California. @RadKottler "Let's learn what's holding back the number of underrepresented minorities in our group that's causing us to lose the diversity in culture and in thought and innovation, then ask how we tackle those".

Nina Kottler, MD
Tessa Cook, MD, PhD, an Assistant Professor of Radiology at the Perelman School of Medicine at the University of Pennsylvania in Philadelphia, agrees that a focus on diversity is key to moving radiology ahead, especially as it pertains to AI.
"Studies show that diverse opinions can help effectively solve any problem, and we need that diversity in medicine as well as in AI," Dr. Cook said. @asset25
Dr. Kottler believes radiology is ready for a disruption, especially when it comes to women, and AI could unlock that door.
"We don't have enough radiologists, and we don't have enough time to do all the work we need to do. AI is a disruptive force that can help move us forward both from a quality perspective and from an efficiency perspective," said Dr. Kottler.
AI is Transforming Radiology
Dr. Cook and Dr. Kottler discussed how AI is transforming radiology with improved patient outcomes and workflow efficiencies with Dr. Erin Schwartz at the Applied Radiology at RSNA. They said AI is poised to impact every phase of workflow, from the time an order is placed, to scheduling of the patient, and on through protocoling, acquisition and reconstruction of images, reporting, follow-up, and quality assurance.
"Every step of that process can be optimized and affected by AI. I think we're very early on, but there still are some areas that are showing a lot of promise," said Dr. Kottler.

Dr. Cook believes AI could help clinicians communicate with each other and with patients, echoing similar thoughts from Dr. Teresa Martin-Carreras' Fast Five presentation during #RSNA19 on "Patient-Centered Care and Radiology Reports." @DrTeresaMC
"Every step of that process can be optimized and affected by AI. I think we're very early on, but there still are some areas that are showing a lot of promise that could generate an interpretation for the patient, with explanations of what everything in the report means," said Dr. Cook. "It would be really exciting to have to have tools that could help us better communicate with patients."

Tessa Cook, MD
As co-director of the of the new Center for Practice Transformation at Penn Radiology, Dr. Cook uses her background in imaging informatics to evaluate a variety of AI tools. When she hears that an algorithm has outperformed a radiologist, she's quick to remind herself and her fellow radiologists that most AI tools are still in the prototype stage and, by definition, a prototype is "a primitive version."
"The goal of AI is to improve the experience for the patient, the radiologist, and the referring physician. Part of that is critically evaluating AI tools and putting them through their paces," said Dr. Cook. "Just because it worked really well with one set of data at one location doesn't mean that tool will translate to the rest of the world. It just shows that we really need to test these things out."
The Importance of Sponsoring Women in AI and in Radiology
Drs. Kottler and Cook recently participated in an all-female panel at a leadership summit to discuss AI and expanding the role of women in health care. "I looked out and realized there were more women on the stage than in the audience," said Dr. Cook.
Both doctors say this dearth of women highlights the need for women not only to choose radiology as a profession, but also to rise to leadership roles – particularly when developing and choosing AI tools for their practices. With a background in applied mathematics and optimization theory, Dr. Kottler uses imaging informatics to improve quality and drive value in radiology. She credits Dr. Geraldine McGinty with mentoring and sponsoring her throughout her career. @DrGMcGinty
"Frankly, Geraldine McGinty is why I'm in imaging informatics. She started mentioning my name and getting me involved in different committees, and now I have the opportunity to make an even bigger impact because someone else advocated for me," said Dr. Kottler.
The ultimate outcome of their relationship is recoMD, a clinical decision support tool that Dr. Kottler created for radiologists at the point of dictation. The AI tool is incorporated into the workflow and alerts the radiologist to evidence-based best practices and billing conditions before signing off on their report.
"recoMD takes the information from the dictation and combines it with metadata about a patient and the exam that the radiologist doesn't have to dictate. Based on the pathology that we're dictating, recoMD provides the best practice recommendation follow-up, which is population health evidence-based," said Dr. Kottler.
The tool is deployed across approximately 300 radiologists within her practice, with the potential to affect costs, improve patient care, and prevent radiologist burnout.
Dr. Cook is paying it forward by creating a new fellowship program at Penn. In the seven years since its inception, the program has graduated 30 fellows and has 10 more fellows – mostly women – in the pipeline. "This is the first year in six or seven years of the program that women actually outnumber men in the fellowship, which is really exciting," she said.

Tessa Cook, MD
With these kinds of programs and projects in place, Drs. Cook and Kottler expect AI to support all radiologists in improving workflow efficiencies and patient care. But no matter how effective AI tools become, they believe AI will never be able to fully replace radiologists. In fact, AI will make radiologists' jobs more important and impactful than ever.

Nina Kottler, MD
"We're coming into a time in radiology that is so exciting," said Dr. Kottler. "Radiologists' jobs will change, but they can change for the better. We're going to provide better patient care and do it in a more efficient way."
View the entire discussion with Drs. Cook and Kottler, along with Applied Radiology Editor-in-Chief, Dr Erin Simon Schwartz, who cover the topic of women in radiology leadership, as well as how AI is transforming radiology workflows and patient outcomes.
Back To Top