Breast Biopsies and Diagnosed Cancers Declined During COVID-19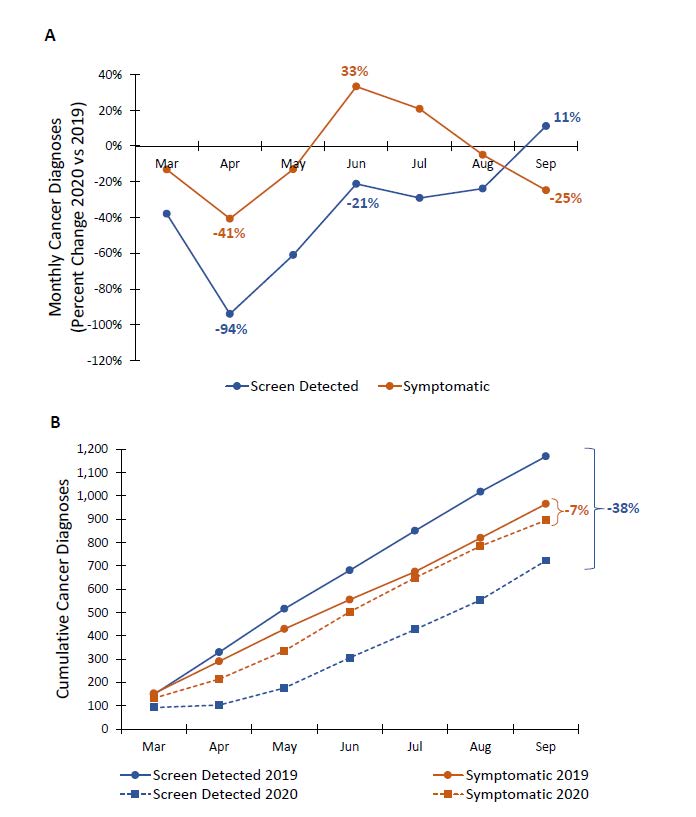 In spring of 2020, the COVID-19 pandemic led to an unprecedented decline in the use of preventive health care services. Some of the greatest reductions were seen in cancer screening services, including mammography. In a new study published in Radiology, researchers found that from March to September 2020, there were substantially fewer breast biopsies with cancer diagnoses compared to the same period in 2019. The largest decline was seen in Asian and Hispanic women, followed by Black women.
Key study results include:
In this secondary analysis of prospectively collected Breast Cancer Surveillance Consortium (BCSC) data, 24% fewer breast cancers were diagnosed from March to September 2020 compared to 2019 (1,650 versus 2,171, respectively), largely due to fewer screen-detected cancers.
Declines were largest among Asian (67 in 2020 versus 142 in 2019, 53% fewer), and Hispanic women (82 in 2020 versus 145 in 2019, 43% fewer), followed by Black women (210 in 2020 versus 287 in 2019, 27% fewer).
"Despite the swift return to pre-pandemic monthly volumes, as of July 2020 year-to-date screening and diagnostic mammography examinations in the BCSC were only 66% and 80% of expected volumes, respectively, indicating a substantial deficit in breast cancer screening accumulated during the early stage of the pandemic," the authors wrote. "Moreover, these deficits were largest in Hispanic and Asian women, adding to existing evidence that the COVID-19 pandemic has disproportionately impacted minoritized racial and ethnic groups."