In the magnetic resonance imaging (MRI) setting, understanding how biomedical implants and devices impact patient safety is critical for radiologists and MRI technologists. Improper patient screening for these items can result in serious consequences, including tissue damage, burns, unintended stimulation, and even death.
"The preservation of a safe MRI environment requires healthcare professionals to be particularly attentive to the management of patients who have implants and devices. For this reason, a considerable part of the MRI screening procedure involves identifying the presence of these items," says Frank G. Shellock, PhD, Director of MRI Safety at the Stevens Neuroimaging and Informatics Institute, and an Adjunct Clinical Professor of Radiology and Medicine at Keck School of Medicine, University of Southern California in Los Angeles where, among other things, he specializes in assessing implants and devices for MRI-related issues.
Dr. Shellock founded and maintains, www.MRISafety.com, an online international resource for safety information that includes content for thousands of implants, devices, and materials.
MRI-related Dangers for Patients with Implants
The electromagnetic fields used for MRI can create problems for patients with metallic implants that primarily include movement or dislodgement if the items are ferromagnetic and excessive heating if the objects are located within the area of the transmitted RF energy. Certain implants, such as those with electronic components (referred to active implantable medical devices or AIMDs) can also be impacted by RF-induced heating, as well as induced-electrical currents, resulting in patient injuries.
"The functional or operational aspects of some implants may be altered, or the devices can be temporarily or permanently damaged as a result of exposure to certain MRI conditions. In addition, artifacts associated with implants can either compromise the diagnostic capabilities of MRI or may be misinterpreted as an abnormality," says Dr. Shellock.
Medical implants generally fall into two categories: passive, which includes vascular clips, heart valve prostheses, shunt valves, and orthopedic implants; and active, which consists of cardiac pacemakers and neuromodulation systems with electronic components.
"For active implants, concerns may include unintended stimulation associated with the time-varying gradient magnetic fields and the potential malfunction of the device due to the interaction of the three electromagnetic fields used for MRI," Dr. Shellock explains.
MRI Labeling Intended to Reduce the Chances of Serious Injury
In May 2021, the FDA released a new guidance document, Testing and Labeling Medical Devices for Safety in the Magnetic Resonance (MR) Environment, which explains the terminology identifying medical items that can and cannot be permitted in the MRI environment. Accordingly, all implants and devices must be labeled as "MR Safe," "MR Conditional," and "MR Unsafe."
The term "MR Safe" refers to items that pose no known hazards in all MR imaging environments. These are nonconducting, nonmetallic and nonmagnetic items, such as standard Foley catheters and monopressure cerebrospinal fluid shunts, which are made from silicone and plastic. An item may be determined to be safe by providing a scientifically based rationale rather than test data.
The term "MR Conditional" refers to items that have been demonstrated to pose no known hazards in a specified MRI environment with specified conditions of use. These can include orthopedic implants, heart valve prostheses, bone fusion stimulators, programmable infusion pumps, and cardiac devices.
"Active devices, such as cardiac pacemakers and neuromodulation systems have highly specific MR conditional guidelines that must be carefully followed to ensure patient safety," says Dr. Shellock. "For example, there may be conditions specified for a particular implant placement configuration, or for special programming before and after the MR exam that must be followed." Furthermore, he says, "The specific conditions for the active implant must always be followed without deviations." The term "MR Unsafe" refers to items that are unsafe in all MRI environments.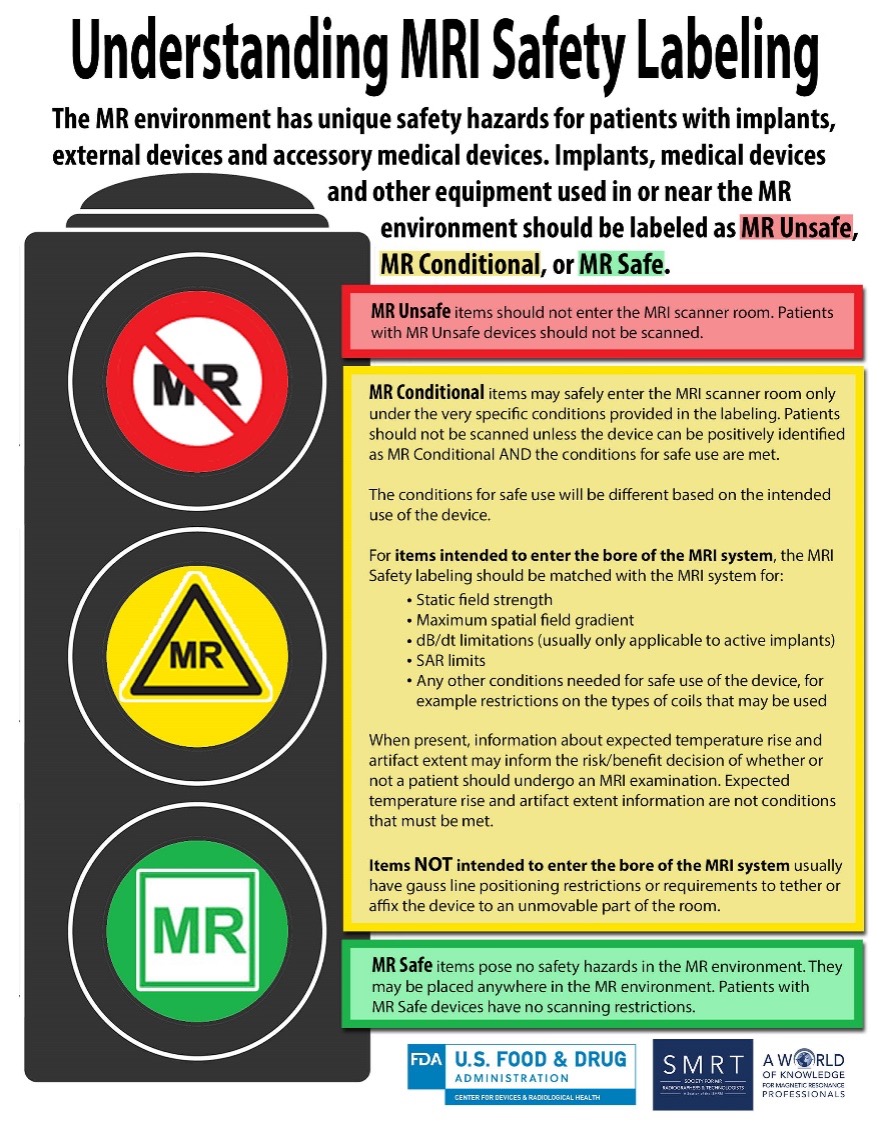 Table courtesy of the U.S. Food and Drug Administration (FDA)
in partnership with the Society for Magnetic Resonance
Technologists (SMRT). Download this poster here.
MRI Safety Recommendations
Dr. Shellock recommends that every facility review and update its implant policies annually to ensure continuous safety. The radiologist overseeing the MRI suite is ultimately responsible for patient safety, as well as any failure to ensure proper implementation and observance of safety directives.
"According to the American College of Radiology, the final determination of whether or not to scan a patient is to be made by the supervising physician or the MR medical director and, importantly, only a qualified physician should make decisions when it comes to managing patients with implants and devices," he advises.
Back To Top