Siemens Introduces New Systems that Push the Boundaries of MR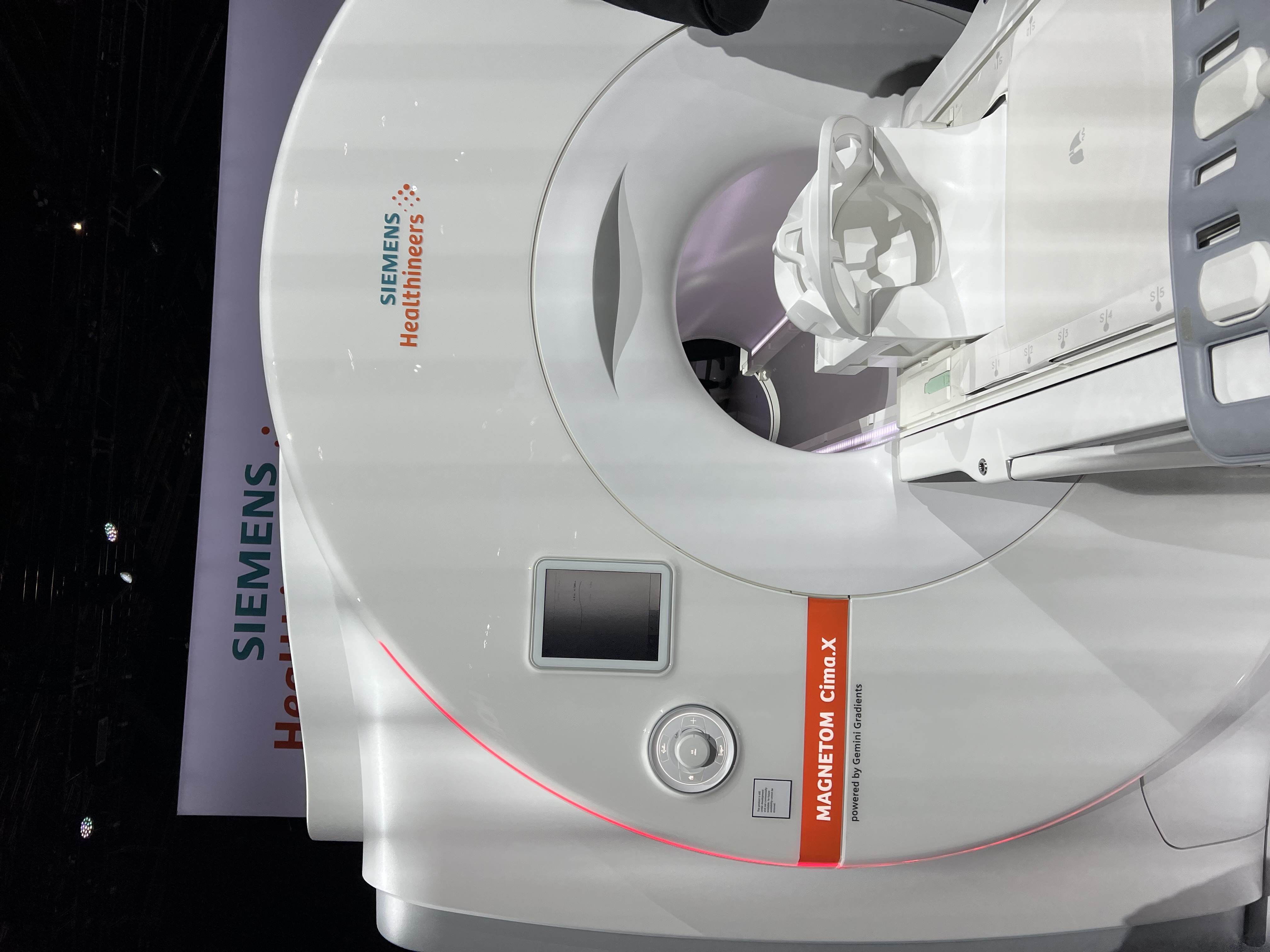 Siemens Healthineers is introducing three new MR systems at RSNA 2022, all of which are works in progress.
MAGNETOM Cima.X* is the company's strongest 3T system ever, featuring Gemini Gradients with 2001 mT/m at 200 T/m/s for an unparalleled whole-body performance. MAGNETOM Cima.X offers highly automated scan workflows with myExam Companion and Siemens Healthineers' unique BioMatrix Technology that automatically adjusts to patient biovariability. The system also includes Deep Resolve, the company's AI-powered image reconstruction technology that takes advantage of convolutional neural networks to accelerate MRI scans without a loss in image quality.
"The Cima.X opens up new possibilities in understanding degenerative diseases, identifying lesions and tracking and monitoring treatments for neurological cases. For oncology, it's a powerful system to diagnose cancers earlier, such as prostate cancer, and characterize lesions better," said Felix Müller-Witt, Global Head of Product Marketing MRI.
MAGNETOM Cima.X will enable clinicians to easily switch between complex scientific work and day-to-day tasks. "It's a great combination to be applied to both worlds of clinical practice and research capabilities," said Müller-Witt. "It pushes the boundaries of MR imaging with immense power, speed and high image quality."
The new MAGNETOM Terra.X* is the company's second-generation 7T scanner that features Ultra IQ Technology to deliver unprecedented image clarity, allowing clinicians to confidently assess the most subtle pathological details, particularly in neurological imaging.
"MAGNETOM Terra.X is the summit of what you can achieve in 7T scanning. It's like having a flashlight to look at different areas of the brain," said Müller-Witt.
Based upon the world's first dynamic parallel transmit architecture, Ultra IQ Technology results in unprecedented homogeneity and image quality at 7T. It combines three synergistic innovations throughout the transmit-receive continuum that jointly result in a new level of image clarity. This includes Dynamic pTx, the world's first dynamic parallel transmit architecture that will enable unmatched transmit homogeneity at 7T by individually optimizing eight transmission channels to each patient. On MAGNETOM Terra.X*, this revolutionary technology will deliver new clinical benefits through increased homogeneity.
The company is also showcasing the MAGNETOM Viato.Mobile*, a mobile 1.5T MR scanner that can be used for imaging in rural or remote areas and in temporary placement situations. Built on Siemens' most powerful 1.5T platform, MAGNETOM Viato.Mobile offers cutting-edge AI to accelerate and enhance clinical performance. "It offers all of our 1.5T technologies in a mobile system, with the same performance and image quality," said Müller-Witt.
RSNA Booth: 2529
*The product is still under development and not commercially available yet. Its future availability cannot be ensured.