Preliminary Safety, Feasibility Data from ReSPECT-LM Clinical Trial Presented at EANM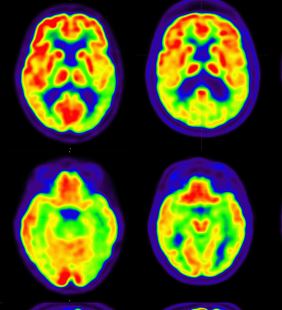 Data from two ongoing clinical trials evaluating Plus Therapeutics' lead investigational targeted radiotherapeutic, Rhenium-186 NanoLiposome (186RNL), in leptomeningeal metastases (LM) and recurrent glioblastoma (GBM), was presented at the 35th Annual Congress of the European Association of Nuclear Medicine (EANM). The Company's ReSPECT-GBM presentation was selected for inclusion in the opening Plenary Highlights Lecture.
"The findings presented at EANM indicate the potential for 186RNL in patients diagnosed with leptomeningeal metastases," said Norman LaFrance, MD, Chief Medical Officer and Senior Vice President at Plus Therapeutics. "Combined with our Phase 1 data in recurrent glioblastoma, these presentations reinforce the tremendous potential of 186RNL as a versatile radiotherapeutic treatment option for multiple CNS cancers."
The TOP Trials Oral Presentation titled, "Safety and Feasibility of Rhenium-186 Nanoliposome (186RNL) in Leptomeningeal Metastases (LM) Phase 1 dose escalation Trial [OP-759]," demonstrated:
The 186RNL dose administered through an intraventricular catheter at 6.6 mCi in 5.0 mL in Cohort 1 achieved absorbed doses of 18.7 to 29.0 Gray to the ventricles and cranial subarachnoid space, which was well tolerated with no treatment-related adverse events of greater than grade 1.
All four patients treated to date in Cohorts 1 and 2 were observed to have prompt and complete 186RNL distribution throughout the cerebrospinal fluid (CSF) subarachnoid space that was durable past 28 days and was well tolerated.
All patients showed a decreased CSF cell count by microfluidic chamber assay after treatment, ranging from 46% to 92%.
Cohort 2 in the ReSPECT-LM trial has commenced, with interim data from the first two patient cohorts expected by the end of 2022.
This trial is supported by the recently announced $17.6 million grant by the Cancer Prevention & Research Institute of Texas (CPRIT).
The Top Rated Oral Presentation (TROP) titled, "Safety and Feasibility of Rhenium-186 NanoLiposome (186RNL) in Recurrent Glioma: the ReSPECT™ Phase 1/2a Trial [OP-542]," reviewed data which indicate that:
Direct administration of 186RNL is safe in patients with recurrent GBM with no dose-limiting toxicities (DLT).
There is a statistically significant overall survival benefit observed with 186RNL radiation doses over 100 Gray. In 23 adult patients across eight cohorts of increasing dose and treated over a seven-year period, the improved median overall survival (OS) rates correlated with the absorbed tumor radiation dose.
Patients receiving a therapeutic absorbed radiation dose (>100 Gray) had a median OS of 129.7 weeks (95% CI of 35.0-169.1) compared to those receiving a subtherapeutic absorbed radiation dose (<100 Gray) whose median OS was 22.3 weeks (95% CI of 6.4-45.3).
The Company plans to initiate a National Institutes of Health (NIH)-funded Phase 2 study by the end of 2022 that will utilize cGMP 186RNL and leverage a higher dose and volume that could potentially show a greater survival rate in patients with recurrent GBM.