Philips Highlights Solutions for Managing Radiology Workflow at RSNA 2022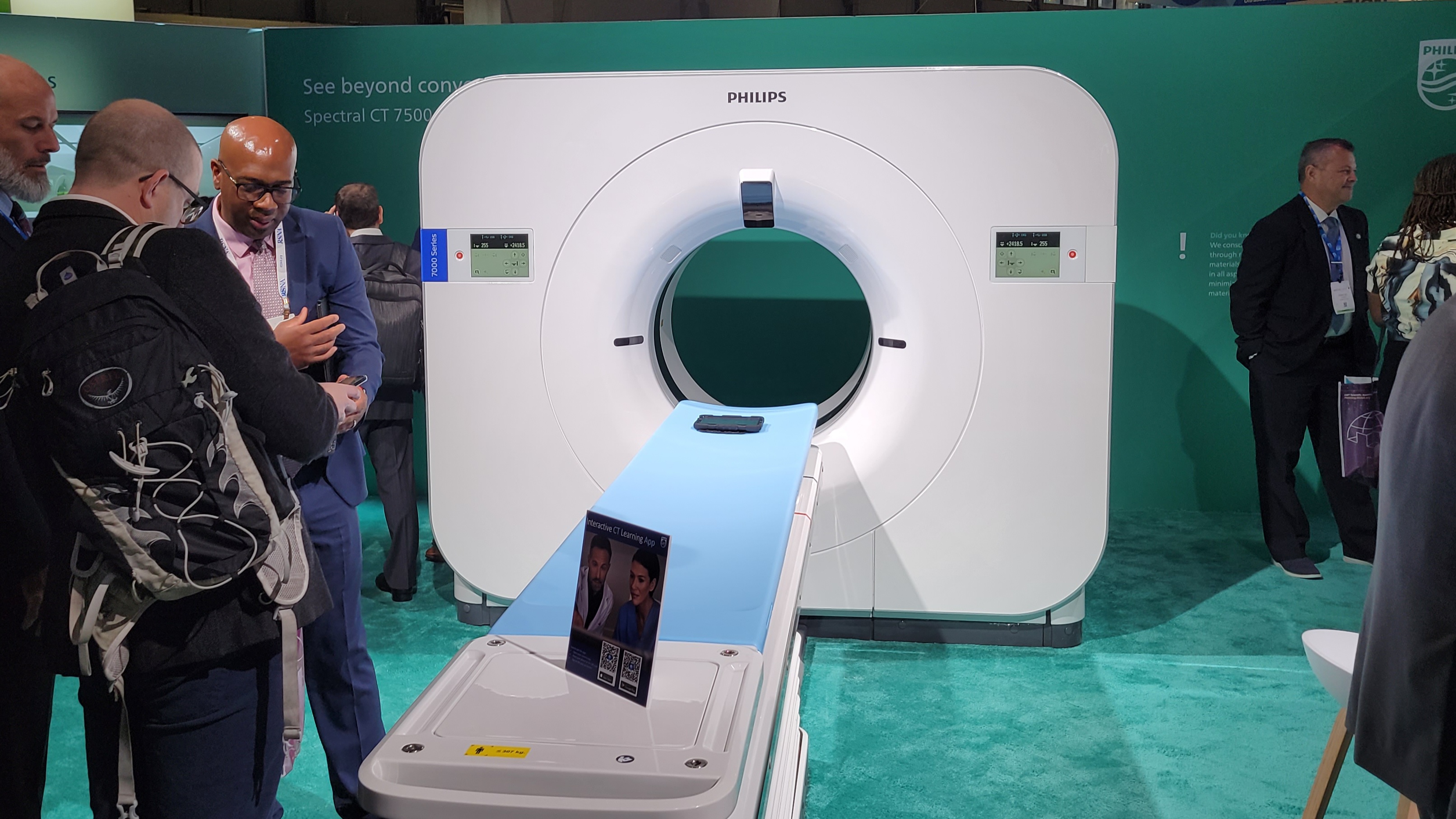 Philips is highlighting spectral imaging on its
Spectral CT 7500 scanner.
The challenges that radiology providers face in managing a growing volume of medical imaging scans is the focus of Philips Healthcare at this week's RSNA 2022 meeting. The company is showcasing solutions for better managing radiology workflow, while at the same time launching new systems in ultrasound, x-ray, and other modalities.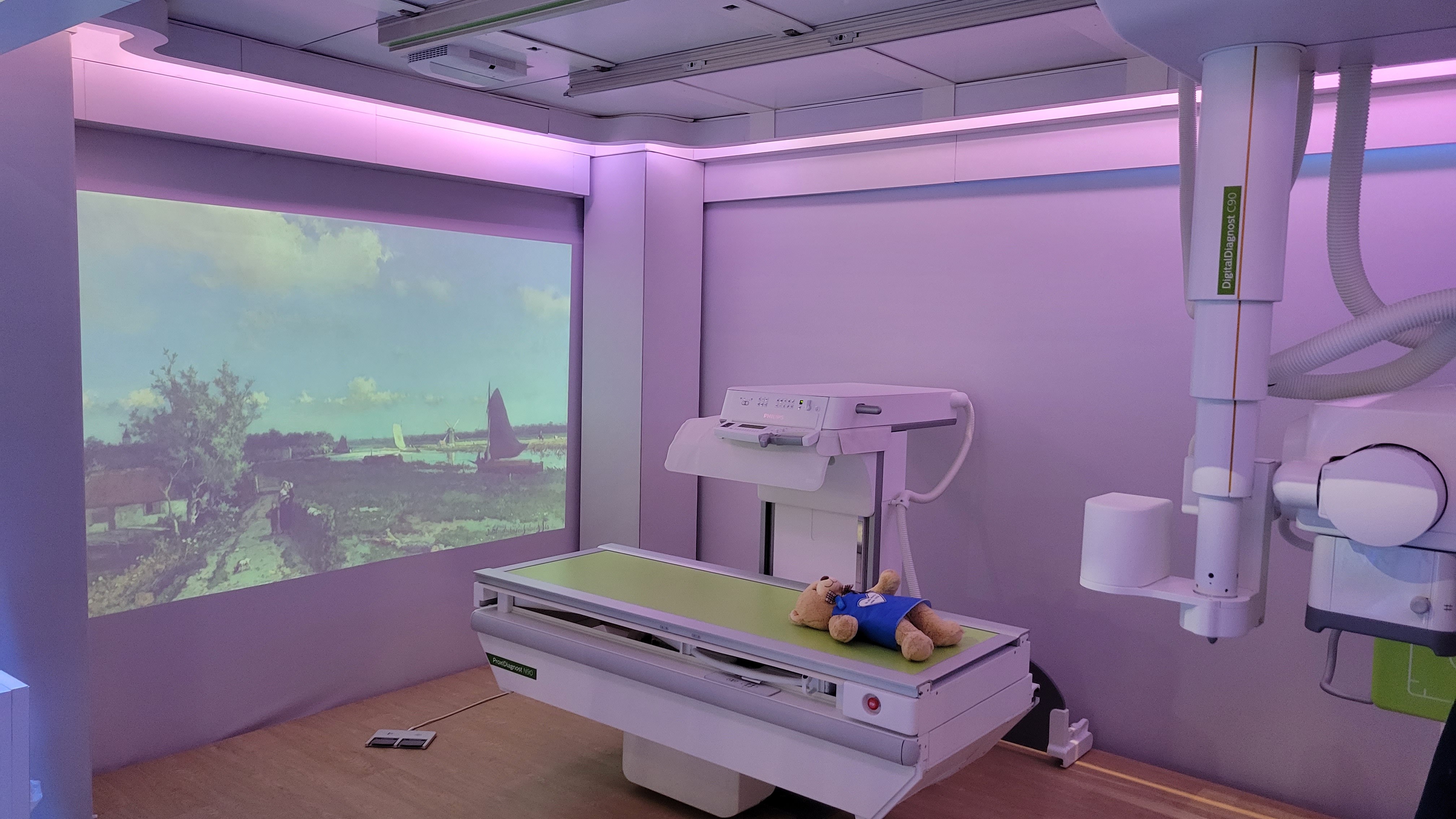 Philips is showing a combined radiography and
fluoroscopy room that combines its Fluoroscopy 7000 N
and ProxiDiagnost N90 systems, shown here with the
company's Ambient Experience concept.
A recent study commissioned by Philips found that 24% of radiology leaders who were surveyed said that their top data-related issue was managing the growing volume of data; another two-thirds said that their staff is overwhelmed by data overload.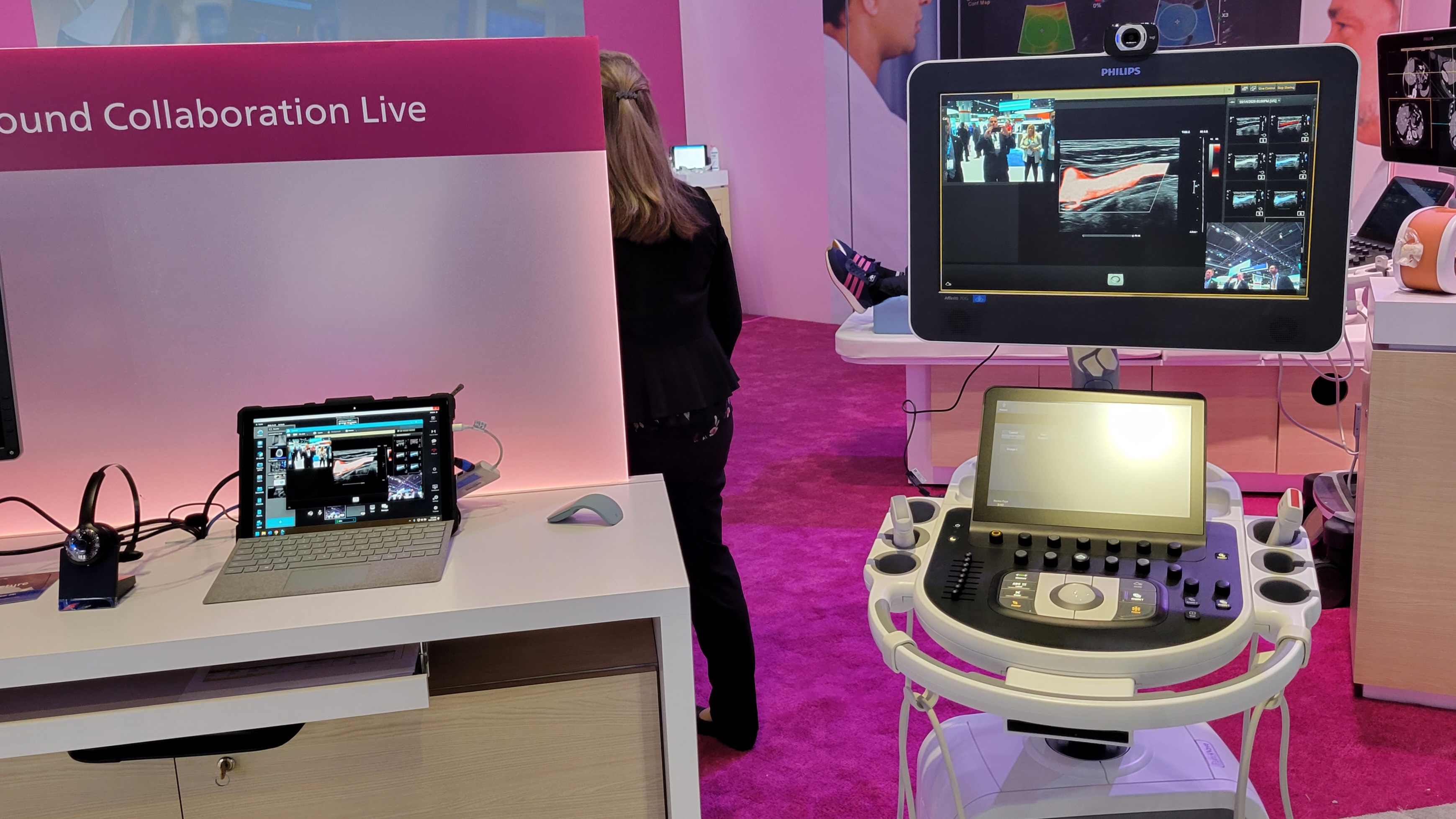 Ultrasound Collaboration Live uses video streaming
to connect ultrasound practitioners with experts
at remote locations.
One possible solution is Radiology Operations Command Center (ROCC), a virtual service that connects radiologic technologists at Philips customer sites with a centralized Philips facility staffed with experts who can see scanner protocols at the customer site and help radiologic technologists there with scans and training. The offering can help sites that are trying to manage rising imaging volume while simultaneously dealing with shortages of technologists.
ROCC is a "game-changing technology" that's helped reduce error rates, according to Dr. Lawrence Tanenbaum, chief technology officer at imaging center operator Radnet, which has been using ROCC at some of its sites.
Another Philips virtualization technology is being employed in ultrasound. Ultrasound Collaboration Live is a tele-ultrasound service that connects healthcare personnel performing scans in the field with experts at other locations. The technology is available on Philips' Epiq Elite and Affiniti ultrasound scanners.
In another development in the software realm, Philips has rebranded its IntelliSpace Portal workstation software as Advanced Visualization Workspace. The branding change reflects the fact that advanced visualization tools can now be accessed from all PACS workstations, as opposed to specialized computers, company executives say.
The company has also added new features to automate radiology reporting, and is highlighting PerformanceBridge, an analytics package that's designed to improve operations with real-time data analysis to help improve productivity and reduce costs.
Philips is also demonstrating a Pediatric Coaching application that's designed to walk children through an imaging exam, better preparing them for their experience and reducing retakes and use of sedation. The application includes modules for both kids and parents to complete that are designed to familiarize them with the process of an imaging exam, for example with games teaching them how to lay still during an MRI scan. Early reports from sites using the program indicate that it can reduce rates of pediatric sedation from 57% to 5%.
Apart from software, Philips is also demonstrating new scanner introductions and enhancements at RSNA 2022. One new system is in digital x-ray, where Philips is launching a combined radiography and fluoroscopy room that melds the company's Fluoroscopy 7000 N and ProxiDiagnost N90 systems. The systems share the same user interface to make them easier to operate in tandem, and the fluoroscopy system can be controlled from the x-ray tube head for added flexibility. In its RSNA booth, Philips is showing the combined suite as part of its Ambient Experience environment, designed to calm patients with mood lighting and calming visuals.
Compact 5000 is a new addition to the company's ultrasound portfolio that adds a removable cart-based scanner to a family that already includes the Epiq and Affiniti scanners. The new scanner shares the same user interface and transducers are Epiq and Affiniti systems, making training easier. When removed from the cart, Compact 5000 weighs just 23 pounds and can operate for 45 minutes on battery power when detached from the cart and for two and half hours as a cart-based system. The scanner was cleared by the U.S. Food and Drug Administration in October, and also supports Ultrasound Collaboration Live.
On the Epiq Elite ultrasound scanner, Philips is highlighting the Ultimate Liver Solution package for quantitative scanning to evaluate liver stiffness. The package combines with the company's PureWave transducers with new clinical software, while also giving the capability to fuse CT and MR images. The company believes the package could help avoid liver biopsies.
In CT, the company has made spectral imaging a centerpiece of its offerings, and at the meeting is showing the latest progress in spectral on its Spectral CT 7500 scanner. Users of the system are finding that it can reduce the time to diagnosis by 34%, while also reducing follow-up scans, by giving radiologists more confidence in their diagnosis.
In MRI, Philips is showing its MR 7700 scanner, the company's new 3-tesla magnet with a 70-cm bore and XP gradients; the system received FDA clearance earlier in 2022. The system supports 3D scanning and also includes VitalEye, an overhead camera that can help monitor respiratory motion. Philips has also announced a new software release for the MR 5300 1.5-tesla scanner.