Blue Earth Files for FDA Approval of Radiohybrid PSMA PET Imaging Agent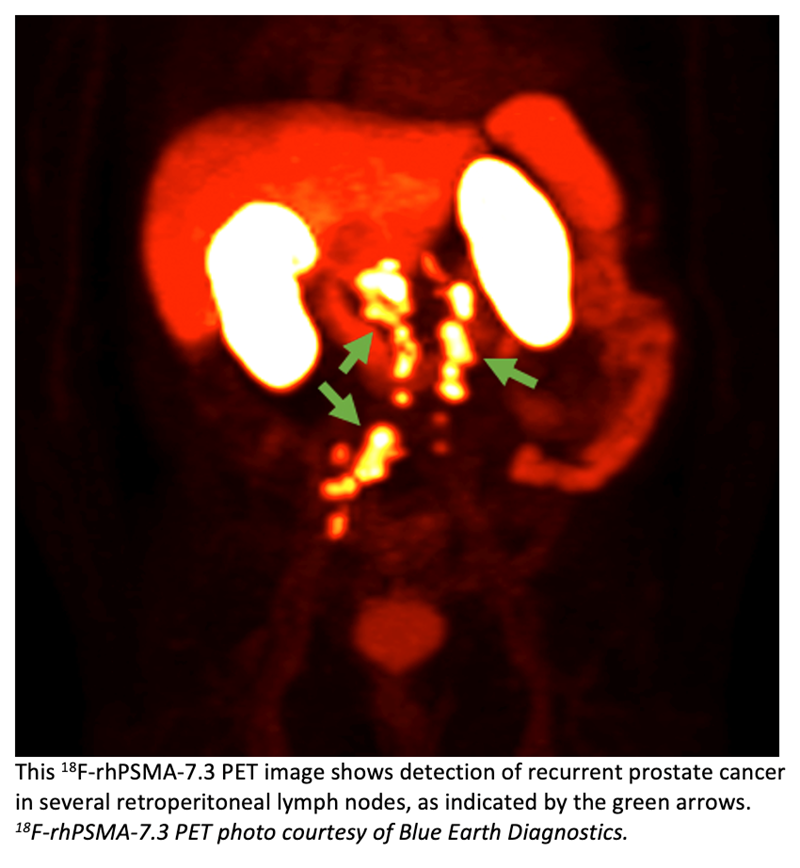 The US FDA has accepted Blue Earth Diagnostics' New Drug Application for 18F-rhPSMA-7.3, an investigational radiohybrid Prostate-Specific Membrane Antigen-targeted (PSMA) PET imaging agent. The submission is for the use of 18F-rhPSMA-7.3 PET for diagnostic imaging of prostate cancer. 18F-rhPSMA-7.3 is an investigational agent that consists of a radiohybrid Prostate-Specific Membrane Antigen (PSMA)-targeted receptor ligand which attaches to and is internalized by prostate cancer cells, and is labeled with the 18F radioisotope for PET imaging.
"This event marks a significant milestone in advancing our robust prostate cancer portfolio, and we are very pleased that the FDA has accepted our NDA submission for the use of 18F-rhPSMA-7.3 PET imaging in prostate cancer patients," said David E Gauden, DPhil, Chief Executive Officer of Blue Earth Diagnostics. "We look forward to working with the Agency throughout the review process, with the goal of having an approved product that is widely available and accessible across the United States. Subject to FDA approval, we believe that 18F-rhPSMA-7.3 PET imaging may be clinically useful in the management of men affected by prostate cancer across the care continuum. All of us at Blue Earth want to express our sincere gratitude to the many patients, physicians, clinical trial sites and collaborators who have worked closely with us to progress 18F-rhPSMA-7.3, and to having successfully completed our Phase 3 clinical trials despite all the challenges presented by the COVID-19 pandemic."
The submission is supported by clinical data from one prospective Phase 1 study and two prospective Phase 3 clinical trials sponsored by the Company. Blue Earth Diagnostics' Phase 3 LIGHTHOUSE trial assessed the safety and diagnostic performance of 18F-rhPSMA-7.3 PET in men with newly diagnosed prostate cancer in 356 patients. Key results from the LIGHTHOUSE trial will be presented at an upcoming medical conference. The Phase 3 SPOTLIGHT trial evaluated the use of 18F-rhPSMA-7.3 in 391 men with suspected prostate cancer recurrence based on elevated PSA level. Results from the SPOTLIGHT study have been presented at medical meetings earlier this year. Further clinical support for the submission included results published by the Technical University of Munich.
"Prostate cancer is a leading cause of male cancer-related death worldwide, and accurate localization and staging of the disease is critical in establishing optimal medical management strategies," said Eugene Teoh, MBBS, MRCP, FRCR, D.Phil., Chief Medical Officer of Blue Earth Diagnostics. "We believe that the performance of 18F-rhPSMA-7.3, its high PSMA binding affinity and potential for low bladder activity will make it a valuable diagnostic tool that is radiolabeled with 18F for high image quality and readily available patient access."