Study Finds FFRCT Improves Patient Outcomes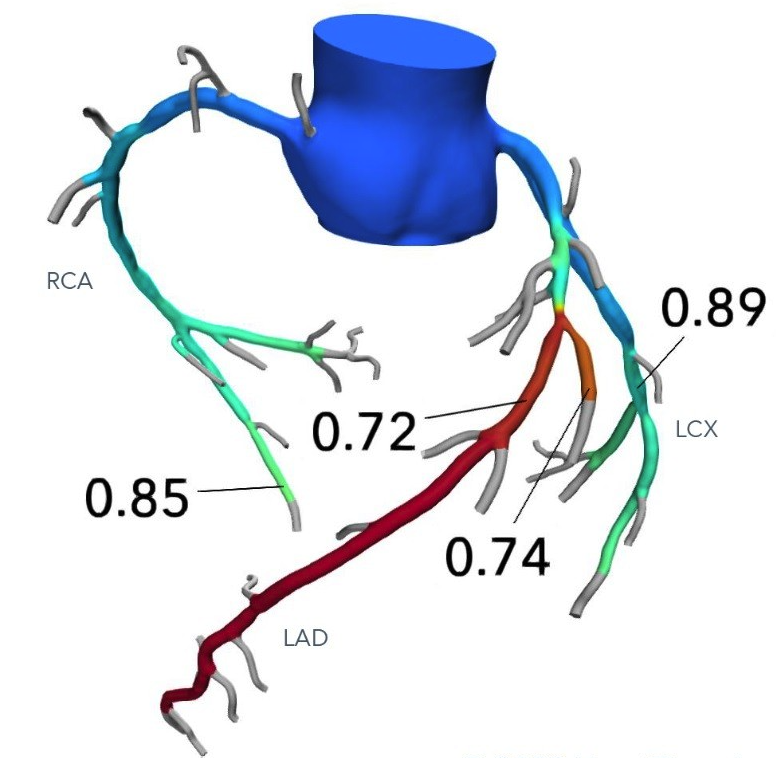 A clinical study has shown that FFRCT (Fractional Flow Reserve – Computed Tomography) significantly decreases cardiovascular mortality, reduces additional non-invasive heart testing, and increases cath lab efficiency. These results show a promising, new approach that benefits not only patients' health, but their pocketbooks.
Developed by HeartFlow Inc., FFRCT is a non-invasive integrated heart care solution that creates a 3D model of the coronary arteries used to help physicians detect blockages, as well as identify their extent and impact on heart function. It aims to be a new standard of care for the diagnosis and management of coronary artery disease (CAD) – the number one killer worldwide. CAD affects an estimated 16.8 million American adults and is one of the most expensive medical conditions to the U.S. health care system.
University Hospitals (UH) Harrington Heart & Vascular Institute's Daniel Simon, MD, and Hiram Bezerra, MD, PhD were the first to use this test in the US.
"This is another example of UH Harrington Heart & Vascular Institute's commitment to research and defining the future of medicine," said Mehdi Shishehbor, DO, MPH, PhD, President of UH Harrington Heart & Vascular Institute, and Angela and James Hambrick Chair in Innovation. "Every day, our teams work to find new treatments and approaches to reduce cardiovascular morbidity and mortality. Eight years later, our early adoption of HeartFlow's FFRCT technology has proven incredibly beneficial to our patients."
Now, promising results from a real world, multi-center, retrospective clinical study have been released. The National Health Service England conducted the two-year FISH&CHIPS study and presented its findings at the 2023 European Society of Cardiology Congress meeting in Amsterdam.
The study, involving more than 90,000 patients, was designed to assess at a national level the incremental impact of adding FFRCT to a CCTA-first (Coronary Computed Tomography Angiography) diagnostic pathway to evaluate and manage CAD.
FISH&CHIPS key outcomes associated with availability of FFRCT include:
A significant 14% relative reduction in cardiovascular mortality and a significant 8% relative reduction in all-cause mortality.
An increase in cath lab efficiency, driven by a 5% relative reduction in invasive cardiac angiography (ICA) and an 8% relative increase in Percutaneous Coronary Intervention (PCI).
A 14% relative reduction in additional non-invasive heart testing following CCTA.
High prognostic value for FFRCT whereby patients with severely abnormal FFRCT values (≤0.50) had a 2x risk of all-cause death and a 3x risk of non-fatal MI compared to patients with normal FFRCT
"FFRCT is indeed a game changer," said Dr. Simon, now President of Academic & External Affairs and Chief Scientific Officer, and Ernie and Patti Novak Distinguished Chair in Health Care Leadership at University Hospitals, as well as Professor of Medicine and Senior Associate Dean for Academic Affairs at Case Western Reserve University School of Medicine. "This technology has changed our approach to the diagnosis of coronary artery disease. We have embraced FFRCT as the first line, preferred test because it saves lives, reduces unnecessary invasive procedures, and increases cardiac cath lab efficiency."
Non-invasive tests are widely used to diagnose CAD, but studies have shown a need to improve their accuracy. Most other diagnostic tests provide information regarding a patient's overall risk of CAD, but they cannot help the clinician determine the extent to which a specific blockage is impeding blood flow to the heart. This missing piece leads to more testing and potentially more cost to the patient. HeartFlow's FFRCT technology is designed to address this unmet need.
"The nationwide CCTA-first approach for evaluating patients with possible cardiovascular disease has become the model of both clinical efficacy and efficiency, which is why clinical guidelines across the globe have adopted it," said Campbell Rogers, Chief Medical Officer, HeartFlow. "FISH&CHIPS demonstrates that the decision to incorporate the HeartFlow FFRCT Analysis into patient care extended the lives of many patients and ensured efficient and effective use of noninvasive and invasive testing and treatment."
The recent Prospective Randomized Trial of the Optimal Evaluation of Cardiac Symptoms and Revascularization (PRECISE) trial, which compared a non-invasive precision pathway to traditional testing, proved the CCTA+ FFRCT pathway to be a more effective approach in guiding and informing treatment. FISH&CHIPS confirms and extends these results at a population level, delivering marked improvements in the hard clinical endpoints of all-cause and cardiovascular mortality, extending patients' lives without adversely impacting other clinical events.