Quantively Developing Advancements to its AI-Driven Radiology Operations Solution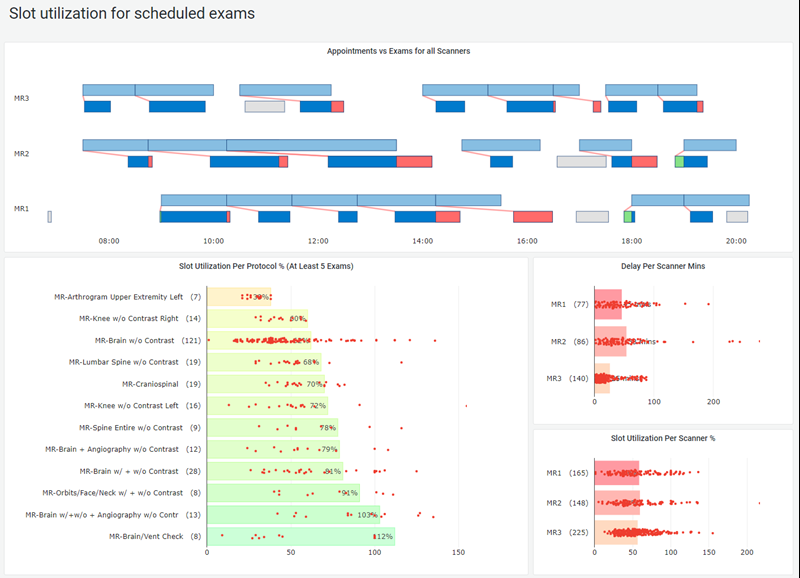 A spin-off from Boston Children's Hospital, Quantivly has introduced a platform designed to improve radiology operations and efficiency in medical imaging. By extracting image metadata and radiology information system (RIS) messages on-the-fly, cleaning and harmonizing it with the company's Harmonization Engine, Quantivly enables data to be fully query-able, building a new ontology that describes radiology operations.
Quantivly began shipping its platform in 2021, first focusing on analyzing MRI operations. The software tracks measures such as protocol duration, amount of time between patient scans, procedure repeat rates, and more. The platform is unique in its application of AI for radiology operations, not clinical diagnosis.
The company is now aggregating and harmonizing new data sources, including the support for CT devices and scheduling information (RIS-HL7), allowing comparison of what happened with a scan (from DICOM image and metadata) to what was scheduled (from HL7). The company plans to continue the expansion of data sources and then extend toward its digital twin vision with a simulation engine in 2023-2024.
Quantivly's platform is designed to help imaging facilities run more smoothly and delivers key insights to improve operational efficiency. The software goes beyond the manual measurement of key performance indicators (KPIs) to give leaders an automated 360° view of their operations, providing insights on parameters that previously were extremely difficult to measure.
Quantivly has an ambitious vision to build the "digital twin" for radiology operations, providing leaders with a new way to manage operations. Digital twins are virtual representations of existing physical systems that allow users to simulate real-world conditions – as well as to evaluate the impact of interventions in-silico, without the need for expensive and impractical changes, and without disrupting the clinical workflow of a healthcare facility.
"It's crazy how MRI machines cost up to $4 million and yet it's so hard to know how they are utilized. We started with the goal to clean and organize operational data from existing siloes, and make it useful for imaging providers. Beyond just unlocking data, we believe our digital twin vision and the ability to ask 'what if?' and simulate scenarios in software will radically reshape the way imaging facilities operate," said Benoit Scherrer, Chief Executive Officer at Quantivly.
One of the sites that has been working with Quantivly is the University of California, San Francisco (UCSF).
"The last few years have seen the demand for imaging grow to unprecedented levels. More than ever, we need new analytical tools to understand how our practice operates at scale, and to help steward our resources to meet the needs of our patients. We're excited to partner with Quantivly to develop digital twins to optimally refine the way we work," said Christopher P Hess, MD, PhD, Alexander Margulis Professor, Chair of the Department of Radiology and Biomedical Imaging at UCSF.