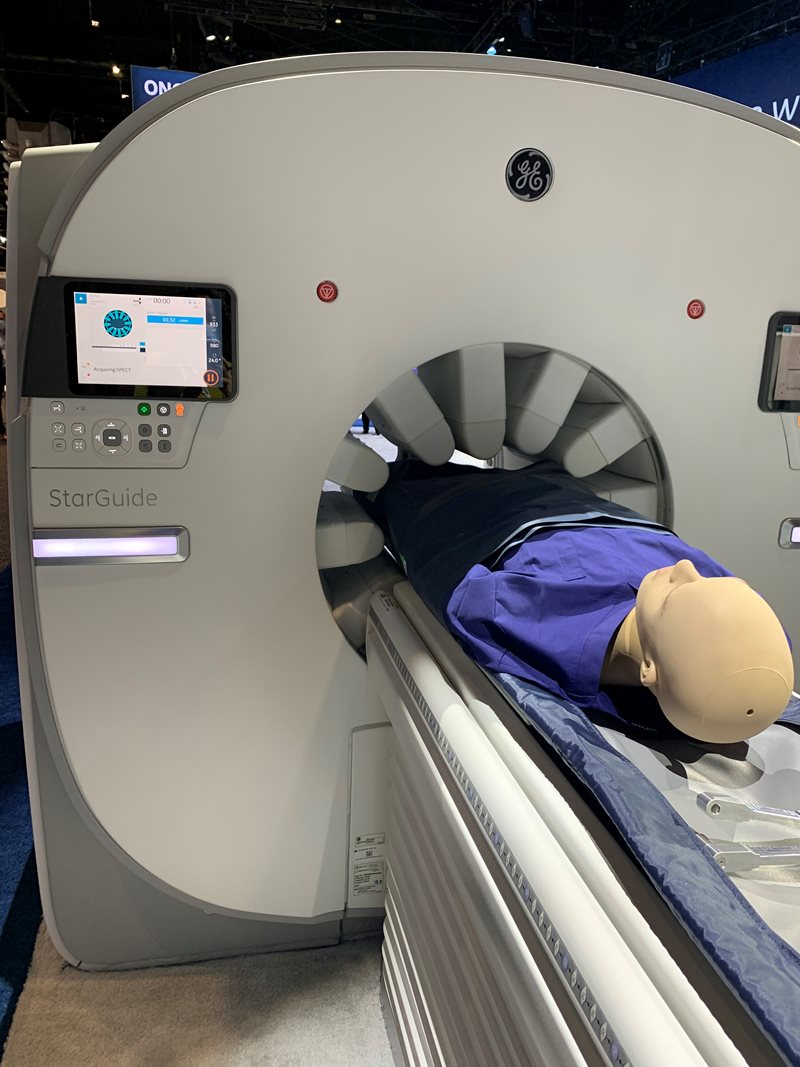 This week at RSNA, GE Healthcare will officially launch the Revolution Apex platform1, an industry-first2 CT platform with built-in scalability for onsite CT detector upgrades from 40 mm to 80 mm or 160 mm in detector coverage – all without replacing the gantry3. Offering uncompromised clinical capabilities, the new Revolution Apex platform helps radiology departments stay ahead of the technology curve with a modular design that offers a seamless path to continuous hardware and software scalability and upgradability that will extend the lives of CT systems into the future.
"The ability to acquire a 40 mm CT system, then upgrade to an 80 mm or 160 mm system is incredible. As a radiology department's clinical needs evolve, they can go further with the same system," said Sonia Sahney, Chief Marketing Officer Molecular Imaging & Computed Tomography.
The Gemstone Clarity Detector enables users to advance their service line from a 40 mm detector and 0.28 second rotation speed up to a 160 mm detector and 0.23 second per rotation – the world's fastest gantry speed4. This advanced rotation speed, combined with 19.5 millisecond effective temporal resolution, can freeze cardiac motion. Additionally, the platform is built to enable seamless upgradeability with the industry's first subscription-based service for CT applications, Smart Subscription, which enables access to the latest technology so radiologist can continue to deliver high-quality patient care.
The company also unveiled the SIGNA Hero5, a new 3.0T MRI system that offers new workflows and AIR Recon DL enhancements to help deliver enhanced productivity, patient comfort and sustainability6. SIGNA Hero was designed with a 70 cm bore and detachable table to help accommodate more patients of all shapes and sizes, enhance patient comfort and unlock new clinical workflows for today's healthcare heroes. Additionally, the system offers whole body workflow solutions that leverage artificial intelligence to increase the clarity of images while also increasing operational efficiency. These include GE Healthcare's patented AIR Recon DL, AIR Coils, AIR Touch and AIR x technologies and solutions.
"The advanced capabilities position SIGNA Hero as the system for everything. It's the ideal solution for hospitals to cope with a backlog in MR imaging in an uncompromised fashion," said Ioannis Panagiotelis, PhD, MBA, Chief Marketing Officer, Global MR Business.
Recently cleared by the FDA, GE Healthcare's next-generation StarGuide7 SPECT/CT system uses the latest digital technologies to help clinicians improve patient outcomes in bone procedures, cardiology, neurology, oncology and other medical specialties. The system's cutting edge 12 CZT Digital Focus Detectors not only scan patients in 3D to provide more information to clinicians but they are also optimized for theranostic procedures.
"We've changed the entire paradigm of SPECT/CT imaging with digital detectors," said Sahney. "These detectors can help clinicians move towards personalized medicine."
The ability to generate high-quality SPECT/CT images starts with StarGuide's unique Optical Scout technology, which leverages the system's efficiency-focused Swift Plan workflow to determine the contour of the patient body and set the rest of the clinical scanning procedure into motion. After processing the Optical Scout data, StarGuide's detectors and table automatically position themselves for close proximity and contactless scanning of the patient. The slim Digital Focus Detectors then orbit the body as closely as possible, and from all necessary angles, to scan the target area — and not the air surrounding the patient. The result is high-resolution images for clinicians and the minimization of time on the table for patients.
The company is also showcasing its portfolio of digital healthcare solutions, including Enterprise Imaging in the Cloud, a smart, digital ecosystem that provides radiologists with easy and seamless access to the latest game-changing AI tools, data and intelligent technology.8 Edison True PACS9 provides innovative, AI-enabled decision-making tools that that are designed to help enhance reading speed, reduce errors, improve diagnostic precision, and enable more confident diagnoses. The Edison AI Orchestrator10 enables quick deployment of a curated set of AI and non-AI based clinical applications, easy configuration of workflows, and provides the ability to easily try third-party AI applications – while reducing the number of vendors one has to work with.
RSNA Booth: 7324 & 4729 in the AI Showcase
1GE Healthcare's Revolution Apex platform is FDA 510(k) cleared and not available for sale in all countries.
2GE Healthcare data on file.
3Scalability and upgradability are subject to the availability and compatibility of new capabilities and products.
40.23sec and 19.5msec are 510k pending and not available for sales in all countries. 19.5msec effective temporal resolution is achieved by a 6x improvement of motion-blur reduction while maintaining high spatial resolution as demonstrated in cardiac phantom testing. The reduction in motion artifacts is comparable to a 0.039 equivalent gantry rotation speed with effective temporal resolution of 19.5 msec, as demonstrated in mechanical and mathematical phantom testing.
5SIGNA™ Hero is 510(k) pending at FDA. Not yet CE marked. Not available for sale in the United States or the EU. Not commercially available in all markets.
6AIR Recon DL 3D and PROPELLER is 510(k) pending at the FDA. Not CE marked. Not available for sale in the United States or EU. Not commercially available in all markets.
7StarGuide is FDA cleared and CE marked. Available for sale in the United States and EU countries. Not available for sale in all regions.
8 Cloud deployment currently only available in USA
9 Currently only available in USA
10 Edison AI Orchestrator is not available with all PACS. Contact your GE Healthcare representative for more information.
Back To Top