Extremity CTA: Rapid, accurate imaging of vascular trauma
By
CT angiography (CTA) is an accurate and useful examination to assess for vascular injury of patients with penetrating trauma to the extremities, according to an article in Emergency Radiology. Radiologists at Boston University Medical Center, a level 1 trauma center, assessed the clinical performance of CTA in the evaluation of extremity vascular trauma over a 10+ year time span.
The advantages of CTA over conventional digital subtraction angiography include immediate availability of a CT scanner, rapid scanning time, lower radiation dose exposure, lower morbidity risk, fewer side effects of sedation, and fewer support staff needed to perform the examination. CTA has been adopted by trauma centers as the imaging procedure of choice to evaluate arterial injury to the extremities. Principal investigator Charles G. Colip, MD, told Applied Radiology that large cohort studies documenting its clinical impact have not been conducted. He and his colleagues felt it important to investigate multiple aspects of extremity CTA, including technique, limitations, and efficiency. They hoped that data derived from their research can benefit smaller hospitals that are in the process of implementing CTA with respect to devising protocols and fine-tuning imaging technique.
The authors reviewed the cases of 446 patients who had 567 extremity CTAs. Injuries included gunshot (73%) and stab (27%) wounds, with two-thirds of the injuries in the legs. Two radiologists reviewed the CTAs for evidence of arterial injury, including areas of extravasation, dissection, occlusion, pseudoaneurysm formation, arteriovenous fistula formation, or narrowing. They performed a quantitative evaluation of imaging quality and recorded Hounsfield units (HU). Finally, they reviewed clinical management of the patients and their outcomes.
One-hundred-thirty-one patients demonstrated vascular injuries on CTA. Approximately one-third required subsequent surgical repair, with 32 patients having a single artery repaired and 2 patients having multiple arteries repaired. Virtually all patients requiring surgery were identified on the initial trauma CTA, and there were no false negatives with respect to patients whose CTA exams indicated conservative management.
Nearly half (45%) of the 131 patients demonstrated focal arterial narrowing. Four of the 40 patients with isolated focal stenosis on CTA underwent vascular repair. Nearly 40% demonstrated arterial occlusion, 38 of which were an isolated finding. Sixteen of these patients with isolated arterial occlusion on CTA underwent vascular repair. There were 37 cases of active arterial extravasation, 60% of which were isolated findings. Muscular branch vessels accounted for the highest incident of arterial extravasation in both upper and lower extremities.
Pseudoaneurysms were identified in nearly 14 cases. The superficial femoral artery sustained the highest incidence of pseudoaneurysm on CTA, but this condition was also identified in the brachial, radial, and ulnar arteries. Of the nine patients with isolated arterial pseudoaneurysm, only four required vascular repair. Three cases demonstrated arterial dissection, and one case had AV fistula.
Forty-eight patients had extremity CTA exams that were not of diagnostic quality due to suboptimal opacification from poor bolus timing or bolus out run or to vessel effacement by beam hardening artifact. These had a mean attenuation value of 128 HU compared to diagnostic quality exams with mean attenuation values exceeding 250 HU.
By reproducing similarly high arterial attenuation (HUs), the authors said that their study demonstrated the capability to achieve diagnostic quality images on CTAs of both the upper and lower extremities. Dr. Colip told Applied Radiology that "there are no large studies or official guidelines advocating a lower HU threshold below which an extremity CTA is considered non-diagnostic. Although vessel HUs are measured in day-to-day practice, the diagnostic quality of CTA with respect to vessel opacification is often a subjective assessment. In our study, we determined that most diagnostic quality CTA studies demonstrate vessel opacification in the range of 200-250 HU."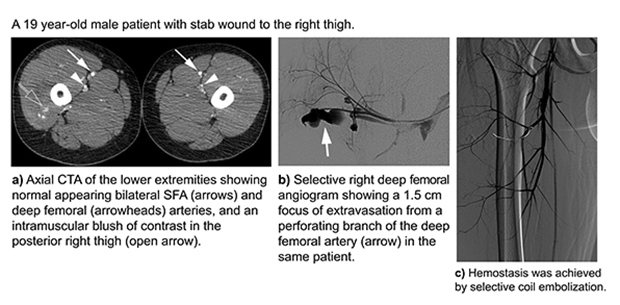 Dr. Colip also said that because DSA remains the gold standard for arterial assessment, and the study assessment time range began in 2005, the researchers were surprised that only eight patients underwent DSA, two of which included endovascular intervention after positive CTAs. One of these patients had endovascular stent placement for a pseudoaneurysm and the other had coil embolization of an intramuscular branch of the deep femoral artery that demonstrated active extravasation on CTA (Figure). Despite the findings of the study, Dr. Colip said he does not dismiss the use of DSA. He believes it will remain a viable tool in vascular trauma for certain high-risk patients, poor surgical candidates, equivocal or non-diagnostic CTA, and patients with significant metallic artifact. But he and his colleagues do encourage hospitals that are not yet routinely using extremity CTA to assess vascular injury to begin to do so.
REFERENCE
Colip CG, Goranda V, Leffedis CA, et al. Extremity CTA for penetrating trauma: 10-year experience using a 64-detector row CT scanner. Emerg Radiol. Published online November 29, 2016.
Back To Top
---
Extremity CTA: Rapid, accurate imaging of vascular trauma . Appl Radiol.
By
Staff News Brief
|
March 24, 2017
About the Author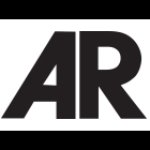 Staff News Brief