Researchers Find Molecular Targets that Curb Obesity and Fatty Liver Diseases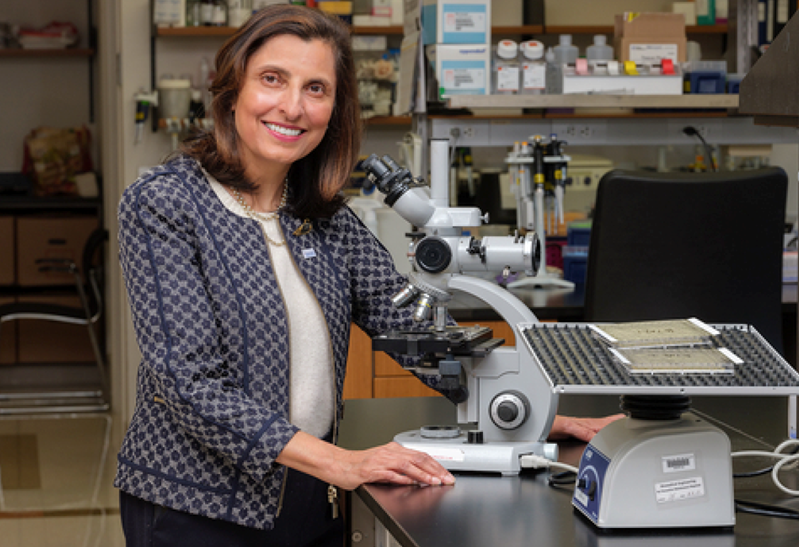 Scientists at The Feinstein Institutes for Medical Research identified new molecular targets that could lead to future treatments for obesity and other metabolic disorders that lead to nonalcoholic fatty liver diseases (NAFLD) and nonalcoholic steatohepatitis (NASH) which can result in cancer.
The research, led by Lopa Mishra, MD, co-director for the Institute of Bioelectronic Medicine at the Feinstein Institutes, was published in Science Translational Medicine. It reports that a protein called β2-spectrin (SPTBN1) helps promote unhealthy fibrosis and the accumulation of lipids in the body through the transforming growth factor β (TGF-β) pathway. The study showed that by removing SPTBN1 in mice models while feeding them a high-fat diet or Western diet (low in saturated fats, fruits, etc.), the subjects did not become obese or develop NASH or cancer.
"Obesity continues to increase worldwide and treatments to prevent fatty liver diseases related cancers are urgently needed," said Dr. Mishra, the Susan and Herman Merinoff Distinguished Chair in Translational Medicine. "These encouraging results reveal a molecular focus for researchers to develop future therapies to prevent disease."
Additionally, Dr. Mishra and her team observed that targeting SPTBN1 in mice that already had NASH helped reduce glucose levels and helped prevent disease progression, which shows a potential approach to help patients manage the severity of their disease. By also looking at human 3D genome models, the research supports honing in on SPTBN1 to reverse the body's ability to develop NASH.
"Before innovative new treatments can be developed, the scientist must first identify the molecules and mechanisms at the heart of the problem," said Kevin J Tracey, MD, president and CEO of the Feinstein Institutes. "Dr. Mishra's leadership in revealing basic molecular mechanisms of liver disease bridges the gap between her lab and a patient's bedside."
Dr. Mishra and her team hope to further the research in the coming year, initiating a proof-of-concept first-in-human clinical trial.