Researchers Discover Brainstem Neurons Regulate Pancreatic Inflammation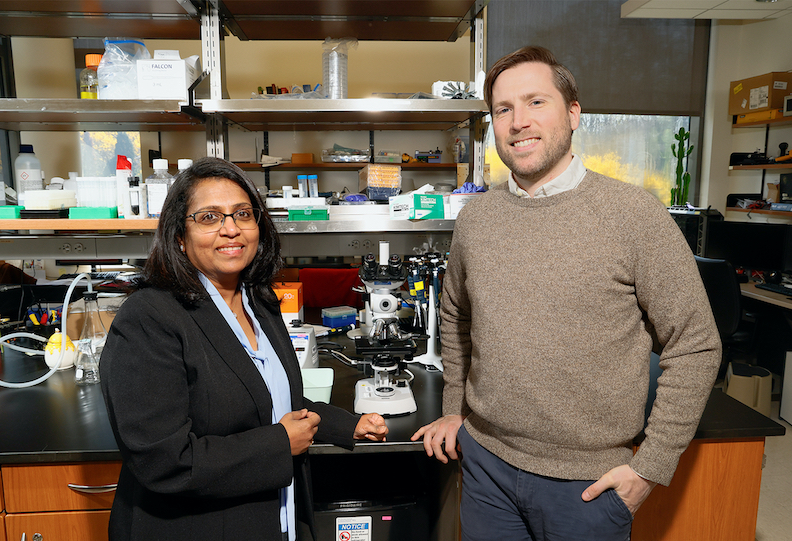 Scientists at The Feinstein Institutes for Medical Research have shown the ability to reduce pancreatic inflammation by stimulating the vagus nerve using optogenetics, or light. The study, published in Frontiers of Immunology, and led by Sangeeta S. Chavan, PhD, selectively activated efferent vagus nerve fibers – nerves that transmit signals to the organs – originating in the brainstem dorsal motor nucleus (DMN) of the vagus in animal models. After stimulating the neurons in the DMN, researchers observed significantly less severe pancreatitis – as noted by a reduction in pancreatic cytokines, inflammatory proteins, tissue damage, and other signs. These results provide the first evidence that efferent vagus cholinergic neurons originating in the brainstem DMN can inhibit pancreatic inflammation and point to a potential therapeutic target.
"There is no effective treatment for acute pancreatitis, leaving patients at risk for further complications, organ failure, and even death," said Dr Chavan, professor at the Feinstein Institutes' Institute of Bioelectronic Medicine. "For the first time, we have shown the potential that vagus nerve stimulation has to ease inflammation and treat this condition."
The vagus nerve acts as an information superhighway between the brain, our body's organs, and our immune system. The vagus nerve sends signals to and from our brain to control bodily functions like heart rate, breathing, and our immune response. Sometimes, overproduction of inflammatory proteins leads to inflammatory diseases like Crohn's disease, pulmonary hypertension, diabetes, cancer, and acute pancreatitis, among others. By stimulating the vagus nerve, as in the case of Dr Chavan's research, scientists have shown evidence of its ability to reduce the overproduction of inflammatory proteins and attenuate disease.
"This research shows that the brief, selective activation of very small number of specific neurons can reduce further pancreatic injury and lessen the production of pro-inflammatory proteins," said Dane Thompson, MD, Elmezzi Graduate School of Molecular Medicine 2023 graduate, and the first author on the paper. "Future research is still needed to help translate this lab work to patients in need, but recent advancements in technology and bioelectronic medicine are promising."
The research team used optogenetics, a technology that allows researchers to use light and genetically encoded light-sensitive proteins. This technique allows for control over which nerves are being targeted – in this case, the ones residing in the DMN. During stimulation, the heart rate of the mice models was monitored, and blood and tissue specimens were collected and analyzed to detect the presence of inflammatory proteins and their effects on the pancreas.
"There are no therapies for acute pancreatitis, a painful and dangerous condition caused by excessive inflammation," said Kevin J Tracey, MD, president and CEO of the Feinstein Institutes, Karches Family Distinguished Chair in Medical Research. "This most recent work from Dr Chavan's lab should encourage clinical trials of vagus nerve stimulation in the treatment of pancreatitis."
The Feinstein Institutes is the global scientific home of bioelectronic medicine, which combines molecular medicine, neuroscience, and biomedical engineering. At the Feinstein Institutes, medical researchers use modern technology to develop new device-based therapies to treat disease and injury.
Built on years of research in molecular mechanisms of disease and the link between the nervous and immune systems, Feinstein Institutes researchers discover neural targets that can be activated or inhibited with neuromodulation devices, like vagus nerve implants, to control the body's immune responses and inflammation. If inflammation is successfully controlled, diseases – such as arthritis, pulmonary hypertension, Crohn's disease, inflammatory bowel diseases, diabetes, cancer and autoimmune diseases – can be treated more effectively. By producing bioelectronic medicine knowledge, disease and injury could one day be treated with our own nerves without costly and potentially harmful pharmaceuticals.