GE Healthcare Highlights Precision Innovations that Help Drive the Future of Health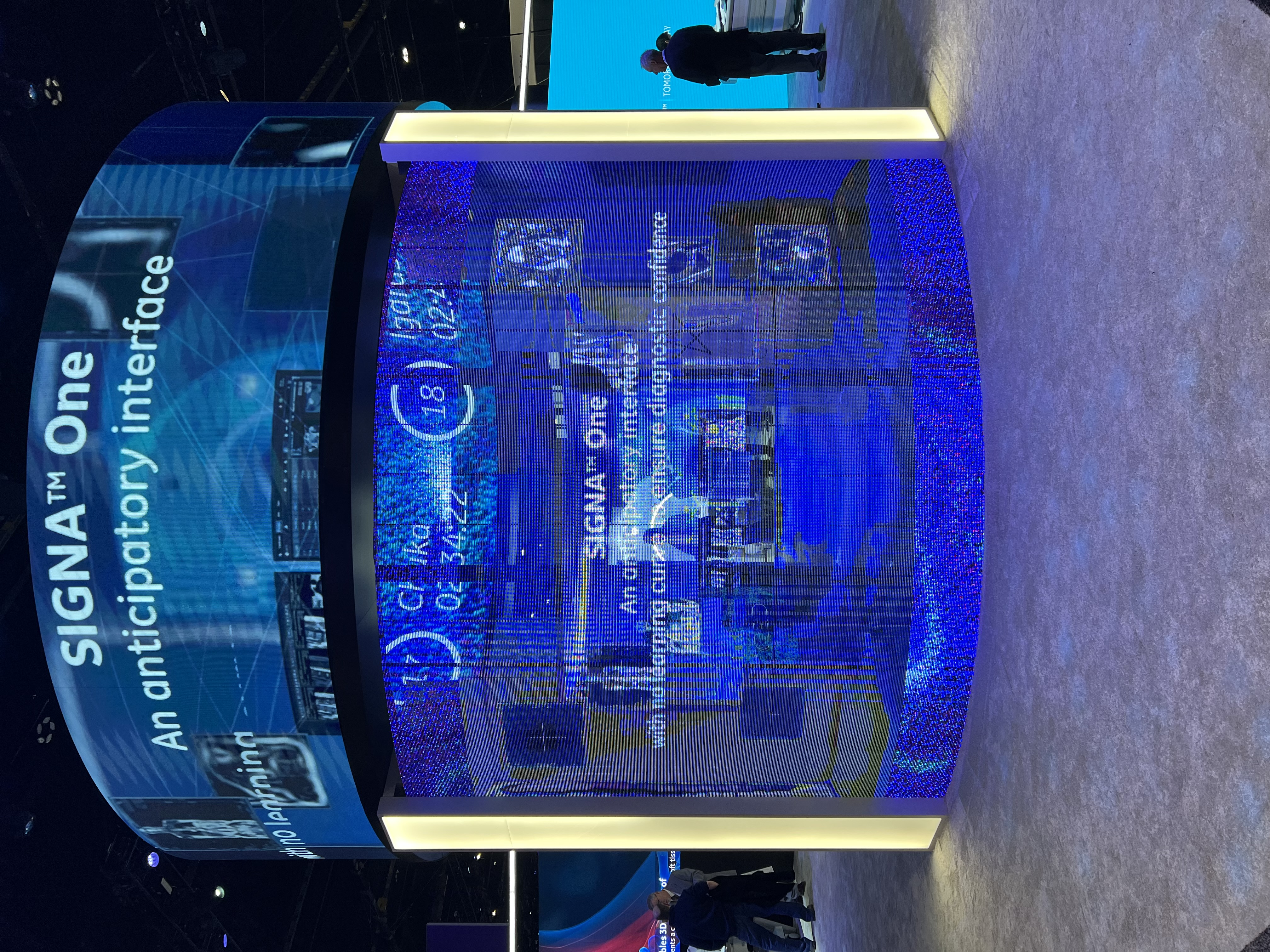 Ahead of its planned spinoff from GE the first week of January 2023, GE Healthcare is revealing more than 40 solutions that aim to improve patient outcomes and increase healthcare efficiency at the RSNA 2022 Annual Meeting.
One game-changing solution is SIGNA Experience, a new platform of four synergistic technologies that help users through the diagnostic journey to ensure the smoothest MR scanning experience possible for the physician, technologists of all skill levels, and the patient. SIGNA One is the cornerstone of these solutions: A next-generation imaging software platform supporting an elegant, intuitive user interface, designed to offer high-quality MR imaging.
"SIGNA One is a new anticipatory and simple user interface that virtually eliminates the learning curve," said Ioannis Panagiotelis, PhD, MBA, Chief Marketing Officer, Global MR Business.
The platform also includes pioneering deep-learning AI applications, such as AIR Recon DL for improved signal-to-noise ratio (SNR), image sharpness and shorter scan time. Automated, intelligent workflow technologies, including AIR x and AIR Touch, guide technologists to help make an MRI scan set up better, faster, and easier. Flexible and lightweight AIR Coils enable total freedom in coil positioning and handling during an MRI scan. SIGNA One is currently commercially available on SIGNA Prime. All other SIGNA Experience solutions are currently commercially available.
The company is also highlighting the Revolution Apex platform, an industry-first1 Computed Tomography (CT) platform with built-in scalability for onsite CT detector upgrades – all without replacing the gantry.2 Offering uncompromised clinical capabilities, it offers the world's fastest gantry speed2,3 and helps radiology departments stay ahead of the technology curve with a modular design that offers a seamless path to continuous hardware and software scalability and upgradability that can extend the lives of CT systems into the future.2 This platform is complete with Effortless Workflow, which utilizes AI technologies to automate nearly every step in existing workflows.
"With the Revolution Apex, every step is automated for a seamless experience and easier workflow from pre-scan to post-scan," said Sonia Sahney, Chief Marketing Officer Molecular Imaging & Computed Tomography.
Other technologies being features are the company's intelligent workload management solution for PACS, which can help optimize radiologists' workflow across an entire enterprise to improve productivity and reduce burnout. Imaging 360 for Operations is an ecosystem of applications designed for core imaging operations functions such as protocoling, staffing, analytics, and scheduling. Quality Care Suite 2.0 is a collection of AI algorithms that enable the delivery of high-quality, radiologist-ready images for every patient – including pediatric patients, a first for GE Healthcare X-ray AI.
Looking towards the future, GE Healthcare is helping advance precision care through theranostics. The company is the only partner with solutions covering discovery to diagnosis to treatment. This includes a new Solid Target Platform for GE Healthcare's PETtrace cyclotron, which in combination with its FASTlab 2 New Edition platform can produce 100x the amount of Gallium for radioisotope production compared to a common generator for increased theranostics capabilities and access in prostate cancer patient care.4 Omni Legend is an all-new, all-digital PET/CT platform that enables clinicians to image short life tracers and reach new levels of sensitivity and detectability for clear images and greater clinical information across more oncology, cardiology, and neurology procedure types than ever before. StarGuide dynamic 3D SPECT/CT system delivers new digital focus detector technology that efficiently enables treatment monitoring – including Lutetium-177 for prostate cancer – and offers Xeleris V with AI solutions such as Q.Thera AI5 for dose personalization.
RSNA Booth: 7324
GE Healthcare data on file.
Scalability and upgradability are subject to the availability and compatibility of new capabilities and products.
0.23sec and 19.5msec are 510k pending and not available for sales in all countries. 19.5msec effective temporal resolution is achieved by a 6x improvement of motion-blur reduction while maintaining high spatial resolution as demonstrated in cardiac phantom testing. The reduction in motion artifacts is comparable to a 0.039 equivalent gantry rotation speed with effective temporal resolution of 19.5 msec, as demonstrated in mechanical and mathematical phantom testing
Svedjehed et al. "Demystifying solid targets: Simple and rapid distribution-scale production of [68Ga]GaCl3 and [68Ga]Ga-PSMA-11." Nuclear Medicine and Biology. Volumes 104–105, January–February 2022, Pages 1-10. https://doi.org/10.1016/j.nucmedbio.2021.10.002
CE marked. 510(k) pending in the U.S. Not for sale in the U.S. Not cleared or approved by the U.S. FDA.