Canon Doubles Down on U.S. Market with New Cleveland-based Healthcare Subsidiary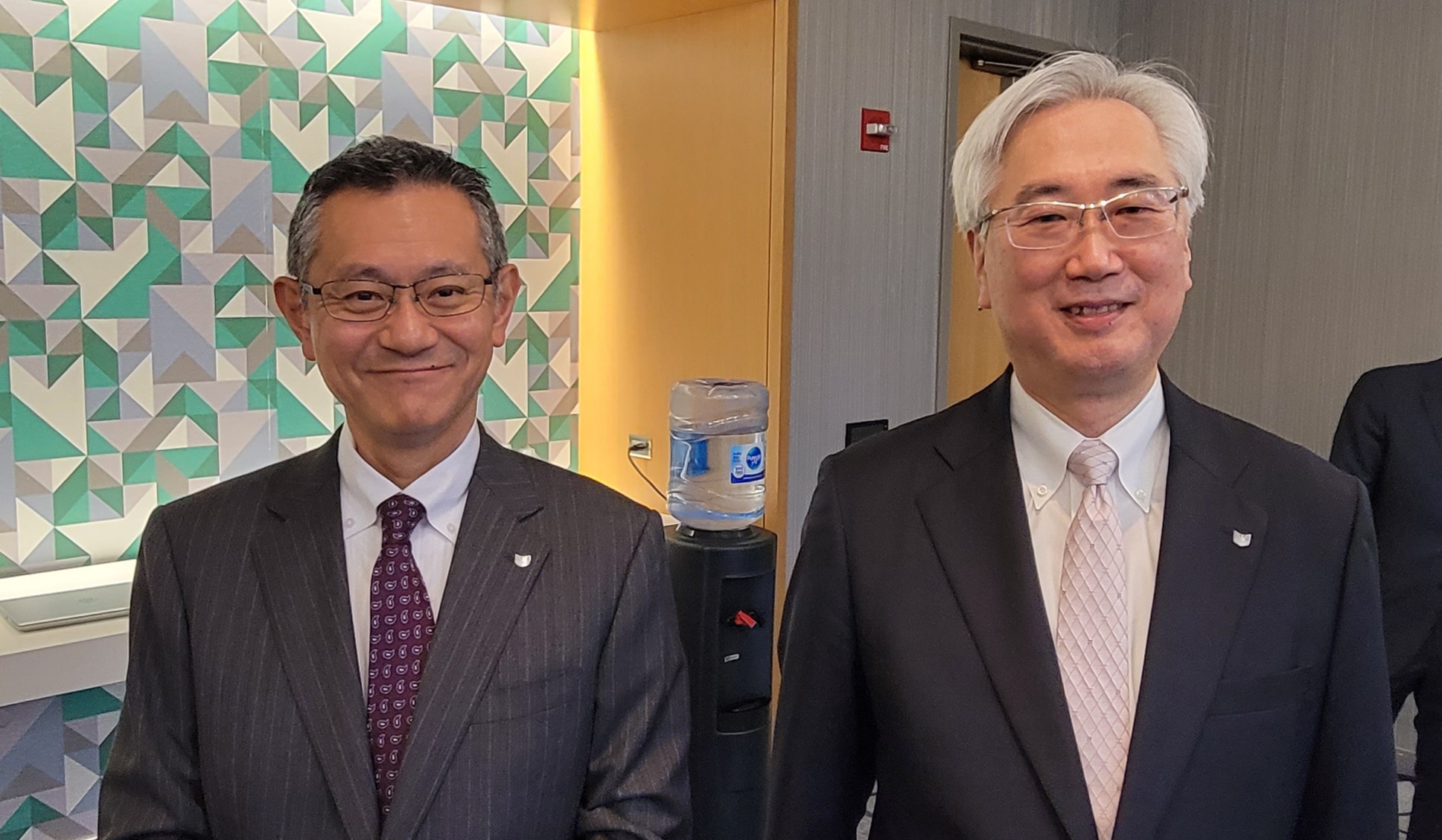 Leading Canon Healthcare USA as president and
CFO will be Hisashi Tachizaki (left), who will
report to Toshio Takiguchi (right), president and
CEO of Canon Medical Systems Corp.
Japanese industrial conglomerate Canon is ramping up its investment in the U.S. market by forming a new subsidiary, Canon Healthcare USA, to be based in the Cleveland area. Canon aims to double its share of the U.S. market for diagnostic imaging equipment, company executives said in a November 27 news conference at RSNA 2022.
Canon's involvement in medical imaging stems from the company's acquisition of Toshiba Medical Systems in 2016. Since then, Canon has elevated medical equipment to one of the four core businesses in its overall portfolio, according to Toshio Takiguchi, president and CEO of Canon Medical Systems Corp. In the U.S., Canon's sales and marketing operations are run out of a headquarters in Tustin, CA.
Canon sees the U.S. medical imaging market as a key to the company's growth, and thus is forming Canon Healthcare USA to supplement its efforts. Canon plans to spend up to $300 million over the next 3-5 years in building the new subsidiary, Takiguchi said.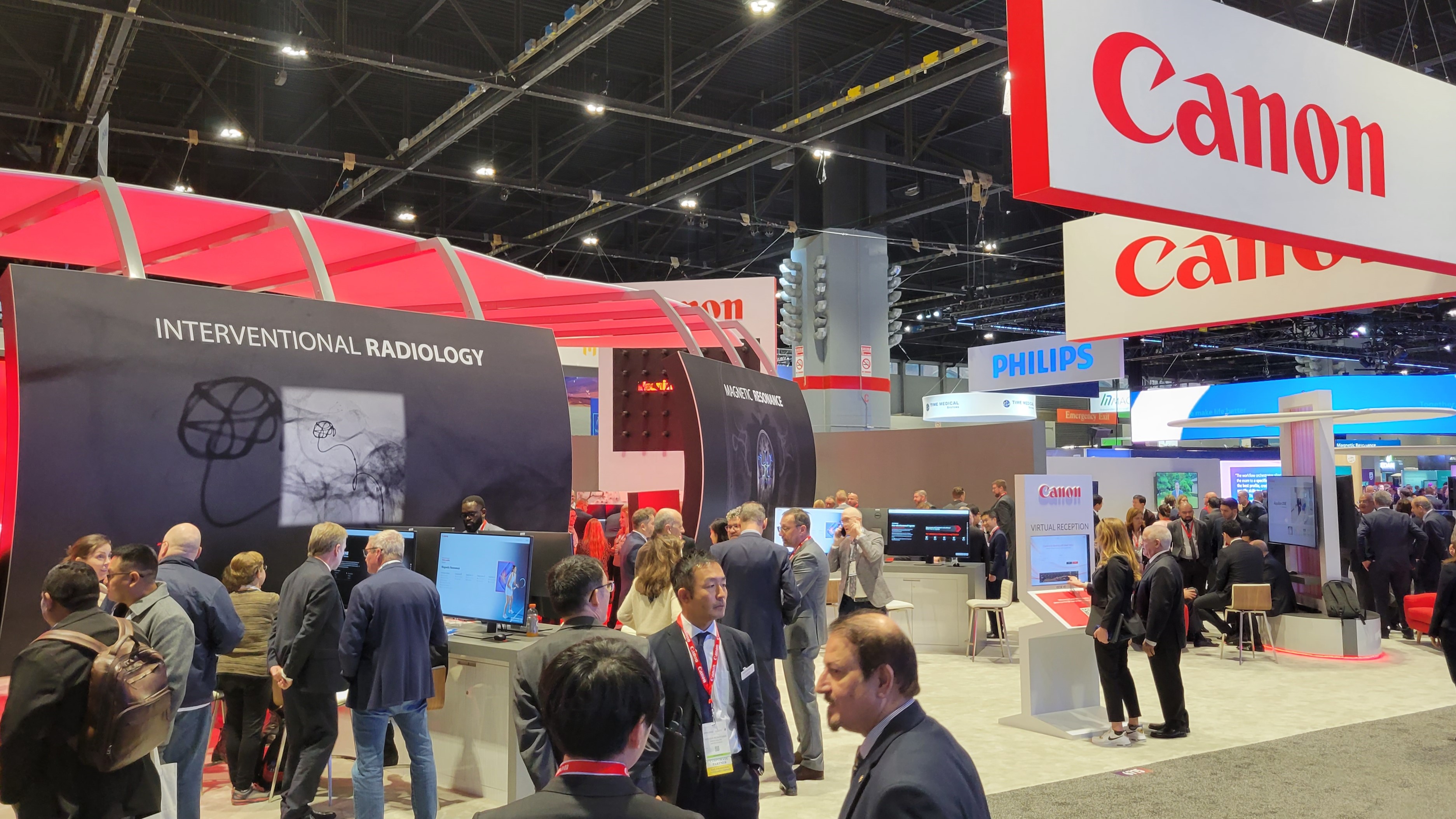 Canon's booth at RSNA 2022.
Canon will transfer assets from other businesses to the new subsidiary, such as Quality Electrodynamics, a manufacturer of MRI components that Canon acquired in 2019. Some of Canon's sales and service operations currently based in California will also be transferred to the new business, improving integration between operations and marketing, and helping the company achieve its market share goals. Canon also operates a small R&D facility, Canon Medical Research USA, near Cleveland in Illinois.
Leading the new business as president and chief financial officer (CFO) will be Hisashi Tachizaki, who will report to Takiguchi.
On the technology side, Canon sees its development of photon-counting CT as key to its plans to grab more market share in medical imaging's workhorse modality, and these goals also dovetail with the formation of Canon Healthcare USA. Photon-counting CT uses a fundamentally new method to acquire the photons that form the basis of medical images, and Canon in October announced that it has installed its first photon-counting CT scanner, at National Cancer Center Japan.
Canon Healthcare USA can assist Canon in the development of photon-counting CT. Another side benefit of the Cleveland area is that it was the location of a large CT manufacturing facility operated by onetime imaging vendor Picker International that was later acquired by Philips Healthcare in 2001. Thus, the Cleveland area is home to many imaging executives and other personnel with experience in CT manufacturing and development.
In the RSNA press conference, Takiguchi said it was possible that Canon Healthcare USA could eventually develop a manufacturing capability, pending further evaluation. Canon currently manufactures all of its CT scanners in Japan, but recent disruptions in the global supply chain highlight the advantages of having a diversified manufacturing base.
"The U.S. market is more and more important for our business to grow," Takiguchi said. "It does make sense to have multiple functionalities here in the U.S. market."
Related Articles
https://appliedradiology.com/articles/canon-presents-full-line-of-radiology-offerings-in-virtual-exhibit
https://appliedradiology.com/articles/canon-surfacide-to-provide-rapid-decontamination-tool-for-imaging-systems
https://www.appliedradiology.com/articles/rsna-2020-canon-medical-offers-its-ai-based-image-reconstruction-technology-across-modalities-and-systems