Canon Presents Full Line of Radiology Offerings in Virtual Exhibit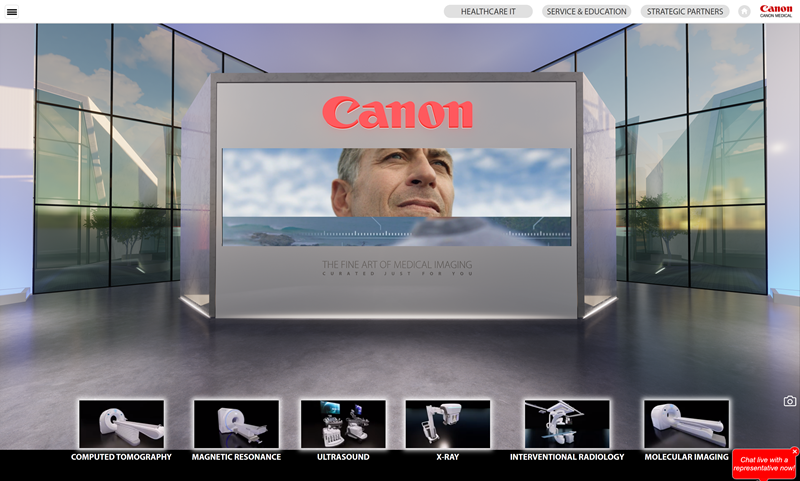 Canon Medical is showcasing a comprehensive portfolio of imaging technologies in a virtual booth for RSNA this year. This one-of-a-kind experience gives attendees easy access to the latest updates on the company's outcomes-driven innovations.
One of the systems the company is featuring is the newly launched Vantage Fortian, an open bore 1.5T MR that was recently granted market clearance from the FDA. It has an innovative remote tablet and in-room camera solutions for monitoring and positioning patients that enhance workflow. Vantage Fortian also features new AI technologies that automate scan planning for Liver, Prostate and Whole Spine.
"The Vantage Fortian has a brand-new suite of software including Iterative Motion Correction, Reverse Encoding DWI capability and faster acquisition," said David Hashimoto, Sr. Director, Full Line BUs and Solutions Marketing of Canon Medical Systems. "In addition to that, across the portfolio, we've enhanced workflow with an overhead camera and a new tablet and a user interface that allows technologists to ensure the right patient positioning and monitor patients during the exam. It also includes Auto Scan Assist capabilities for neuro, spine, cardiac and knee studies, with machine learning and deep learning solutions for liver, spine and prostate studies."
The company is also featuring the Aplio i-series / Prism Edition ultrasound system, which provides a whole spectrum of flexible, AI-assisted productivity and imaging functions enabling radiologists to optimize system operation to match their specific requirements with a programmable, context-sensitive user interface, AI-driven single-click smart functions and adjustable workflow protocols.
"The Aplio i-series / Prism Edition offers high-quality imaging and productivity gains across the entire spectrum of diagnostic imaging, from radiology to cardiology, with smarter workflows and enhancements to the total application package," said Hashimoto.
Aplio's new iBeam+ technology introduces diagnostic precision and imaging capability. "The iBeam+ technology supports improved frame rates, better homogeneity across imaging exams, and image quality, both at depth as well as sensitivity, with a 140-degree field of view," Hashimoto explained.
The company is also featuring Aquilion ONE / PRISM Edition, which now offers Precise IQ Engine (PIQE) DLR** and SilverBeam Filter**. PIQE is a super-resolution deep-learning reconstruction technology for cardiac CT scans that delivers exceptional cardiac CT image quality by maximizing spatial resolution without reducing low-contrast detectability or increasing dose. SilverBeam, an X-ray beam shaping energy filter, provides CT lung cancer screening images of high quality and low noise at the radiation dose closer to a typical chest X-ray exam.
"It's really good for improved visualization of plaque and better plaque characterization, as well as reducing the blooming artifact," said Hashimoto.
RSNA Virtual Booth: https://rsna.us.medical.canon/
*Canon Workflow is pending FDA approval and future availability cannot be guaranteed.
**Pending 510K clearance