Blue Earth Announces Data-Sharing Agreements for AI-Based Algorithm Development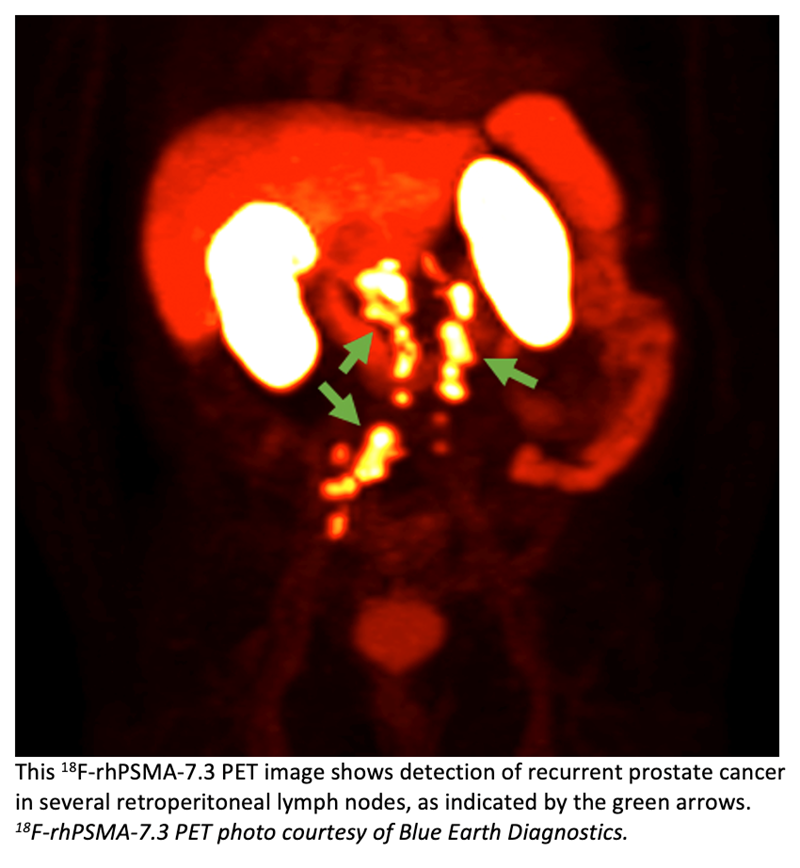 Blue Earth Diagnostics announced a data-sharing agreement with Siemens Healthineers and the University Hospital of the Technical University of Munich (TUM) for anonymized 18F-rhPSMA-7.3 clinical data and images. Siemens Healthineers plans to evaluate the data to enhance its analytics and artificial intelligence (AI)-based algorithms for prostate cancer across its advanced PET/CT imaging software. 18F-rhPSMA-7.3 is an investigational radiohybrid (rh) Prostate-Specific Membrane Antigen-targeted PET imaging agent in development by Blue Earth Diagnostics for diagnostic imaging of newly diagnosed and biochemically recurrent prostate cancer.
"Blue Earth Diagnostics is committed to helping men with prostate cancer across the care continuum, and we recognize the importance of AI in advancing healthcare," said David Gauden, D.Phil., Chief Executive Officer, Blue Earth Diagnostics. "AI-based algorithms have the potential to streamline the PET/CT analytical workflow for hospitals and imaging centers, by efficiently providing physicians with information critical to patient management and care, and freeing them to spend more time with patients. Blue Earth has a long-standing relationship with Siemens Healthineers, a leading medical technology company pioneering breakthroughs in healthcare. We are excited to collaborate on this project to facilitate provision of anonymized 18F-rhPSMA-7.3 data from TUM which will be used to enhance the analytical workflows for the Siemens Healthineers Biograph and syngo.via platforms. The project includes evaluation of diagnostic analytical techniques for 18F-rhPSMA-7.3 data as well as exploring their theranostic potential in radiopharmaceutical therapy. Looking forward, we also plan to make analytical data from Blue Earth Diagnostics' Phase 3 clinical trials for 18F-rhPSMA-7.3 available, which includes robust histopathology data as the gold Standard of Truth."
The agreement covers use of anonymized 18F-rhPSMA-7.3 PET/CT data from TUM by Siemens Healthineers to evaluate workflow improvements for image acquisition and interpretation; dose optimization; detection of small metastases and recurrent tumors; evaluation of patients in earlier stages of disease progression and stratification by low PSA levels; and, together with histopathology, assessment of the sensitivity of results. The data will also be used to define and optimize 18F-rhPSMA-7.3 workflow prior to PSMA-targeted radioligand therapy in prostate cancer, to assess its theranostic potential in therapeutic dose planning and the likelihood of treatment success.
"The TUM experience with rhPSMA has allowed us to investigate the potential performance of a new class of theranostic PSMA-targeting agents that enable efficient labelling with radioisotopes such as 18F for PET imaging or 177Lu for therapeutic use," said Matthias Eiber, MD, PhD, Department of Nuclear Medicine, Klinikum rechts der Isar, TUM. "We are happy that 18F-rhPSMA-7.3 PET/CT imaging scans performed at TUM as part of routine patient care in prostate cancer can be part of this project to inform AI-based algorithms for improved PET/CT workflows. The use of AI has the potential to markedly improve the quality of PET/CT as well as enhance the ability to interpret the scans and follow lesions over time. This will hopefully lead to expanded clinical use cases for this valuable technology, leading to better patient care."
"We are pleased to collaborate with Blue Earth Diagnostics and TUM on this data-sharing agreement for 18F-rhPSMA-7.3," said Bruce Spottiswoode, Director, Clinical Applications Research, Siemens Healthineers. "These data will help us optimize the acquisition and processing of 18F-based PSMA imaging and therapeutic radiopharmaceuticals across our family of PET/CT scanners and reading solutions."