Abbreviated MRCP for choledocholithiasis recommended for ED patients
By Staff News Brief
An abbreviated magnetic resonance cholangiopancreatography (A-MRCP) protocol provides diagnostic accuracy similar to that of conventional MRCP of patients with choledocholithiasis, according to radiologists writing in the August 2019 Emergency Radiology.
The finding may be especially beneficial for emergency patients, say the radiologists from Boston's Massachusetts General Hospital, who conducted a study to determine the accuracy and times savings of A-MRCP exams compared with conventional ones.
The retrospective study included all patients who had a MRCP exam for suspected biliary obstruction over a 24-month period. Eighty-five patients were imaged with the A-MRCP protocol and 31 with the conventional (C-MRCP) protocol.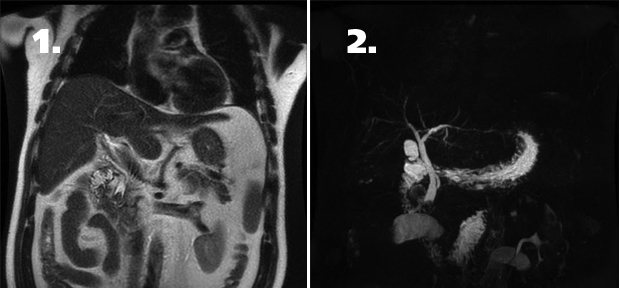 Coronal single-shot fast spin echo (Figure 1) and 3D MRCP (Figure 2) sequences from noncontrast abbreviated (A-MRCP) protocol demonstrate biliary duct dilatation with a filling defect in the distal common bile duct, compatible with choledocholithiasis.


At MGH, the A-MRCP protocol consists of a coronal fast spin echo sequence, an axial gradient echo with fat saturation, and 2D/3D MRCP sequences. The C-MRCP protocol adds post-gadolinium contrast and diffusion-weighted sequences. The protocol selected for the 116 patients was determined by the radiologist based on the patient's clinical indications.
The criteria to compare accuracy included sensitivity, specificity, positive predictive value (PPV) and negative predictive value (NPV). Emergency radiologist David K. Tso, MD, and colleagues reported that A-MRCP exams accurately diagnosed choledocholithiasis in 87% of cases, with a sensitivity of 85%, a specificity of 89%, a PPV of 90% and a NPV of 84%. C-MRCP exams diagnosed 92% of cases, with a sensitivity of 80%, a specificity of 100%, a PPV of 100% and a NPV of 88%. The authors, however, argue that the slightly increased accuracy of the conventional protocol was outweighed by the time saved and motion artifacts reduced, using the abbreviated exam.
The A-MRCP exams were significantly shorter, with a mean duration of 16 minutes, compared to 42 minutes for the C-MRCP exams. The mean total time spent in the MRI suite was nearly half that required by the conventional protocol: 34 minutes versus 61 minutes. The A-MRCP protocol also produced fewer motion artifacts, with only 5% of exams of limited diagnostic quality compared to 13% for the C-MRCP scans.
"An abbreviated MRCP protocol to evaluate for suspected choledocholithiasis can theoretically aid in faster triaging and management for patients in the ED setting," wrote the authors. "From an ED workflow perspective, abbreviated MRI protocols may allow for more patients to be scanned with an MRI scanner, helping to maximize utilization of this limited resource."
REFERENCE
Tso DK, Almeida RR, Prabhakar AM, et al. Accuracy and timeliness of an abbreviated emergency department MRCP protocol for choledocholithiasis. Emerg Radiol. 2019;26(4):427-432.
Back To Top
---
Abbreviated MRCP for choledocholithiasis recommended for ED patients. Appl Radiol.
By
Staff News Brief
|
August 26, 2019
About the Author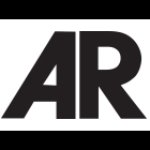 Staff News Brief