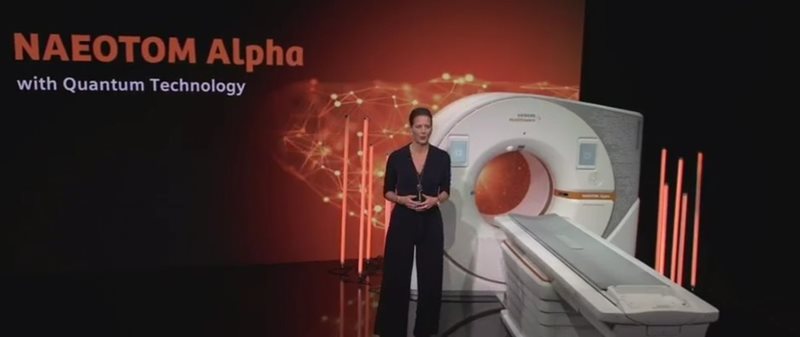 Siemens Healthineers officially launched NAEOTOM Alpha, the world's first CT scanner with photon-counting technology, today during an online virtual event.
Until now, all CTs were designed using the same principles of x-ray photon detection. Photon-counting scans contain more useable data, due to the fact that photon-counting technology directly detects each X-ray photon and its energy level instead of first converting it into visible light as with conventional CT. However, not all the information of those photons was usable for clinical decision-making, explained Miranda Rasenberg, VP of Marketing & Sales for CT at Siemens.
NAEOTOM Alpha addresses those issues by transforming information from X-ray photons into a detailed 3-dimensional image. The images delivered by the system can be used by a trained physician as an aid in diagnosis or can be used by trained staff as an aid in diagnosis, treatment preparation and radiation therapy planning.
"With NAEOTOM Alpha, we're taking a huge step forward in patient care," said Rasenberg. "We're effectively augmenting clinical imaging, seeing things impossible to see with conventional CT. NAEOTOM Alpha will significantly amplify the clinical relevance of CT. With it, we have redefined CT forever."
A powerful photon-counting detector
NAEOTOM Alpha uses photon-counting detectors, which can measure each individual X-ray that passes through a patient's body, as opposed to systems that use detectors to measure the total energy contained in many X-rays at once. By "counting" each individual X-ray photon, more detailed information about the patient can be obtained and used to create images with less information that is not useful in the review and analysis.
It starts with the Quantum Max detector, where a cadmium telluride crystal provides the benefits that make photon-counting CT a breakthrough in medical imaging. Low and high energy photons contribute equally to the image signal, yielding optimal image contrast.
"If we want to elevate CT to a new level of clinical, decision-making (then) leaving the era of scintillator detectors behind is mandatory. Stepping into the era of photon-counting CT is the way forward," said Philipp Wolber, global product marketing manager of photon-counting CT at Siemens.
Compared to current CT systems, the detector pixels are smaller by a factor of nine, which provide the highest spatial resolution at the dose of a standard resolution scan. Photon-counting detectors can completely eliminate electronic noise, which enables noise-free images at a fraction of the radiation dose required today. Plus, the detector offers spectral information for every exam, regardless of scan speeds or temporal resolution.
"All of these benefits combined make up quantum technology, the innovation at the core of the NAEOTOM Alpha. Undoubtedly, this makes the device an extremely precise system," said Wolber.
With a rotation speed of 250 milliseconds and two X-ray tubes and detectors (Dual Source), the NAEOTOM Alpha is not only the first photon-counting CT system on the market, but is also a very powerful, fast and precise CT scanner.
"We built the NAEOTOM Alpha as a dual-source photon counting system, giving it the same industry-leading speed that radiologists around the world benefit from with our unique dual-source systems available today. All of this enables the NAEOTOM Alpha to deliver exceptional clinical value and impact clinical decision-making," said Wolber.
Positive clinical feedback
The NAEOTOM Alpha opens up new capabilities, with far-reaching implications for patients and physicians. In oncology, that means consistent images that facilitate follow-up care. Follow-up images will be as precise and reproducible as the initial scan to allow consistent treatments and evaluations. In pulmonology, it will help reduce the need for multiple scans or other diagnostic methods, helping avoid treatment delays. Images will natively contain more morphological and functional information to deliver meaningful answers, every time in every scan. In cardiology, it will help clinicians address more patients, even those with a high calcium burden, while enhancing small vessel visibility in a single CT scan.
More than 20 NAEOTOM Alpha systems have been installed and used in clinical routine. So far, more than 8,000 patients have been scanned. During the launch event, several users detailed how it has affected their practice and their patients.
"With the NAEOTOM Alpha, we are routinely delivering quantitative results, independent of scan parameters by providing monoenergetic images as the standard image type. The NAEOTOM Alpha will provide the same image contrast from scan to scan, allowing for personalized treatment decisions for each patient," said Erik K. Paulson, MD, Chair, Department of Radiology at Duke University. "We're excited about exploring new applications and proving their efficacy to enhance patient care."
At Medical University of South Carolina, the NAEOTOM Alpha is supporting cardiac procedures by reducing the need to send patients to the cath lab.
"An invasive procedure comes through risks for patients with a delay in diagnosis, and we don't want that. Up to 40% to 60% of diagnostic cath lab exams result in a diagnosis of no stenosis. Now NAEOTOM Alpha is helping us address these patient groups by making spectral imaging possible on coronary arteries," said U. Joseph Schoepf, MD, FACR, FAHA, FNASCI, FSCBT-MR, FSCCT, Professor of Radiology, Medicine and Pediatrics at Medical University of South Carolina.
"We'll be able to provide non-invasive answers to more patients than before, including patients that were previously excluded from CT," continued Richard R. Bayer III, MD, Cardiologist, Associate Professor of Medicine and Radiology at Medical University of North Carolina. "What we can clearly see is that photon-counting CT will redefine medical imaging."
Back To Top