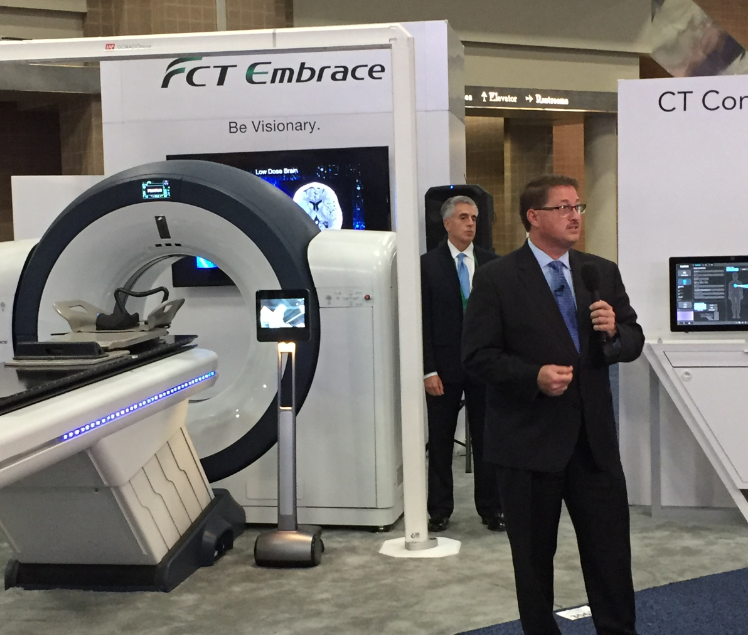 Fujifilm Medical Systems USA Inc. has introduced the world's first 85-cm, 64- or 128-slice, wide-bore computed tomography (CT) imaging unit for oncology on Oct. 21 at the 60th Annual Meeting of the American Society for Radiation Oncology (ASTRO) in San Antonio. Called the FCT Embrace, the system marks Fujifilm's foray into the CT market, expanding the company's end-to-end diagnostic imaging product portfolio.
The FCT Embrace is optimized for oncology and radiology applications, providing enhanced and efficient CT simulation with radiation therapy treatment planning capabilities, on an easy-to-use, standardized platform.
"What makes this technology so special are the details that will enhance the workflow for clinicians while improving the patient experience," said Rick Banner, senior director of marketing, (above, right) during an unveiling ceremony at ASTRO. "Our FCT Embrace … optimally matches the rotational arc of the linear accelerator, offering easy and precise positioning options for simulation with the benefit of high-resolution images from a 64-slice and above clinical system at low dose levels."
Billed as a game-changing system, the unit features the widest table top on the market at 49 cm, and accommodates bariatric patients up to 660 pounds, boosting patient comfort, security and relaxation throughout the imaging process.
"It also delivers simplified modular construction that has dramatically fewer service components compared to typical systems," said Banner. "The result: lowering the total cost of ownership."
The solution also allows oncology patients to be imaged in their optimal treatment position at the full clinical image quality afforded by 64-slice or greater systems for the first time, maintaining accuracy requirements without compromising image quality.
"These are just a few of the many features and benefits [of] Fujifilm's first big-bore CT, and a market-first 85-cm, 64- and 128-slice CT," Banner added. "Now, our renowned reliability and exceptional image quality will support oncologists in CT simulation with radiotherapy treatment planning."
Created after years of R&D and, most importantly, factoring in customer needs, the FCT Embrace harnesses the talents and offerings of partners such as Analogic, RaySearch, Imalogix, and LAP of America Laser Applications.
"Fujifilm is a company of 'firsts' in diagnostic imaging," said Johann Fernando, PhD, chief operating officer of Fujifilm. "In 1936, we took our first steps in the development of X-ray film; and in 1983, we pioneered the first digitized radiography system in the world. Once again, we are innovating with the launch of the FCT Embrace, a solution that provides the most slices ever seen on an 85-cm bore system."
Built on pillars that include "Reliability in Action," "Flexible Scalability," "People-First Design," and "Visionary Performance," the system delivers image-capture and processing innovations designed to drive greater confidence through improved resolution with less noise. Highly responsive customer service is an additional benefit.
Fujifilm's solutions span diagnostic imaging, healthcare IT, life sciences and the drug development process. More information on Fujifilm's solutions is available at www.fujimed.com.
Back To Top