42-year-old female with painful fingertip
Brian M. Trotta, MD, University of Virginia Department of Radiology, Charlottesville, VA
A 42-year-old female presents with a fifth digit fingertip that is sensitive to touch.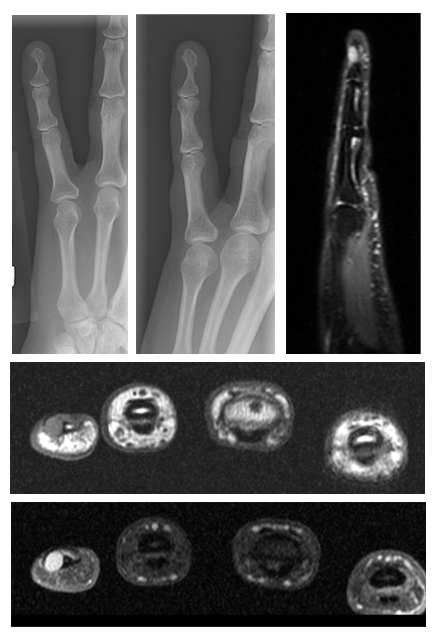 What is the most likely diagnosis?
Epidermoid inclusion cyst
Giant cell tumor of the tendon sheath
You are correct!
Imaging Findings:
Plain radiographs of the fifth digit demonstrate smooth scalloping of the dorsal aspect of the fifth digit distal phalanx. The soft tissue mass is not evident on the plain radiographs. Sagittal STIR and axial T1 precontrast and postcontrast with fat saturation demonstrate a well-defined soft tissue lesion, which is markedly hyperintense on STIR images. The lesion is isointense to skeletal muscle on T1-weighted images and demonstrates avid homogenous enhancement.
Discussion:
Glomus tumors are mesenchymal tumors arising from the neuromyoarterial plexus. It may occur anywhere throughout the body, but is most common in the subungual region of fingers and toes. Glomus tumors may be found in patients of any age, but are most common in adults between the ages of 30 and 50. Patients present with sensitivity to touch and cold temperature. The vast majority of glomus tumors are benign with <1% found to be malignant. Three subcategories of glomus tumors have been described, including solid glomus tumors as in this case, which account for 75% of glomus tumors. Approximately 20% are glomuvenous malformations, which are less circumscribed and are similar in appearance to cavernous hemangiomas, and <5% are glomangiomyomas.
Plain radiographs of subungual glomus tumors demonstrate smooth scalloping of the dorsal aspect of the distal phalanx at the location of the nailbed. The scalloped cortex may demonstrate a sclerotic border. Magnetic resonanc imaging findings include a well-defined, homogenous lesion, which is isointense to muscle or the adjacent nail bed on T1-weighted images and hyperintense on T2-weighted images. Post-contrast images demonstrate intense homogeneous enhancement.
Treatment consists of surgical excision with a local recurrence rate of approximately 10%.
Additional Reading:
Drape JL, Idy-Peretti I Goettmann S, et al. Subungual glomus tumors: Evaluation with MR imaging. Radiology. 1995;195:507-515.
Theumann NH, Goettmann S, Le Viet D, et al. Recurrent glomus tumors of fingertips: MR imaging evaluation. Radiology. 2002;223:143-151.
Your answer is incorrect.