9-year-old female with liver mass
Submitted by Christopher Durst, MD, Department of Radiology, University of Virginia Health Systems, Charlottesville, VA.
A 9-year-old female was found to have liver lesions on a computed tomography (CT) exam which was performed due to mild, ongoing abdominal pain associated with nausea and vomiting.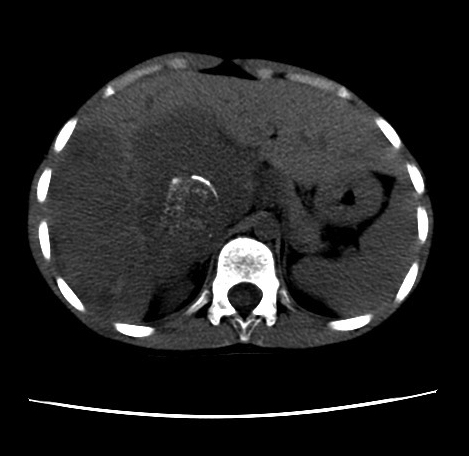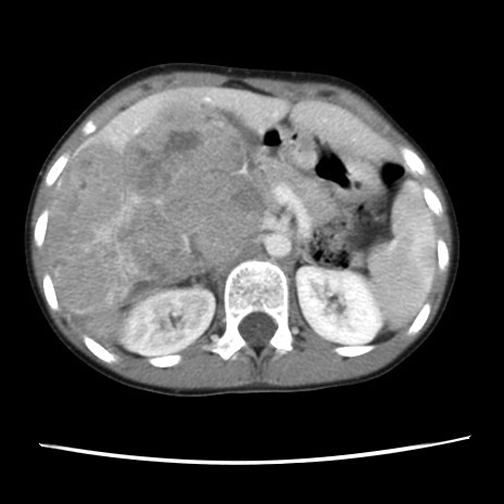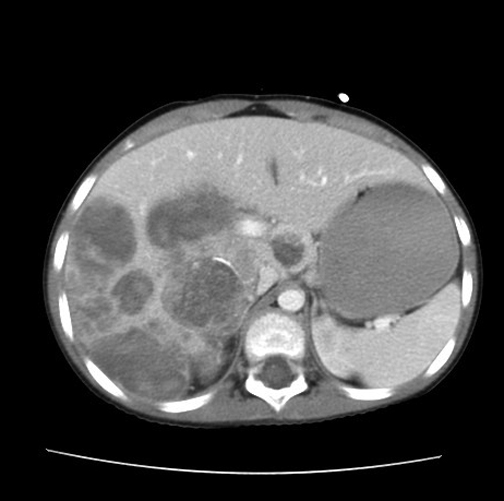 What is the most likely diagnosis in this case?
You are correct!
Imaging findings
One noncontrast-enhanced and three contrast-enhanced axial images of the liver through the abdomen demonstrate a large, multilobulated lesion that replaces the majority of the left lobe of the liver. The mass is of heterogeneous density, though predominantly hypodense with scattered foci of thin linear, discontinuous peripheral enhancement. There is evidence on the noncontrast image of chunky, dystrophic calcification within the lesion.
Discussion
Approximately two-thirds of liver lesions in children are malignant, with the majority of these representing metastases, as is seen in the adult population. However, when considering both benign and malignant primary liver lesions in children, one must consider lesions specific to this population. Of the primary malignant lesions, the most common, in descending order, are: hepatoblastoma, hepatocellular carcinoma, undifferentiated embryonal sarcoma, angiosarcoma, and embryonal rhabdosarcoma.1 The most common benign liver lesions in the pediatric population, in decreasing frequency, are: infantile hemangioendothelioma, focal nodular hyperplasia, mesenchymal hamartoma, nodular regenerative hyperplasia, and hepatocellular adenoma.2 Chung et al note that elevated alpha fetoprotein levels are specific (though not necessarily sensitive) for malignant lesions.1
In this case, the lesion is relatively well defined and heterogeneous, though predominantly hypodense, which is typical but not specific to hepatoblastoma. The tumoral calcification, lobulations, and septations with scattered linear discontinuous enhancement, however, lend some specificity to the diagnosis of hepatoblastoma.3
References
Chung EM, Lattin GE, Lewis RB, et al. From the archives of the AFIP: Pediatric liver masses: Radiologic-pathologic correlation. Part 2. Malignant tumors. Radiographics. 2011;31:483-507.
Chung EM, Cube R, Lewis RB, Conran RM. From the archives of the AFIP: Pediatric liver masses: Radiologic-pathologic correlation. Part 1. Benign tumors. Radiographics. 2010;30:801-826.
Dachman AH, Pakter RL, Ros PR, et al. Hepatoblastoma: Radiologic-pathologic correlation in 50 cases. Radiology. 1987;164:15-19.
Your answer is incorrect.