25-year-old woman with right hand numbness
Submitted by Eric J. Monroe, MD, Department of Radiology, University of Washington, Seattle WA.
A 25-year-old woman presents with sudden onset of right hand numbness, discoloration and decrease of pulse. Chest radiograph and CT angiogram were obtained.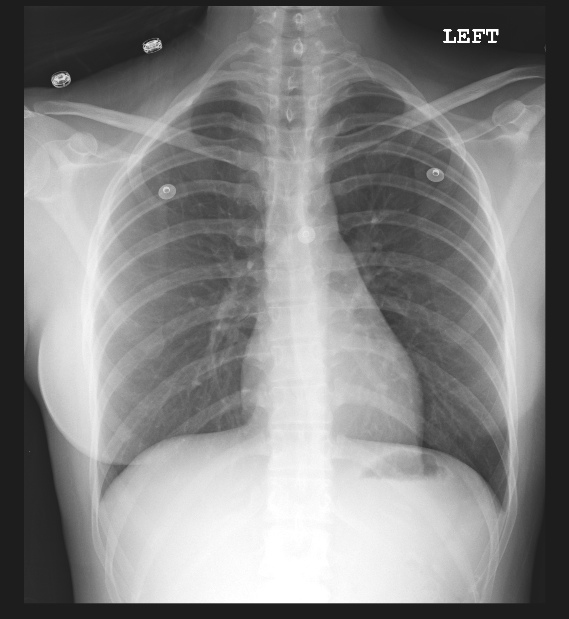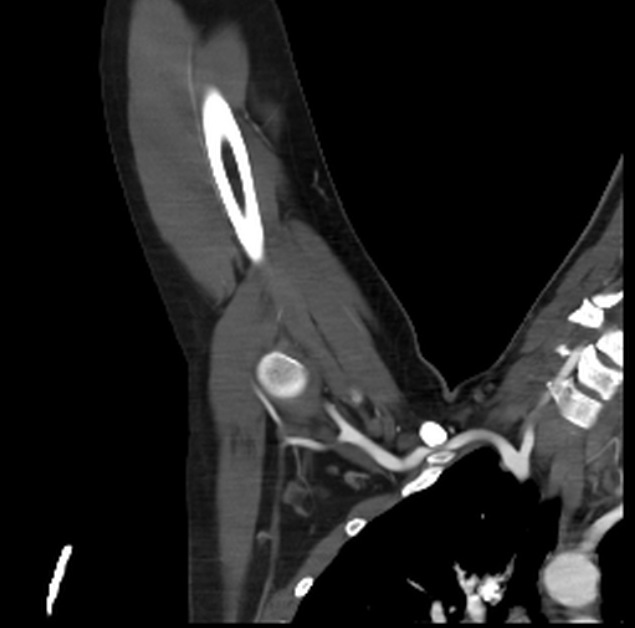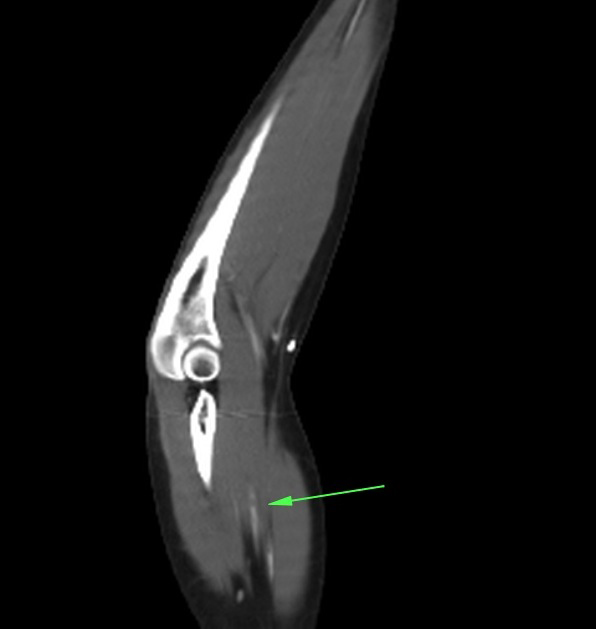 Management of this patient should begin with:
Endovascular stent graft placement
You are correct!
Diagnosis
Thoracic outlet syndrome
Findings
Chest radiograph demonstrates right larger than left anomalous cervical ribs. CT angiogram performed with the patient's arm in extreme abduction confirms narrowing of the subclavian artery between the right cervical rib and clavicle. Additionally, thrombus is seen within the distal brachial artery.
Discussion
Thoracic outlet syndrome results from compression of the neural, arterial, or venous structures crossing the interscalene triangle, costoclavicular space, or retropectoralis minor space. Compression may be secondary to posttraumatic deformities, anomalous cervical ribs, malignancy, or normal anatomic structures such as the first rib, anterior scalene muscle, and subclavius tendon.1 More than 90% of cases are neurogenic with only a small minority of cases involving compression of the subclavian artery.1
Pain, paresthesias, and/or numbness are the hallmark of brachial plexus compression. Swelling and pain may indicate venous compression with subsequent subclavian vein thrombosis (Paget-Schroetter syndrome). Chronic compression of the subclavian artery may lead to stenosis, poststenotic dilatation, or aneurysm and compromised perfusion.2 In cases of distal thromboembolism resulting from arterial compression, patients present acutely with coolness, pallor, claudication, and/or diminished pulses.
Work-up for suspected thoracic outlet syndrome begins with radiographs of the cervical spine and chest to rule out obvious structural abnormalities. Postural maneuvers enhance the sensitivity of angiography and cross-sectional imaging; scanning in a neutral position may fail to reveal the exact site of compression.1
Acute limb ischemia warrants immediate revascularization with either catheter directed thrombolysis or primary operation. Surgical decompression of the thoracic outlet is generally recommended for cases of arterial involvement in which a structural lesion can be identified.2,3 Stenting has little role in primary intervention4 and is reserved for treatment of aneurysms only after surgical decompression. Cases of severe fixed stenosis may require surgical bypass or arterial reconstruction.
References
Demondion X, Pascal H, van Sint Jan S et al. Imaging assessment of thoracic outlet syndrome. Radiographics. 2006;26:1735-1750.
Dorazio RA, Ezzel F. Arterial complications of the thoracic outlet syndrome. Am J Surg. 1979;138:246-250.
Degeorges R, Reynaud C, Becquemin JP. Thoracic outlet syndrome surgery: Long-term functional results. Ann Vasc Surg. 2004;18:558-565.
4. Kieffer E, Ruotolo C. Arterial complications of thoracic outlet compression. In: Rutherford RB, ed. Vascular surgery. 4th ed. Philadelphia, Pa: Saunders, 1995;992–997.
Your answer is incorrect.