35-year-old male with abdominal pain
Submitted by Eric J. Monroe, MD, Pediatric Radiologist, Department of Radiology, University of Washington, Seattle WA.
A 35-year-old man presents with acute on chronic abdominal pain. The patient has had 4 episodes of pulmonary embolism as well as chronic left lower extremity edema, dermatitis, and wounds.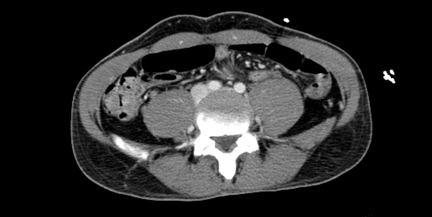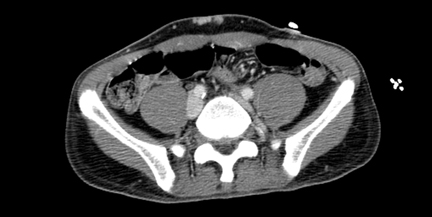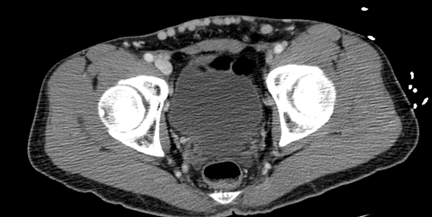 History and imaging are most consistent with which of the following diagnoses?
Kippel-Trénaunay-Weber syndrome
Phlegmasia cerulea dolens
Primary venous leiomyosarcoma
You are correct!
Findings
CT of the abdomen demonstrates marked narrow of the left common iliac vein between the right common iliac artery and adjacent vertebral body (Figure 1). The left external iliac vein is poorly opacified (Figure 2) and there are prominent abdominal wall venous collaterals (Figure 3).
Discussion
Iliac vein compression (May-Thurner) syndrome results from extrinsic compression of the left common iliac vein by the right common iliac artery.1 The upper left common iliac vein takes a more transverse path and passes between the right common iliac artery and spine before joining the right iliac vein to form the IVC. Mild compression in this passageway is a common finding in the normal population.2 If the vein is severely and chronically narrowed, however, venous intimal damage leads to the formation of luminal webs and stenosis. Venous stasis encourages clot formation and complete thrombosis in advanced cases.3
Patients classically present with left leg pain and swelling. Venous claudication, skin ulcers, siderosclerosis, and pulmonary embolism are not uncommon. When left untreated, the syndrome is progressive and leads to significant morbidity. Both computed tomography (CT) angiography and magnetic resonance (MR) venography can be useful in identifying the primary compression of the left common iliac vein, but venography remains the gold standard for characterizing functional stenosis.
In cases of acute deep venous thrombosis, catheter directed thrombolysis provides prompt restoration of patency and may limit valvular damage. Definitive therapy requires angioplasty followed by stenting with placement of self-expanding stents.3-5 Percutaneous lysis of thrombus alone is often insufficient.6
References
May R, Thurner J. The cause of the predominantly sinistral occurrence of thrombosis of the pelvic veins. Angiology 1957.
Kibbe MR, Ujiki M, Goodwin AL, Eskandari M, Yao J, Matsumura J. Iliac vein compression in an asymptomatic 46. patient population. J Vasc Surg. 2004;39:937-943.
Valji K. The Practice of Interventional Radiology. Philadelphia, PA: Elsevier Saunders; 2012.
O'Sullivan GJ, Semba CP, Bittner CA, et al. Endovascular management of iliac vein compression (May-Thurner) syndrome. J Vasc Interv Radiol. 2000;11:823-836.
Jeon et-al. May-Thurner syndrome complicated by acute iliofemoral vein thrombosis: helical CT venography for evaluation of long-term stent patency and changes in the iliac vein. AJR Am J Roentgenol. 2010;195(3):751-753.
Kim JY, Choi D, Guk KoY, et al. Percutaneous treatment of deep vein thrombosis in May- Thurner syndrome. Cardiovasc Intervent Radiol. 2006;29:571-575.
Your answer is incorrect.