Wet Read: Welcome back, my friends, to the show that never ends…

When the going gets weird, the weird turn pro.
—Hunter S. Thompson
I've heard that the RSNA is the world's largest medical meeting, and I've also heard that the moon is made of green cheese. You hear a lot in our line of work, some true and some, well, it's likely the rant of someone like me. Let me go on record with a few short points about RSNA (the meeting, not the organization).
It's huge. I really don't give a rat's %?! if it's the biggest or second biggest, or whatever. It is massive. I think they should have supplemental oxygen and maybe IV hydration at the midway point for those of us who invariably have that meeting and talk at either far end 15 minutes apart.This coast-to-coast adventure is usually on Thursday, and after the biggest dinner/drinks debauchery you will partake of on Wednesday night(see next point). This meeting has its own zip code and gravity.
RSNA is a great opportunity to get together with your friends, colleagues, prior fellows and residents, and others you have been friends with over the years, and then behave like fraternity boys and/or sorority girls who are just getting a taste of being adults. Sure! I only have to get up tomorrow at 6:00 am for a meeting! With some military history in my background, I have always looked at our training programs somewhat along the same lines as military training and the collegiality it engenders. We spend short and intense times with people, and then go our separate ways. And when we get back together, we tend towards excess. We tell all the bad stories and relive those moments, and toast to all those we haven't seen this year.
People are freaking smart there. Just go listen to a few talks. Or, if you really want to warp your brain or bleed from the ears, go to the scientific paper sessions and listen to some serious cutting-edge research. Some of these people remind me of those aliens in the old Star Trek episode (really dating myself here) "The Menagerie." Huge brains. I usually go to a few, sit silently, get intimidated, and creep out of the back. Just don't trip over the bodies of those who passed out running from the other end of McCormick to hear the latest MR spectrophotometric analysis of the induseum griseum.
I think RSNA (the meeting) is just awesome. Plan your days, keep an evening for quiet contemplation and reflection (RIGHT!!! HA!), and learn much. Get home safe. Mahalo.
Back To Top
---
Wet Read: Welcome back, my friends, to the show that never ends…. Appl Radiol.
About the Author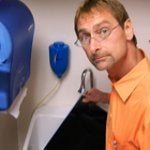 Dr. Phillips is a Professor of Radiology, Director of Head and Neck Imaging, at Weill Cornell Medical College, NewYork-Presbyterian Hospital, New York, NY. He is a member of the Applied Radiology Editorial Advisory Board.