Volpara Highlights AI-Driven Breast Software Tools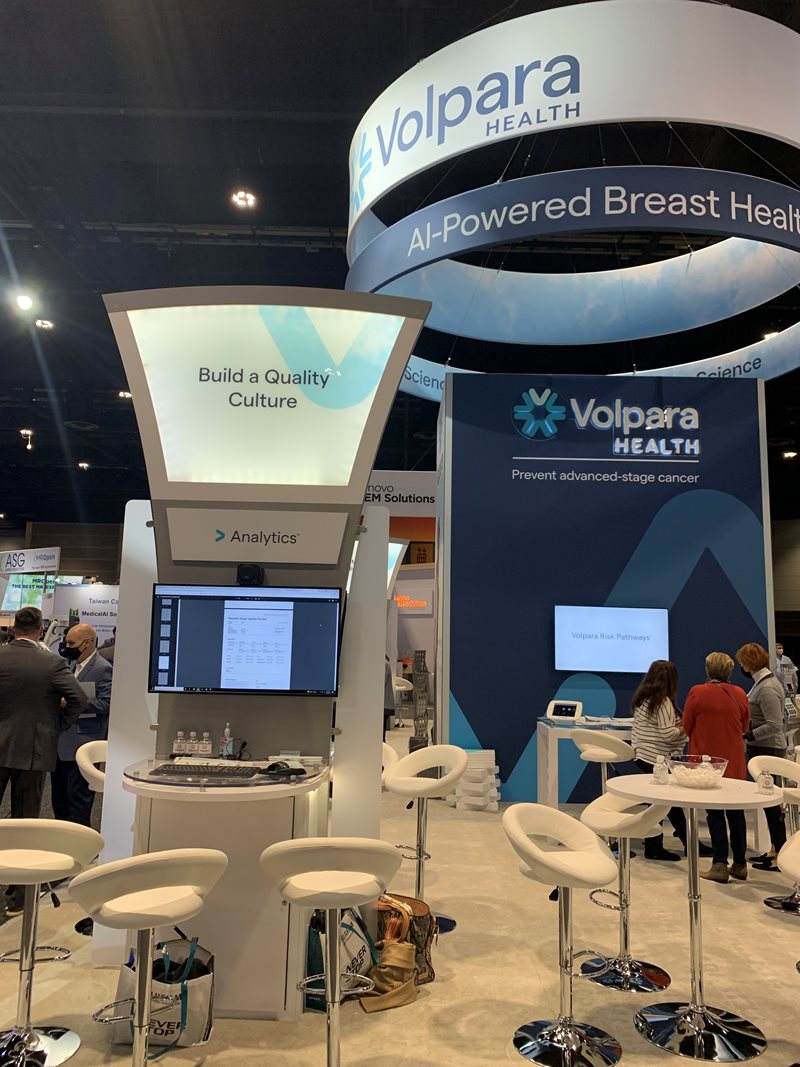 Volpara is showcasing its integrated platform for the delivery of personalized breast care during RSNA this year.
Volpara's AI-driven breast software tools are built on a database of more than 50 million mammogram images, enabling clinicians to provide a high-quality, optimized, and personalized cancer screening experience. The software tools provide a smooth, integrated IT workflow along with objective evidence for clinical decision support. The software offerings range from enterprise-wide quality analytics to risk assessment for individual women aligned with all major US guidelines.
Demonstrated as a fully integrated product at RSNA for the first time following the acquisition of CRA Health, the Volpara Risk Pathways software enables radiologists to leverage existing workflows to identify, manage and track high-risk patients who may benefit from intervention. Using patient data available via mammography reporting systems or EHRs, Volpara's market-leading breast cancer risk assessment software, which is used to perform more than 2 million risk assessments every year, helps clinicians confidently make informed decisions for triaging patients to supplemental imaging and/or genetic testing based on their individual risk profile.
"Personalization starts with risk assessment, and this tool helps every woman access information about her lifetime risk for breast cancer," said MaryAnne Molter, Director, Clinical & Consumer Marketing.
Volpara is also launching the Analytics in Action program to help breast imaging centers create a culture of learning and continuous quality improvement driven by objective quality data. Designed exclusively for customers of Volpara Analytics software, the program offers onsite personalized training from leading mammography education provider, Mammography Educators; a toolkit of recognition resources that encourage and recognize your staff; and provide access to meaningful rewards from the online gifting platform to celebrate quality excellence.
"Analytics in Action helps mammography supervisors build a culture of quality through each technologist, which leads to overall improvement," said Molter.
The company is featuring improvements to Volpara's Patient Hub mammography reporting system, including enhanced mammography report letters to improve education for patients. The Volpara Density Profile™ section enables breast centers to include two mammogram images from the exam, the percentage of breast density, and a link to a consumer-facing website for more information about breast density. For years, women have received text-heavy follow-up letters after mammography with potentially critical information buried in lengthy text. Millions of women comply with their annual screening, yet they have never seen what their breasts look like in their actual mammogram. The addition of a woman's own images will make it easier to grasp the important concept of breast composition and tissue density, empowering women to better understand their breast health.
"This gives the clinician and the patient more information about where that patient falls within the density scale, which can change their care pathway," said Molter. "If you have a precise density measurement, it has implications for screening and further testing. We believe it is empowering patients to better take control of their breast care."
RSNA Booth: South 2160