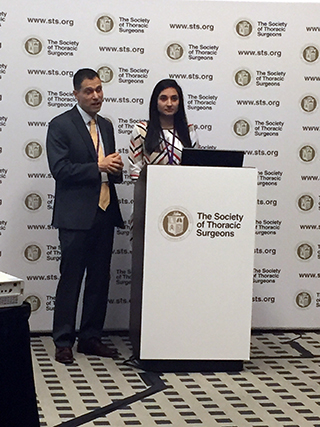 Dr. Doraid Jarrar and Dr. Simran Randhawa at a press
conference of the 2017 STS annual meeting
If a radiology department or practice implements a community lung cancer screening program as a preventive health service, will patients come? Not necessarily.
Achieving visibility and support for such a program — even by local physicians — may be challenging, say Doraid Jarrar, MD, and co-authors of a 12-month prospective study at the Einstein Healthcare Network in Philadelphia.
Einstein offers low dose CT (LDCT) screenings at no cost to individuals aged 55 to 77 who have smoked a pack of cigarettes a day or more for at least 30 years.
>
Dr. Jarrar, assistant professor of clinical surgery at the Perelman School of Medicine of the University of Pennsylvania, and his fellow researchers, collected data using the American College of Radiology Lung Imaging Reporting and Data System (Lung-RADS) and compared corresponding data from Einstein's Tumor Registry.
A total of 278 patients were identified as eligible using the National Lung Screening Trial (NLST) criteria. The majority (87%) of eligible patients were categorized as Lung-RADS 1 or 2. Seven percent were probably benign (Lung-RADS 3), and 5% were categorized as Lung-RADS 4 (suspicious with a chance of malignancy). Of these 15 patients, four patients underwent anatomic resection for Stage 1 non-small cell lung cancer (NSCLC).
>
A survey distributed to all primary care and referring physicians at the end of the year-long study showed that although all of the recipients of the study were aware of the lung cancer screening program, 15% did not refer any patients. They also learned that some physicians did not even discuss lung cancer screening with their patients. One-fourth of the physicians were not aware that the U.S. Preventive Services Task Force (USPSTF) recommended LDCT scans for high-risk patients in 2013, and that the U.S. Centers for Medicare and Medicaid Services (CMS) adopted similar recommendations. And some primary care physicians were not aware of the criteria of screening eligibility.
Dr. Jarrar, who presented the study findings at a scientific session of the 2017 annual meeting of the Society of Thoracic Surgeons, expressed concern , especially since the National Lung Screening Trial (NLST) results showed that LDCT can reduce the risk of dying from lung cancer by as much as 20% in high-risk populations.
"Primary care physicians help patients with informed decision making," he said. They know the patient best, understand the risk factors of lung cancer, and are able to recognize those who meet the criteria for screening."
Co-author Simran Randhawa, MD, a third-year resident at Einstein Healthcare Network added, "Patient recruitment into any community lung cancer screening program is crucial to a successful, sustained effort. The lung cancer screening program that was part of this study was promoted through flyers, radio programs, face-to-face information sessions, and a multidisciplinary lung symposium. Many times, patients will read a story in the newspaper or on the Internet, see a story on TV, or hear one on the radio about how screening saved someone's life."
"Screening for lung cancer is critical for high-risk patients, because most people with early lung cancer have few or no symptoms. In a community setting, the primary care physician often has the most contact with these patients and the best source of information. Patients' willingness and ability to undergo lung cancer screening and possibly surgery can be challenging. It demands effective communication and strong documentation by using various risk-assessment models and shared decision-making tools," added Dr. Jarrar.
The presenters said that lung cancer is stigmatized because of its association with cigarette smoking. In addition to physicians being reluctant to advising high-risk patients of the benefit of lung cancer screening for fear of intimidating them, patients themselves may not be receptive to discussing the risk of developing lung cancer and may refuse screening even if it is offered free of charge. They also discovered that physicians and patients are often frustrated and discouraged by the delays resulting from pre-certification required by health insurance companies as well as the time constraints relating to fulfilling CMS requirements.
Interestingly, the researchers discovered in follow-up telephone conversations with providers that the rate of referrals increased after the researchers shared positive feedback. Dr. Jarrar said, "With this information, physicians became further convinced that lung cancer screening was beneficial. These physicians became champions in their practice for lung cancer screening."
Back To Top