SIR: Cryoablation for phantom limb pain clinical trial underway at Emory
By Staff News Brief
Interventional radiologists at Emory University are hopeful that image-guided cryoablation may permanently help to alleviate chronic pain experienced by amputees. Phantom limb pain is a phenomenon experienced by approximately 85% of some the 185,000 U.S. individuals who have an arm, leg or portions thereof surgically amputated each year. Experts predict that by 2050, an estimated 3 million U.S. amputees will be living with the chronic burning, stabbing, or aching sensations of phantom limb pain.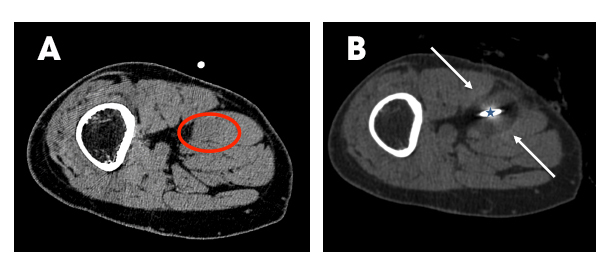 Intraprocedural images of the lower extremity in a patient with phantom limb pain following trauma and surgical revision above the knee. (A) Single axial CT image from the planning sequence demonstrate a hypoattenuating neuroma along the course of the sciatic nerve (red circle). (B) Corresponding intraprocedural image shows the probe (star) and ablation zone (arrows).
The condition is attributable in part to nerve-ending damage resulting from the surgery. Extensive nerve regrowth may cause a painful discharge of neurons at the stump, and/or it may alter the way that nerves from the amputated limb connect to the spinal cord. Research suggests the loss of sensory input from the amputated limb may alter nervous activity with the brain as well. Researchers have also determined that each case of phantom limb pain is unique, due to the combination of input from hyperexcited signals from the neuroma, signals from other nerves located between the stump and the brain, and false signals from unrelated nerves.
Cryoablation — or cryoneurolysis — has been used for years to treat the pain of metastatic disease. Recently, investigators have been using image guidance to target nerves, enabling treatments for a variety of historically difficult to manage pain syndromes.
Researchers at the Emory University School of Medicine in Atlanta are conducting a clinical trial to determine if percutaneous cryoablation yields a significant difference in phantom limb pain (PLP). Principal investigator J. David Prologo, MD, an assistant professor in the Department of Radiology and Imaging Sciences, discussed interim findings of the 12-month clinical trial at the annual meeting of the Society of Interventional Radiology (SIR) held in Vancouver, British Columbia last month.
The prospective single-arm study recruited 25 patients who had responded to lidocaine nerve block and subsequently underwent CT-guided cryroablation. Dr. Prologo explained that the CT guidance enabled interventional radiologists to access hard-to-target areas and to shut down problematic nerves. Under CT guidance, corresponding nerves were targeted with a 17g cryoablation needle (Galil Medical Ice Sphere). Two freeze-thaw cycles were undertaken, dropping the temperature to a negative 40 degrees centigrade for 25 minutes. The tip of the probe forms an iceball that engulfs and destroys the targeted tissue,
The investigators asked patients to rate their pain using the visual analogue scale (VAS) that ranged from 0 mm (no pain) to 100 mm (worse pain possible). Pain was rated at baseline, seven days following the procedure, and again 38 days later. Before cryroablation, the cohort reported an average pain score of 6.4 points. At Day 45, pain had significantly abated, with an average score of 2.4 points. Data will continue to be collected until February 2017. Galil Medical of Arden Hills, MI, is providing an ongoing educational grant for this clinical trial.
"More military personnel and veterans are returning from combat zones with amputations as a result of improved body armor and extraction techniques. Many Vietnam veterans are still suffering from phantom limb pain decades after they lost their limbs. Until now, they and other amputees have had few medical interventions available to them with the potential to reduce significant pain. We hope that percutaneous image guided cryrablation will offer at least partial relief," commented Dr. Prologo.
Back To Top
---
SIR: Cryoablation for phantom limb pain clinical trial underway at Emory. Appl Radiol.
By
Staff News Brief
|
May 24, 2016
About the Author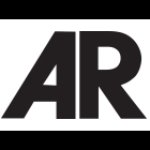 Staff News Brief