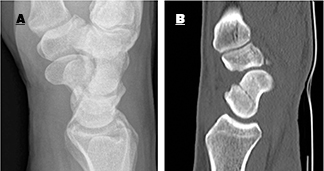 Sagittal conventional (A) and single-shot CT (B) images
of the right wrist of a 47-year-old man with a missed
scaphoid fracture on X-ray.
Low-dose, fast-volume, single-shot computed tomography (CT) outperforms conventional radiography (CR) in detecting fractures of the wrist, ruling out fractures and carpal injury, and helping to define the most appropriate treatment of wrist trauma, physicians at Radboud University Medical Centre Nijmegen in The Netherlands reported online Nov. 8, 2018, in Skeletal Radiology.
Digital radiographic anteroposterior and true lateral imaging is the standard of care in identifying fractures in wrist injuries. However, the modality may miss scaphoid and carpal bone fractures and underestimate the number of intra-articular distal radius fractures., the researchers write of their prospective 98-patient clinical trial.
To avoid missing subtle fractures and to take advantage of the high-contrast, three-dimensional information on bone surfaces that CT can provide, the Radboud radiologists used a single-shot CT protocol with fast setup, no table movement, an effective radiation dose of less than 0.02 mSv, and an exam time of about 30 seconds.
Subjects sat on a chair adjacent to the CT table, leaning the affected arm in pronation on the table. Scans were performed with a maximum of 320 slices, a 0.5-second rotation time, and 12-, 14-, or 16-cm volume depending on wrist and carpus length. The pitch was 0, with 80-kV tube voltage, and a fixed tube current time of 50 mAs. Iterative reconstruction was used to create standard multiplanar reconstructions, and if needed, standard 3D surface-shaded reconstructions and reconstruction along the long axis of the scaphoid.
The objective of the clinical trial (NCT01857570) was to evaluate the accuracy of fracture detection and therapeutic impact of single-shot standard-volume CT protocol in wrist injury, according to the researchers. Patients were predominantly female (63%), ranging from 18 to 87 years old. All underwent conventional radiography followed by CT scan. Radiologists and clinicians had to annotate likelihood of fractures before and after CT.
CT correctly identified 61 cases of wrist fractures compared to 45 by X-ray. The types of fractures included 26 carpal fractures in 21 wrists, 2 distal radius fractures, one distal ulna fracture, and seven intra-articular fractures. CT sensitivity was 100% for all fractures and a specificity was 97%. By comparison, digital radiography had a sensitivity of 75% and a specificity range of 85%.
The study found changes in treatment recommendations for 24-31 wrists after CT, consisting primarily of a drop in cast immobilization. Combined, the surgeons recommended upgraded treatment for 11 patients. Agreement on treatment differed among the three surgeons, ranked only as "moderate" with conventional radiography and "good" for CT.
Co-principal investigators and radiologists Monique Brink, MD, PhD, Mathias Prokop, MD, PhD, and colleagues said only four treatment changes were due to potentially clinically significant missed fractures on radiography. However, "It is not the additional information of CT compared to CR in wrist fractures, but it is in ruling out carpal injury that will really add benefit to the patients," they wrote.
"CT ruled out fractures with higher confidence than CR, especially of the carpal bones. Observers therefore downgraded treatment from cast to functional treatments in 14-16% of all patients. These results suggest that the fear of missing fractures should diminish with the use of this type of CT, and that unnecessary cast immobilization or additional imaging can be prevented," they added, noting that the higher cost of CT could be offset by prevention of these expenses.
REFERENCE
Brink M, Steenbakkers A, Holla M, et al. Single-shot CT after wrist trauma: impact on detection accuracy and treatment of fractures. Skeletal Radiol. Published online November 8, 2018. doi: 10.1007/s00256-018-3097-z.
Back To Top