Siemens Shows Patient Self-Scheduler and AI-Pathway for Lung Cancer at HIMSS 2021
By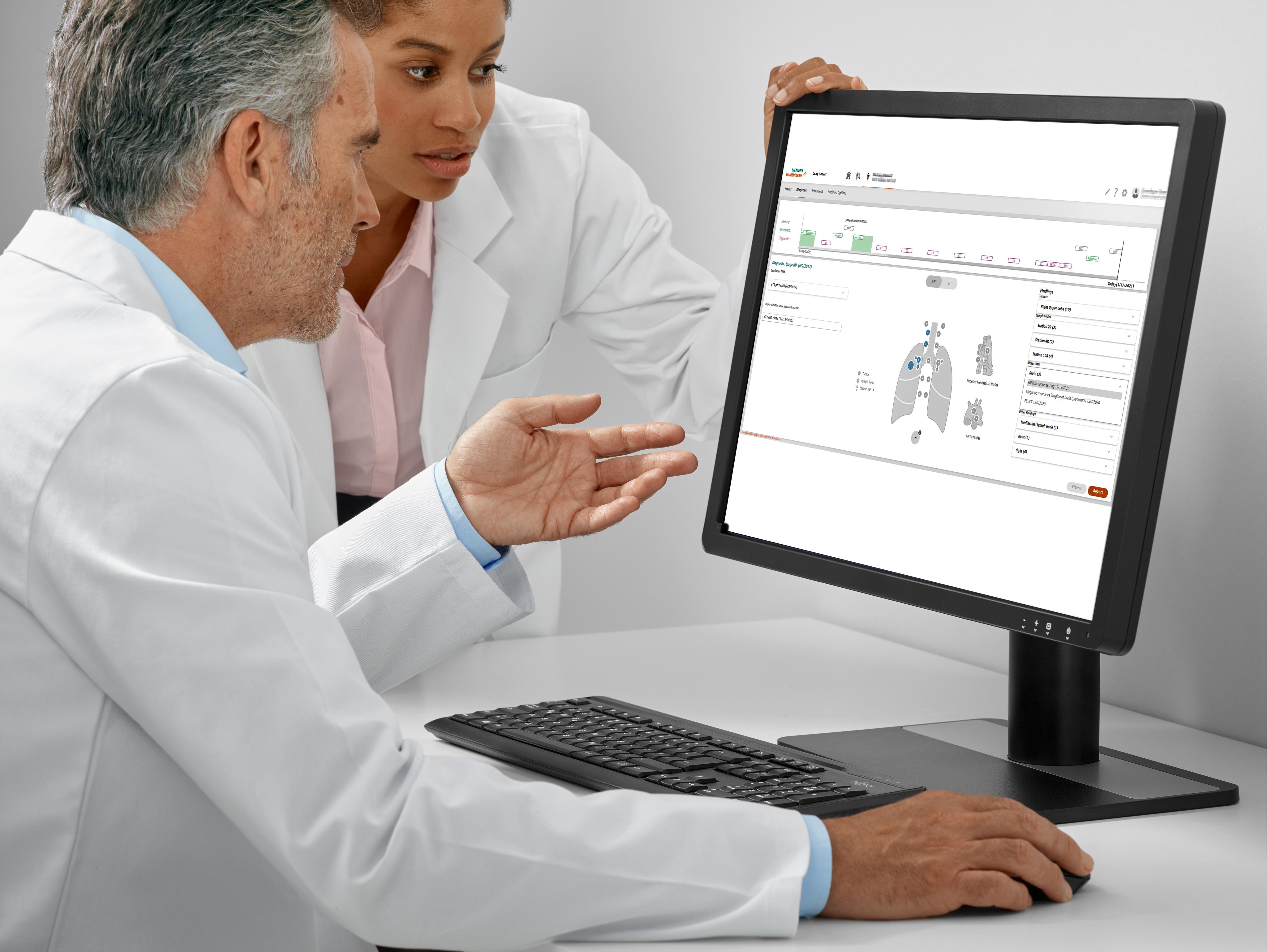 At the 2021 HIMSS Annual Conference & Exhibition, Siemens Healthineers is showcasing Medicalis Patient Self-Scheduling as part of the Siemens Healthineers Medicalis Referral Management solution. It extends the existing federated scheduling capabilities by enabling patients to schedule their own imaging exams based on the time and location that is most convenient to them and includes an embedded map view.
Reducing wait time and decreasing no shows are important aspects not only operationally, but above all clinically, as timely diagnosis speeds up the patient treatment plan and thus improves overall patient care. This can be done by increasing patient engagement in their own care plan. Medicalis Patient Self-Scheduling easy to use and secure online application helps ensure patient preparedness, by providing pre-exam instructions and reminders, thus reducing the risk of procedure cancellation or no shows.
"Patient Self Scheduling is an important step to enabling patients, while also equipping an outpatient imaging provider to streamline their scheduling workflows and optimize their capacity," said Peter Shen, Vice President of Innovation and Digital Business for Siemens Healthineers.
The efficient smart scheduling module helps a department maximize resource utilization and minimize wait time while providing a higher level of imaging service for the referral community and patients. It forms the vehicle to further engage the patient and create a better patient experience. Patient self-scheduling is a significant extension to the existing scheduling capabilities that enables access to online federated, multi-site scheduling for imaging centers and referring physicians. The new product directly addresses the patient and enables the patient to pro-actively take ownership and drive their own scheduling with an intuitive patient interface. It is a convenient, easy to use application to better accommodate patients and further encourage patient engagement.
The company also presented its AI-Pathway Companion focused on non-small cell lung cancer, supporting personalized and standardized decision-making along the whole treatment process. The AI-Pathway Companion Lung Cancer assists multidisciplinary teams (MDT) by facilitating patient management and case reviews in a single dashboard, providing quality checks on data completeness, and enabling the documentation of clinically relevant patient-specific notations.
"During lung MDT discussion, it frequently becomes apparent that a key diagnostic report or other crucial information is not yet available. These patients have to be discussed again in the next meeting. This wastes time and effort for all physicians involved in the MDT. A digital assistant, which ensures that the right set of information is available, would substantially increase efficiency," says Prof. Mathias Prokop, MD, Head of the department Radiology, Nuclear Medicine and Anatomy, Radboud University Nijmegen.
The software is designed to help in advanced oncology care by integrating contextualized data along the patient pathway. Utilizing the full pathway with all available data, healthcare professionals can optimize the treatment for the individual patient and adherence to evidence-based standards of care is easier to accomplish. This transparency also helps collaboration across departments and cancer boards. Everyone involved always has the full picture and can contribute to the treatment discussion with their specific knowledge.
"The introduction of the AI-Pathway Companion Lung Cancer demonstrates our continued commitment to supporting healthcare providers in their transformation to value-based healthcare. With the AI-Pathway Companion solution, we are presenting a next-gen clinical decision support system; we want to continue trail blazing in this market by partnering with key customers on future innovation," says Wido Menhardt, Head of Digital Health at Siemens Healthineers.
Back To Top
---
Siemens Shows Patient Self-Scheduler and AI-Pathway for Lung Cancer at HIMSS 2021. Appl Radiol.