Image-guided retrocalcaneal bursa steroid injections significantly reduce heel pain, according to researchers at Montefiore Medical Center and the Albert Einstein School of Medicine in New York City. Their retrospective review of 218 patients, presented at the RSNA 2019 annual meeting, evaluated short- and long-term outcomes of the procedure, and is believed to be the largest patient cohort studied to date.1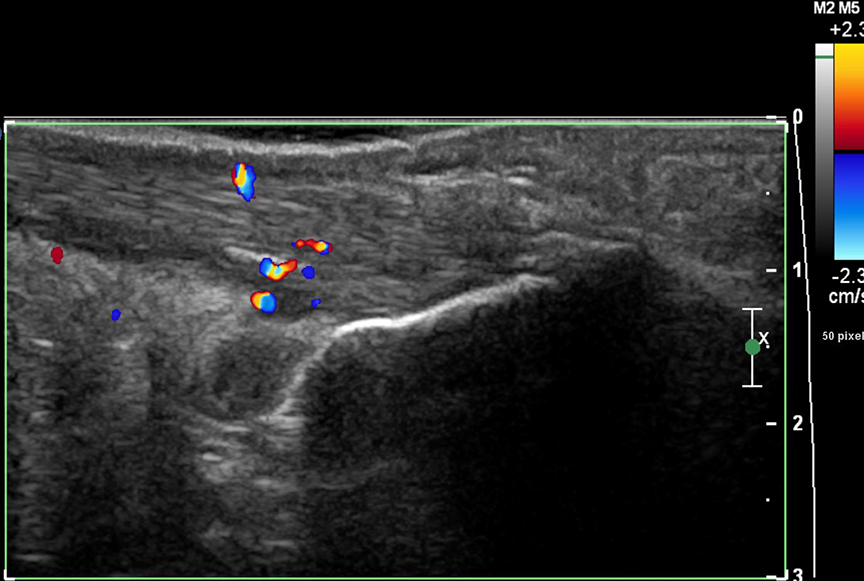 Long axis Dopper evaluation of the heel in a 55-year-old.
Achilles fusiform tendinopathy and abnormal Doppler
flow is identified. There is moderate retrocalcaneal bursitis.
The retrocalcaneal bursa (RCB) is a fluid-filled and synovial lined space between the anterior border of the Achilles tendon and the posterosuperior calcaneus that reduces friction associated with tendon motion. It is frequently concomitant with insertional Achilles tendinopathy and is a common cause of heel pain.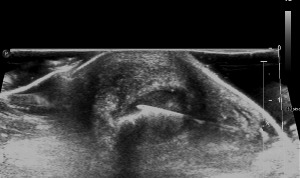 Short axis image of sonography-guided retrocalcaneal
bursa injection in the same patient.
Treatment for RCB is primarily conservative and may include corticosteroid injections. Image-guided injections are preferred over blind injections to verify injection into the bursa itself instead of the Achilles tendon.
"There is a dearth of literature about RCB" injection therapy, said scientific session presenter Sean Boone, MD, a radiology resident at Montefiore. "No randomized clinical trials or large retrospective reviews have been published investigating [the procedure]. And a recent Cochrane review of all injection therapies for Achilles tendinopathy found insufficient evidence to recommend for or against injection therapy."2
Dr. Boone said the study was conducted primarily to evaluate short-term pain relief, complication rates, and long-term outcomes of image-guided steroid injections into the RCB. "Our secondary objectives were to identify risk factors associated with poor short-term pain relief and … with long term progression to surgery," he added.
"We wanted to quantify the impact we were actually having, as well as measure the risk of the image-guided injection into the retrocalcaneal bursa, which is poorly understood," added senior author Sholmit Goldberg-Stein, MD, director of musculoskeletal intervention at Montefiore.
The researchers performed a retrospective chart review of 218 heels that received an initial injection guided by fluoroscopy or ultrasound. Follow-up consisted of a median 2.86 patient years per case, for a total of 603 patient years. The researchers also looked at demographic factors, X-ray and ultrasound findings, short-term visual analog score (VAS) pain scores, and long-term outcomes.
Dr. Boone said the patient cohort was a predominantly non-athletic podiatric population, ranging from 30 to 86 years old, with a mean age of 55 years. There were only three sports-related injury cases.
Each patient underwent diagnostic ultrasound to evaluate for RCB and/or Achilles tendon injuries; steroid injections were not performed in cases of high-grade or bursal-sided tears, said Dr. Boone. Each injection delivered 40-60 mg of Depomedrol, depending on bursal capacity.
Sixty-two patients self-reported short-term results using the 10-point VAS score. Median VAS score pre-procedure was 8; the post-procedure pain score one to four weeks following treatment was 3. Sixty-three percent of patients reported a good or excellent response (more than a 4-point reduction in pain score), with a mean improvement of 5.1 VAS scale points.
"We did not find any association with demographics, Haglund deformity, or posterior osteophyte," said Dr. Boone, adding that researchers "did not identify any ultrasonographic findings to isolate a group that would perform better or worse with the injection."
Of the study subjects, 71% required no surgery or repeat injection; 19% required a second injection, and 14% progressed to surgery, all within 20 months following RCB injection. Doppler flow in bursa and bursitis were correlated, and either of these findings on ultrasound was associated with progression to surgery.
Complication rates were low, with only 4 cases of complications in 218 injections; these consisted of high-grade or complete Achilles tendon tears, all of which occurred after a fall or other minor trauma. One was treated conservatively, and three with surgery.
"Based on our retrospective review, we recommend fluoroscopic and ultrasound-guided RCB injection as a valuable adjunct to conservative therapy. This procedure provides short-term pain relief and has a low complication rate," he said.
REFERENCES
Boone S, Elsinger E, Walter E, et al. Short and long term outcomes of image-guided retrocalcaneal bursal injections. (SK14-02) Radiological Society of North America 2019 Scientific Assembly and Annual Meeting, December 1-6, 2019, Chicago, IL. archive.rsna.org/2019/19015059.html. Accessed December 20, 2019.
KearneyRS, Parsons N, Metcalfe D. Injection therapies for Achilles tendinopathy. Cochrane Database Syst Rev. 2015(5): Cd010960.
Back To Top