RSNA 2018: CT-guided pulsed radiofrequency brings long-term relief of chronic back pain
By Staff News Brief
Computed tomography (CT)-guided pulsed radiofrequency treatments for patients with lower back pain caused by lumbar disc herniation have proven superior to lumbar epidural spinal injections, according to a presentation at the 2018 RSNA annual meeting. This minimally invasive procedure takes approximately 10 minutes, and has proven to be safe and effective for patients who have not responded to conservative treatment. Furthermore, only one treatment was needed for the majority of patients enrolled in the progressive, randomized clinical trial conducted by Sapienza University in Rome, Italy.
Last year, interventional radiologist Alessandra Napoli, MD, PhD, excited RSNA 2017 attendees with the news that 65 out of 80 patients having this procedure were pain-free after one year and none experienced any side effects from the treatment. All 80 patients participating in the study had experienced at least three months of lower back pain due to a herniated disc and had not responded to conservative treatment.
After this initial clinical success, Dr. Napoli and colleagues conducted a randomized study of 260 patients who had not responded to prolonged conservative treatment for lower back pain. One hundred twenty patients received one to three sessions of CT-guided steroid injections and 128 patients received CT-guided pulsed radiofrequency treatments.
A total of six patients receiving pulsed radiofrequency treatment (or 5%) required a second treatment. The treatment was not effective for eight patients (6%), who subsequently required surgical management.
Dr. Napoli explained that the CT-guided pulsed radiofrequency technique applies energy through a 20-22 G needle-electrode with probe top directed to the symptomatic dorsal root ganglion under CT guidance. Interventional radiologist administered E-pulsed radiofrequency for 10 minutes at 45V with a constant local temperature of 42℃.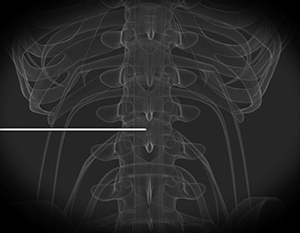 Probe being applied to nerve root.
Courtesy of Dr. Napoli and the RSNA.
Patients in each group completed questionnaires about pain relief prior to the initial procedure, one week following the procedure, and at one, three, six, and twelve month follow-ups. Although median Visual Analogue Scale (VAS) scores decreased linearly in both randomized groups, patients who received the radiofrequency treatment had a greater improvement in pain and disability scores during the first year. These patients also experienced relief of associated leg pain more rapidly.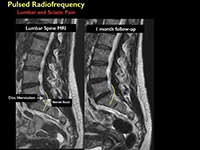 Image of herniated disc before treatment and at 1-month
follow-up. Courtesy of Dr. Napoli and the RSNA.
"The probability of perceived recovery after one year of follow-up was 95% in the group who received pulsed radiofrequency treatments compared to 61% who only received injections," said Dr. Napoli. "Pulsed radiofrequency creates a nerve modulation, significantly reducing inflammation and its associated symptoms."
"The results of this study are superior to those typically reported for usual care strategies and injections, and may help a substantial number of patients with sciatic disc compression to avoid surgery," he said. "The use of pulsed radiofrequency treatment could also improve outcomes for patients who will be having corticosteroid injections. We also learned that when pulsed radiofrequency is followed by steroid injection, the result is longer lasting and more efficacious than injection only."
See also:
RSNA 2017: CT-guided pulsed radiofrequency provides relief of back pain (November 29, 2017)
Back To Top
---
RSNA 2018: CT-guided pulsed radiofrequency brings long-term relief of chronic back pain. Appl Radiol.
By
Staff News Brief
|
December 10, 2018
About the Author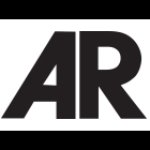 Staff News Brief