Reducing fluoroscopy radiation dose during UFE procedures
By Staff News Brief
Uterine fibroid embolization (UFE) is a safe, effective treatment for women with symptomatic fibroids. Compared to hysterectomy or myomectomy, UFE is less invasive procedure and has a much shorter recovery time. However, fluoroscopy is used during the procedure, exposing the patient to ionizing radiation. Recent enhancements to fluoroscopy systems can significantly reduce the radiation dose. Interventional radiologists at the University of California San Francisco (UCSF) conducted a study to quantify this radiation dose reduction for UFE, reporting their findings in the Journal of Vascular and Interventional Radiology.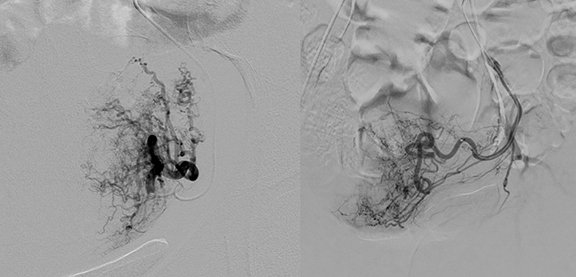 Figure 1. Digital subtraction angiography of the left uterine artery in different patients. The left image was acquired using a standard imaging platform. The right image was acquired using a new imaging platform with substantial reduction in radiation dose.
The UCSF Department of Radiology began to clinically use an optimized angiography platform (Philips Allura FD20, Philips Healthcare) in October 2015. Optimized x-ray fluoroscopic imaging technology reduces the patient dose by a proprietary imaging scheme that maintains image quality while lowering the detector dose per frame and applying greater x-ray beam filtration than prior iterations of the system. The increased filtration capability reduces the number of low-energy x-rays incident on the patient that do not contribute to image formation. Proprietary software optimizes the images to compensate for the lower detector doses.
For their study, the authors determined radiation dose for 21 women (the reference group) who had a UFE procedure with the "baseline" angiography system and 49 patients (the study group) with the optimized system. The dose settings for both groups included a 0.7 mm focal spot and nominal tube voltage of 80 kV, but the baseline system had inherent filtration and the optimized system had increased beam filtration. Real-time fluoroscopy was performed at 15 frames per second, but the baseline system had a detector dose of 1.9 μGy per frame compared to 1.0 μGy per frame from the optimized system.
The authors collected cumulative kerma-area product (CKAP), cumulative air kerma (CAK), total fluoroscopy time, and image exposure number for each procedure. Three interventional radiologists blinded to the platform that was used independently assessed image quality.
Principal Investigator Ryan Kohlbrenner, MD, assistant professor in interventional radiology in the Department of Radiology and Biomedical Imaging, reported that the women in the study group had significantly lower CPAK and CAK indicators than women in the reference group. Mean CKAP decreased from 438.5 Gy ∙ cm2 to 175.2 Gy ∙ cm2, a decrease of 60%. Mean CAK decreased from 2,034 mGy to 1,109.8 mGy, a decrease of 45%. Use of the optimized system also reduced mean total fluoroscopy time by 17.4%.
"Interventional radiologists are encouraged to follow the ALARA principle when performing procedures that require ionizing radiation. Radiation doses to the skin that are sufficiently high can result in burns," Dr. Kohlbrenner said.
He added, "Some studies suggest that radiation exposure may increase a patient's long-term risk of developing cancer. While these risks may be small, it is prudent for us as interventional radiologists to use as little radiation as necessary to complete procedures such as uterine fibroid embolization (UFE). With our new imaging platform, we have been able to greatly reduce the radiation dose to patients while maintaining our ability to effectively perform UFE."
UFE is underutilized in the United States, according to the Society for Interventional Radiology. Applied Radiology asked Dr. Kohlbrenner if a lower radiation dose might influence women with symptomatic fibroids to select this procedure.
He said, "When patients talk about UFE with their gynecologists and interventional radiologists, one of the downsides often discussed is the use of ionizing radiation. Surgical therapies for uterine fibroids, such as hysterectomy and myomectomy, do not require X-ray exposure. Knowing that interventional radiologists are using the latest technology to minimize radiation exposure would likely make UFE a more appealing option to patients suffering from fibroid disease."
REFERENCE
Kohlbrenner R, Kolli KP, Taylor AG, et al. Radiation Dose Reduction during Uterine Fibroid Embolization Using an Optimized Imaging Platform. J Vasc Interv Radiol. 2017 28;8: 1129-1135.
Other links
Back To Top
---
Reducing fluoroscopy radiation dose during UFE procedures. Appl Radiol.
By
Staff News Brief
|
October 05, 2017
About the Author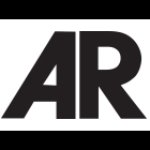 Staff News Brief