Diagnostic imaging is critical to the staging of patients with peritoneal malignancy. This aggressive cancer develops in a thin layer of tissue that lines the abdomen, and may also cover the uterus, bladder and rectum. Radiological findings help physicians determine patients who may benefit from cytoreductive surgery (CRS) and hyperthermic intraperitoneal chemotherapy (HIPEC).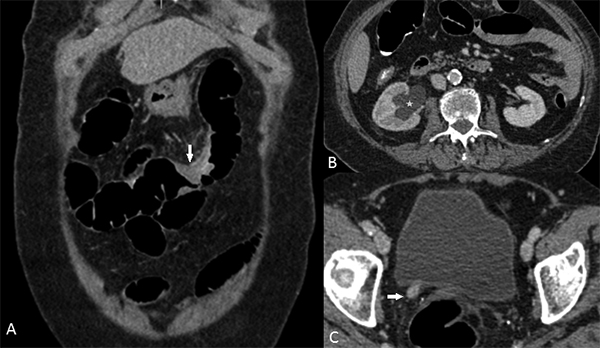 CT scan of an 88-year-old woman with breast cancer showing (A) Small-
bowel serosal metastases (arrow) and (B, C) right hydronephrosis (asterisk)
from right distal ureteric metastases (arrow). Though at first look these images
illustrate localized disease, this patient had multifocal small and large bowel
serosal metastases and liver metastases making her less likely to benefit
from CRS and HIPEC.
A team of radiologists and surgeons from the Basingstoke and North Hampshire Hospital in Basingstoke, England, have developed a method of reporting key imaging features that would potentially alter the treatment of patients with peritoneal malignancy. They have summarized this with an acronym: PAUSE, representing the five key elements that describe the primary tumor and the presence and extent of metastases. The PAUSE protocol is described in detail in Clinical Radiology.
PAUSE represents:
P: Peritoneal Cancer Index (PCI) and site/extent of primary tumor
The most common peritoneal malignancies treated by CRS and HIPIC are colorectal-peritoneal metastases, and peritoneal mesothelioma. The PCI is the most accepted method of estimating tumor burden in these patients, and it correlates closely with the prognosis and outcome of patients who receive this treatment. A summed numeric score (from 0-39) assigned to the largest lesion in 13 anatomical sites that include nine locations in the peritoneal cavity and four small bowel and mesenteric locations.
Although computed tomography (CT) is known to consistently underestimate PCI compared to surgical assessment, CT will remain the most widely used exam, according to lead author Anuradha Chandramohan, MD. The authors report that CT is a good screening method to detect extensive disease and to help identify patients who would not clinically benefit from CRS and HIPEC. They use a protocol that consists of an intravenous contrast-enhanced CT of the chest, abdomen, and pelvis with positive oral contrast to opacify the small bowel.
Diffusion-weighted magnetic resonance imaging (DW-MRI) has a reported overall higher sensitivity, but it may not be feasible for patients who cannot tolerate long scanning times or have contraindications. The value of positron-emission tomography (PET) combined with CT is still being debated.
A: Ascites and abdominal wall involvement
The presence of malignant ascites correlated with a high tumor burden. If extensive, a patient has a very poor prognosis with survival of six months or less. The presence of abdominal wall metastases may cause surgical risks and morbidities and necessitate complex reconstructive surgery.
U: Unfavorable sites of involvement
The authors have prepared a detailed list of anatomical sites that radiologists should carefully scrutinize and report. Their article includes a useful table on unfavorable sites where imaging findings have been classified according to the implications they may have on the management of the patient.
S: Small bowel and mesenteric disease
The authors detail the radiology findings that indicate small-bowel and mesenteric disease on CT, along with imaging techniques used to best visualize specific disease. When identified, the ability to achieve complete CRS may be compromised. Detail of reporting is extremely important for surgical planning.
E: Extra-peritoneal disease
When disseminated systemic disease is identified in the form of retroperitoneal lymph nodes and metastases to the liver, lung, adrenals, bones or the brain, a patient is an unlikely candidate for cytoreductive surgery. The authors report that an exception may be synchronous resectable liver/lung and colorectal peritoneal metastases. PET-CT is useful in patients being considered for CRS and HIPEC in order to exclude extra-peritoneal metastases.
"We wrote an article that deals with a method of communicating imaging findings in complex condition such as peritoneal malignancy in a fashion that is useful to the treating physician," said Dr. Chandramohan.
REFERENCE
Chandramohan A, Thrower A, Smith SA, et al. "PAUSE": a method for communicating radiological extent of peritoneal malignancy. Clin Radiol. 2017 72;11: 972-980.
Back To Top