MR arthrography recommended for post-operative shoulder imaging
By Staff News Brief
Image Gallery
Patients who have had shoulder surgery can be challenging to image due to scar tissue, residual irregularity of anatomic structures, and implanted metallic screws or anchors. When post-operative patients experience pain, recurrent dislocation, a decreased range of motion, instability, or clicking, a magnetic resonance imaging (MRI) scan, a MR arthrography scan, or a CT arthrography scan is performed. A study published in the September issue of Skeletal Radiology suggests that MR arthrography provides a more accurate assessment of post-operative shoulder pathology than conventional MRI.
The study included 100 consecutive patients who underwent imaging at the NSI NeuroSkeletal Imaging Center in Merritt Island, Florida. All patients had MRI imaging of the shoulder in oblique coronal, oblique sagittal and axial planes, followed by a MR arthrogram. Twenty-two patients also had post-arthrogram CT imaging performed because metal artifacts had compromised the diagnostic quality of the MR images. CT arthrography reduced the extent of metallic artifact and enabled thinner section imaging than MR could provide.
Two musculoskeletal radiologists reviewed in consensus each set of images in separate sessions. They noted the presence or absence of anterior labral, posterior labral, or superior labral anterior posterior (SLAP) tears. They also reviewed images for the presence or absence of a full-thickness supraspinatus tendon tear.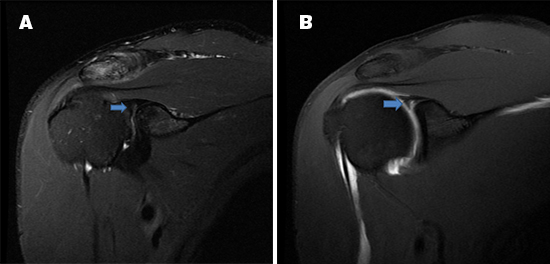 A SLAP tear is not well visualized in the conventional image (A) compared to an MR arthrography image of the same patient (B).
MR arthrograms outperformed conventional MR in the detection of all findings. Specifically, MR arthrograms detected 48 SLAP tears (compared to 35 for conventional MR), 54 full-thickness supraspinatus tendon tears (vs. 46), 26 posterior labral tears (vs. 22), and 27 anterior labral tears (vs. 24). Conventional MR had no false positives compared to 2 for MR arthrograms, but had 27 false negatives compared to none for MR arthrograms. The majority of false negatives were for SLAP tears.
Tom Magee, MD, a radiologist at NSI and an assistant professor of radiology at the University of Central Florida School of Medicine in Orlando, wrote that another advantage of MR arthrography compared to conventional MR was in the assessment of the post-operative labrum. "Injection of contrast with contrast extending into the area of irregularity allows for a more definitive diagnosis of a re-tear," he said. MR arthrography also makes it easier to identify a re-tear after Bankart repair, because the contrast distends the joint and coats the joint structures.
The protocol at the imaging center is to inject both gadolinium and CT contrast during arthrography. This enables a patient to be transferred directly to a CT scanner if metal artifacts diagnostically degrade the magnetic resonance imaging. This also enables imaging of the claustrophobic patient who may not be able to complete a MR exam.
"In summary, in this study, MR arthrography was more sensitive than conventional MR in detection of supraspinatus tendon and labral tears in the post-operative shoulder," Dr. Magee wrote. He said that this was most likely due to distention of the joint and coating of the joint structure with contrast, enabling for more sensitive and definitive diagnosis.
"Based on previous studies and our current study, a conventional MR exam can be skipped altogether and only an MR arthrogram exam be performed," he said.
REFERENCE
Magee T. Imaging of the post-operative shoulder: does injection of iodinated contrast in addition to MR contrast during arthrography improve diagnostic accuracy and patient throughput? Skeletal Radiol. 2018;47(9):1253-1261
Back To Top
---
MR arthrography recommended for post-operative shoulder imaging. Appl Radiol.
By
Staff News Brief
|
October 05, 2018
About the Author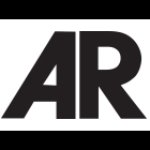 Staff News Brief