Hitachi showcases expanded AI capabilities and imaging solutions
By
Hitachi Healthcare celebrated its 30th year at RSNA with a diverse portfolio of imaging and AI technologies.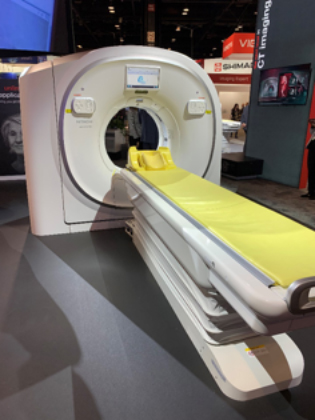 The Scenaria View Premium Performance 64/128-slice CT.
Attendees at the booth can try out Hitachi's augmented reality game that demonstrates the use of QSM and muscle analysis applications that form the basis for the demonstration of the company's "works-in-progress" AI solution.
"It's a combination of AI and deep learning that improves efficiency in reporting workflow. It's evolving every year and now it's ready to be clinically tested," said David Wilson, Director of Corporate Communications.
The company also announced it has attained FDA 510(k) clearance to market its Scenaria View Premium Performance 64/128-slice CT with innovations that set a higher standard for satisfying important clinical needs.
The View is a premium performance and clinically versatile CT that accommodates the imaging of patients with obesity through easier, accurate positioning and an 80cm wide aperture. Hitachi's latest Iterative Reconstruction "IPV" technology with Vision Modeling enables lower dose acquisitions.. Faster workflow is facilitated with SynergyDrive features that reduce the Operator's procedure steps and can use automation to improve both exam set-up time and consistency of results. The View is offered with available packages for Cardiac CTA, Shuttle Scan, Interventional CT and Dual Energy Scans.
Also showcased is VidiStar, the structured reporting platform designed to minimize reporting time while creating a database structure ideal for data mining and data analysis. Cardiovascular, nuclear medicine, OB/GYN and fetal medicine reporting packages including integration with the leading image analysis packages are Internet accessible for remote viewing
The premium Arietta 850 ultrasound is on display, which features a new generation of transducers, Linear 4G CMUT (Capacitive Micro machined Ultrasound Transducer) and Convex single crystal transducers with high quality imaging adapted for a variety of examinations.
Conventionally, the superior resolution obtained with high frequency ultrasound is only used for superficial examinations due to its limited penetration. Lower frequencies are needed to examine deeper structures, thus multiple transducers are required to cover the full range of examinations. The world's first practical use of the CMUT silicon wafer technology for breast application, was introduced by Hitachi in 2009.
"The silicon wafers are lined up in a matrix in the probe, like a checkerboard, which makes the probe much more durable and preserve image quality," said Kimberly Becker, MS, RDMS, RVT, Director of ultrasound clinical applications. "
RSNA Booth 7313
Back To Top
---
Hitachi showcases expanded AI capabilities and imaging solutions. Appl Radiol.
By
Staff News Brief
|
December 04, 2019
About the Author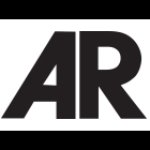 Staff News Brief