Half-dose gadobutrol shows breast lesions on 3T DCE breast MRI
By Staff News Brief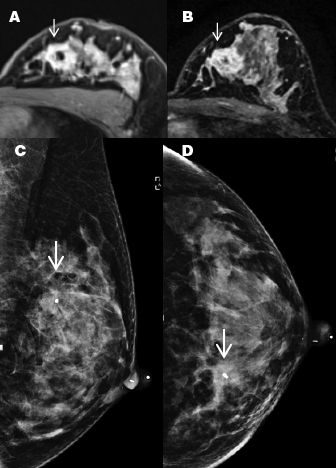 A 34-year-old lactating woman presented with a palpable
area of concern and was found to have an invasive
ductal cancer. Images A and B are post-contrast
T-1 weighted, fat-saturated gradient echo images
acquired after administration of (A) half-dose gadovist
and (B) full dose gadovist. The cancer contains a biopsy
clip and is marked by arrows (C and D) are MLO
and CC mammographic images which show the
partially obscured breast cancer (arrows).
A half-dose of gadobutrol intravenous contrast reveals breasts lesions as small as 0.4 cm on dynamic contrast-enhanced (DCE) breast magnetic resonance imaging (MRI), according to a study out of the NYU School of Medicine published online June 27, 2019, in Clinical Imaging. The preliminary study lays the groundwork for feasibility testing of gadolinium-based contrast agents (GBCA) in MRI screening populations. Reducing GBCA dose would lessen concern about GBCA safety, an obstacle to more widespread use of breast MRI.
Researchers led by principal investigator Amy N. Melsaether, MD, sought to determine if breast cancers could be detected on DCE breast MRI at 3T with a reduced, 0.05 mmol/kg dose of gadobutrol. Their study expands upon research relating to the use of reduced GBCA doses in MRI exams of the brain, prostate, and heart.
GBCAs render hypervascular tissues with increased blood flow, such as breast cancers, brighter on T1-weighted images than surrounding less vascular tissues. However, there is concern about their safety.
The preliminary study focused on 40 women, aged 28 to 80 years, with an index breast cancer shown on conventional imaging to be either multifocal, multicentric, or at least 2 cm. A total of 49 breast lesions in 40 breasts were identified, with 34 patients having one cancer, four patients having two, and two patients having three and four cancers, respectively. Most cancers (86%) were invasive ductal carcinomas with an intermediate (22%) or high (63%) molecular grade.
The DCE-MRI exams were performed as part of an 18F-fluorodeoxyglucose positron emission tomography (PET)/MRI exam. Two T1-weighted imaging protocols were used to acquire DCE-MRI data. The first used a prototype radial stack-of-stars 3D spoiled gradient echo pulse sequence. When it became clear that the scans were clinically useful, the authors switched to their clinical protocol, imaging in the axial plane using a 3D volume-interpolated breath-hold examination (VIBE) sequence, the gadobutrol was injected after the first frame.
The images used for analysis were acquired approximately 90 seconds after contrast injection, and were reviewed independently by two breast radiologists. They recorded lesion conspicuity on a four-point scale, characterized each lesion as a mass, focus, or non-mass enhancement, and measured lesion size.
The authors found that lesion detection, regardless of lesion size, was 100% for both radiologists. Lesion size compared to surgical pathology was more accurately recorded on MRI than on ultrasound or mammography. Detected cancers ranged from 0.4 cm to 9.2 cm, and included 13 areas of non-mass enhancement and one focus. As a result, the authors believe that even though lesion sizes skewed large, "the sensitivity of a reduced dose may not be limited by lesion size or morphology."
The study did not include any patients with invasive lobular cancer or ductal carcinoma in situ, and there were more patients with HER2 overexpressed or triple negative cancers than a typical screening population. Consequently, the authors recommend additional studies with broader patient groups. However, they are hopeful that doses of gadolinium-based contrast agents can be significantly lowered.
"Our study begins to explore an as-low-as-reasonably-achievable (ALARA) approach to contrast agents in imaging," Dr. Melsaether said in an interview with Applied Radiology. "Here we've demonstrated excellent breast cancer detection and conspicuity at a half-dose of gadobutrol. We hope that further reduced doses, perhaps in concert with artificial intelligence, can be explored in breast MRI in broader patient populations."
REFERENCE
Melsaether AN, Kim E, Mema E, et al. Preliminary study: Breast cancers can be well seen on 3T breast MRI with a half-dose of gadobutrol. Clin Imaging. Published online June 27, 2019. doi: 10.1016/j.clinimag.2019.06.014.
Back To Top
---
Half-dose gadobutrol shows breast lesions on 3T DCE breast MRI. Appl Radiol.
By
Staff News Brief
|
August 02, 2019
About the Author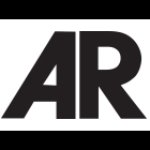 Staff News Brief