GI-RADS: A valuable tool to improve ultrasound reporting of adnexal masses
By Staff News Brief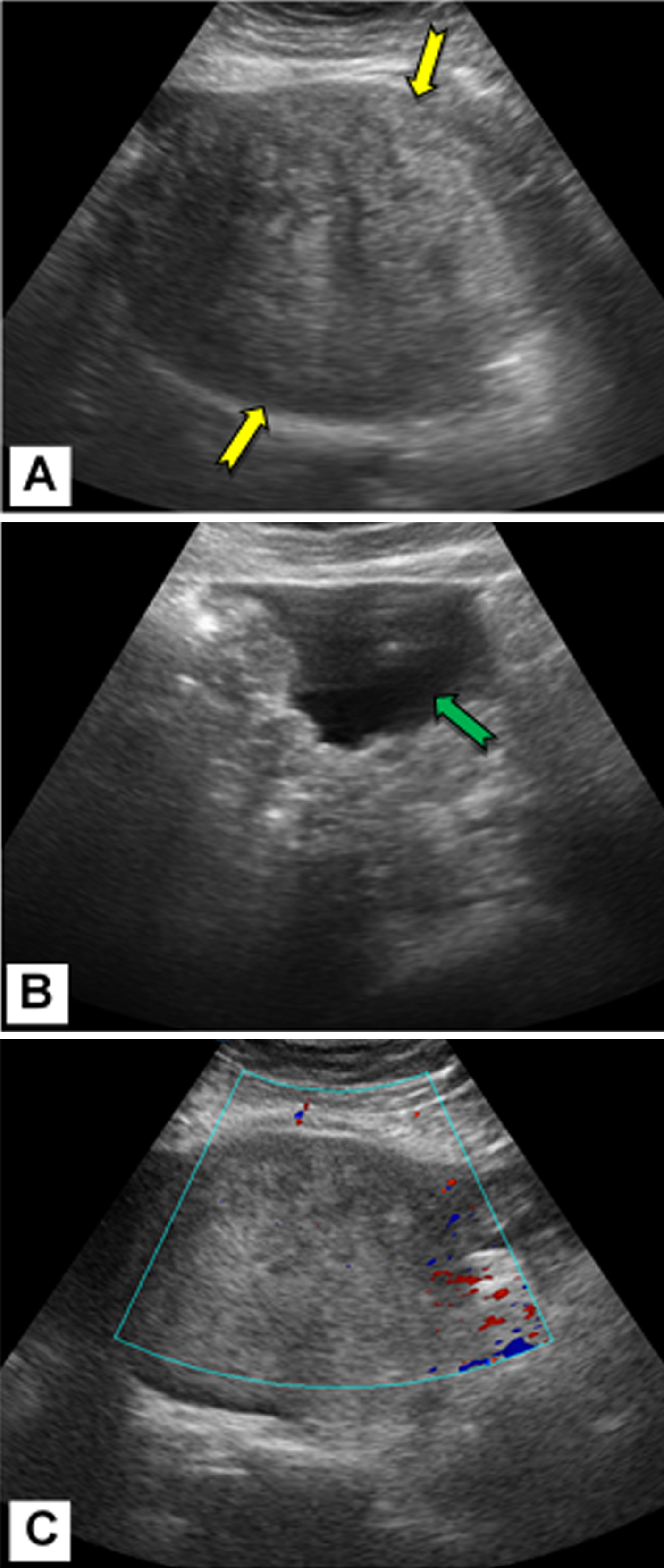 (A) Transabdominal ultrasound demonstrates a large
heterogeneously echogenic pelvic mass (yellow arrows).
(B) Ascites (green arrow) is detected in the abdomen.
(C) Color Doppler study demonstrates no vascularity
of the mass. The mass was diagnosed as a benign
neoplastic lesion (ovarian fibroma) with suspected Meigs
syndrome and classified as GI-RADS 3. Surgery was
performed, and the histopathology revealed malignant
stromal tumor.
The Gynecology Imaging Reporting and Data System (GI-RADS) is an advantageous tool for radiologists to diagnose and report adnexal masses (AM) when performing pelvic ultrasound examinations, according to an article published in the April 16, 2019 edition of European Radiology. Researchers from three academic university hospitals in Egypt reported that GI-RADS decreased inconsistency in interpretation of adnexal masses, increased the sensitivity of ultrasound for the categorization of adnexal masses compared with pattern recognition analysis, and helped optimize patient management.
GI-RADS is a standardized reporting system for radiologists to use with transabdominal or transvaginal sonography to characterize adnexal masses and their risk of malignancy. Developed at the Centro Ecografico Ultrasonic Panoramico in Santiago, Chile, its standardization categorization and scoring system replicates the Breast Imaging Reporting and Data System (BI-RADS). Scores range from GI-RADS 1 (probably benign) to GI-RADS 5 (very probably malignant). 1
The authors conducted a prospective multi-center study that included 308 women with 325 adnexal masses detected by ultrasound.2 Their objectives were to assess the diagnostic performance and inter-reviewer agreement of ultrasound in reference to GI-RADS to classify adnexal masses. They also wanted to determine whether the use of GI-RADS would improve the diagnostic of ultrasound for predicting malignant adnexal masses by comparing the findings of radiologists using either GI-RADS or pattern recognition analysis without standardized diagnostic algorithm to classify them.
All patients with suspected adnexal masses were recruited from facilities in Cairo between January 2017 and August 2018. All patients with suspected adnexal masses had a transvaginal ultrasound exam performed using the same ultrasound equipment and with the same protocols. Three radiologists, each with over 15 years' experience, performed the exams and assigned GI-RADS category for each adnexal mass. Masses were considered potentially malignant if they displayed thick wall and septum, solid papillary projection, solid areas, central blood flow, and the presence of ascites. A fourth highly experienced reviewer independently performed ultrasound examinations for all the patients, categorizing each adnexal mass as malignant or benign using pattern recognition analysis developed by the International Ovarian Tumor Analysis (IOTA). Findings with and without the use of GI-RADS were compared.
Principal investigator Mohammad Abd Alkhalik Basha, MD, of the Department of Radiodiagnosis at Zagazig University and colleagues reported that 96% of adnexal masses categorized as GR5 were malignant and that 46% of the 13 GR4 masses were also malignant. Three percent of the 94 GR3 masses were also malignant. No adnexal masses categorized as GI-RADS 1 or 2 were malignant.
GI-RADS had a sensitivity, specificity, PPV, NPV, and accuracy of 92.9%, 97.5%, 95.9%, 95.5%, and 95.7% for category 5 masses. By comparison, the diagnostic performance using pattern recognition analysis was lower for all measurements, at 91.3%, 92.9%, 89.2%, 94.4%, and 92.3% respectively.
The authors reported nine false-negative patients, who had three serous cystadenocarcinomas and two mucinous cystadenocarcinomas diagnosed as suspected benign tumors; two granulosa cell tumors diagnosed as tubo-ovarian abscess and fibroma; one germ cell tumor diagnosed as a suspected benign tumor; and one malignant stromal tumor diagnosed as a fibroma. There were also 5 false-positive patients.
Based on their findings, Dr. Basha and colleagues reported that combined GR4 and GR5 categories were significantly better than GR5 alone in predicting malignancy. "We should combine both GR4 and GR5 for the diagnosis of malignant AMs, because if we consider GR5 alone as conclusive for malignant AMs diagnosis, the GI-RADS would miss a relevant number of malignant AMs," they wrote. But they also noted that GI-RADS needs further modification to become accurate, useful, and comprehensive of all pertinent descriptors and definitions. They also recommend that it be compared with recently published the American College of Radiology (ACR) Ovarian-Adnexal Reporting and Data System (O-RADS).3
The authors are currently working on another study in which they are comparing diagnostic performance using GI-RADS with ACR O-RADS, Dr. Basha told Applied Radiology.
REFERENCES
Amor F, Vaccaro H, Alcázar, et al. Gynecologic imaging reporting and data system: a new proposal for classifying adnexal masses on the basis of sonographic findings. J Ultrasound Med. 2009;28(3);285-291.
Basha MAA, Refaat R, Ibrahim SA, et al. Gynecologic Imaging Reporting and Data System (GI-RADS): diagnostic performance and inter-reviewer agreement. Eur Radiol. Published online April 16, 2019. doi: 10.1007/s00330-019-06181-0.
Andreotti RF, Timmerman D, Benacerraf BR, et al. Ovarian-Adnexal Reporting Lexicon for Ultrasound: A White Paper of the ACR Ovarian-Adnexal Reporting and Data System Committee. J Am Coll Radiol. 2018;15(10):1415-1429.
Back To Top
---
GI-RADS: A valuable tool to improve ultrasound reporting of adnexal masses. Appl Radiol.
By
Staff News Brief
|
June 14, 2019
About the Author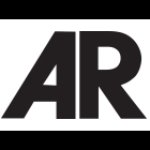 Staff News Brief