False negatives of breast MRI screening of high risk women: How CAD performs
By Staff News Brief
Interval breast cancer is detected in approximately 5% to 9% of high risk patients who undergo regularly scheduled breast MRI screening exams. But how many interval cancers are overlooked or misinterpreted? And can computer-aided detection (CAD) technology designed for breast MRI reduce this number?
A study from The Netherlands and from Spain published in the February issue of the European Journal of Radiology addresses these issues. Like research that used pioneering pre-commercial mammography CAD systems, the study's findings suggest that women at high risk for breast cancer and the breast imagers who interpret their screening exams may benefit from breast MRI CAD systems.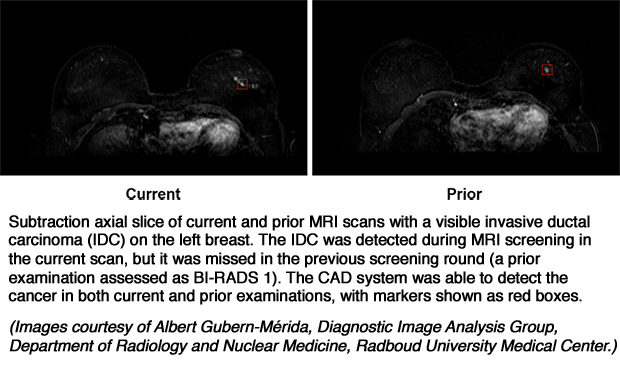 Researchers from Radboud University Medical Center in Nijmegen, The Netherlands, searched a decade of patient records starting in January 2003 of high risk women to identify individuals who had had a negative dynamic contrast enhanced MRI (DCE-MRI) followed by a DCE-MRI exam that identified breast cancer approximately a year later. A total of 40 women were identified, who had 33 invasive ductal carcinomas, five ductal carcinomas in situ, three invasive lobular carcinomas, and one secretory carcinoma.
Two breast imagers experienced interpreting breast MRI retrospectively evaluated both the false-negative and the positive exam for each patient, first identifying the breast lesion(s) in the positive exam and then reviewing the false-negative exam. These radiologists identified 11 lesions as "visible", 13 lesions as "minimally visible" and 18 lesions in 16 scans as "not visible", using an in-house developed dedicated breast DCE-MRI workstation.
An automated breast cancer localization system for DCE-MRI developed by the Diagnostic Image Analysis Group of the Radboud University Medical Center in collaboration with the University of Girona's Vision Computer and Robotics Group in Girona, Spain, was used with the 40 false negative MRI scans, the 40 subsequent positive scans, and an additional 120 normal scans of high risk women with no history of breast cancer that were performed during the same time period in the same MRI screening program. The previously validated breast MRI CAD system operates by initially correcting for motion artifacts and segments the breast. Blob and relative enhancement voxel features are used to locate possible lesions, and a malignancy score is determined by using region-based morphological and kinetic features computed on the segmented lesion candidate.1
For this study, the CAD was trained with a dataset composed of 97 DCE-MRI examinations showing 97 malignant lesions and 114 normal DCE-MRI scans. This represented a subset of the cases (95 patients with 105 malignant lesions and114 normal patients) used in the paper in wich the CAD system was presented.1
Lead author Albert Gubern-Mérida, Ph.D, and colleagues reported that the CAD system detected 71% of lesions in the prior false-negative studies categorized as "visible" and 31% of those categorized as "minimally visible". It also detected 82% of breast cancer lesions in the positive MRI scans. On average, four false positive marks were displayed for the 120 normal cases. Operating at this four false positive per normal case setting, the CAD generated 1.38 extra false positive findings per case on the 40 false-negative prior exams.
"One could speculate that a proportion of these overlooked and misinterpreted lesions could be detected if a CAD system, such as the one evaluated in this study, would be used in clinical practice," the authors wrote. "Furthermore, it seems reasonable to hypothesize that such a CAD system would contribute more to the avoidance of oversight errors than to a reduction of misinterpretation errors."
The researchers consider the CAD's false-positive mark rate of four per normal case to be a level that radiologists interpreting breast MRI exams would accept. However, they hope to improve their CAD system's performance by specifically training it with screen-detected lesions or on misinterpreted or overlooked breast cancer lesions using larger databases of MRI exams.
"Although the frequency of interval cancers in MRI screening is only 5-9%, early detection by CAD might reduce this even further," they concluded.
REFERENCES
Gubern-Mérida A, Marti R, Melendez J, et al. Automated localization of breast cancer in DCE-MRI. 2015 Med Image Anal. 20;1: 265-274.
Gubern-Mérida A, Vreemann S, Marti, R, et al. Automated detection of breast cancer in false-negative screening MRI studies from women at increased risk. 2016 Eur J Radiol. 83;2: 472-479.
Back To Top
---
False negatives of breast MRI screening of high risk women: How CAD performs. Appl Radiol.
By
Staff News Brief
|
March 08, 2016
About the Author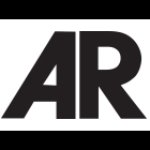 Staff News Brief