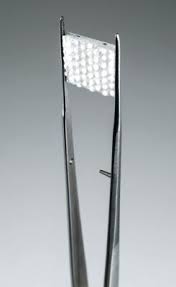 GT Medical Technologies, Inc., a company dedicated to improving the lives of patients with brain tumors, has announced new data from a clinical study of the company's GammaTile® Therapy in patients with large brain metastases, or tumors that spread to the brain from cancer in another part of the body. Approximately 150,000 – 200,000 people are diagnosed with brain metastases each year in the United States.[1] These data were presented at the Society of Neuro-Oncology 2020 Virtual Conference on Brain Metastases.
Results from the single-arm, multi-histology study were presented, evaluating the safety and effectiveness of GammaTile in combination with tumor resection surgery in 16 large brain metastases, including twelve recurrent and four newly diagnosed tumors. The study, conducted at the Barrow Neurological Institute in Phoenix, AZ, found that in patients with recurrent brain metastases who underwent surgery followed by GammaTile, there was a statistically significant improvement in time-to-local disease progression (TTP) compared to the same patients' prior rounds of treatment. At 12-months, local control for tumors treated with resection plus GammaTile Therapy was 83% for all patients. Tumors that had received no prior radiation achieved 100% local control with GammaTile. Median TTP for large brain tumors treated with GammaTile is projected to be at least 10.9 months (95% confidence interval). Median overall survival (OS) was 9.3 months. Treatment with GammaTile was well tolerated by patients.[2]
"Results from this study underscore the safety and efficacy of GammaTile Therapy in helping prevent local progression in patients with brain metastases," said GT MedTech's co-founder and chief technology officer David Brachman, M.D., who previously served as chairman and medical director of Radiation Oncology at St. Joseph's Hospital and Barrow Neurological Institute in Phoenix, Arizona. "These encouraging data warrant further exploration into the benefits of GammaTile for this difficult-to-treat patient population. We look forward to the first randomized clinical trial led by MD Anderson comparing the current standard of care to GammaTile Therapy in patients with large brain metastases."
The company announced that The University of Texas MD Anderson Cancer Center will begin enrollment for a multicenter, randomized phase III trial of GammaTile Therapy. The study will compare outcomes of 180 patients with newly diagnosed, large brain tumors (>2.5-5 cm) who received the standard of care treatment, resection surgery and stereotactic radiotherapy (SRT), to those treated with resection surgery and GammaTile Therapy. The trial will include patients from up to five centers and measure local tumor control, overall survival, neurocognition, and quality of life out to 24-months following treatment, with data collected at 1, 3, 6, 9, 12, 16, and 24-months.[3] The trial will be co-directed by Jeffrey Weinberg, M.D., professor of Neurosurgery, deputy chair, and vice-chair of Clinical Operations, Neurosurgery, at MD Anderson Cancer Center, and Mary Frances McAleer, M.D., professor of Radiation Oncology, associate clinical medical director of the Brain and Spine Center, at MD Anderson Cancer Center.
"This will be the first randomized trial comparing surgery plus GammaTile Therapy against the standard of care in patients with metastatic brain tumors," said Jeffrey Weinberg, M.D. "GammaTile Therapy could serve as a treatment option for these patients to potentially extend survival and help prevent recurrence. By comparing Surgery + SRT and Surgery + GammaTile, this study aims to define a viable treatment option for patients with large metastatic brain tumors." This study will begin enrollment in 2020.
Additionally, Nelson Moss, M.D., neurosurgeon at Memorial Sloan Kettering Cancer Center, presented their initial clinical experience with GammaTile Therapy at the conference. In a 9-patient series, there were no immediate wound complications or unanticipated neurologic injuries, further supporting the safety profile of GammaTile Therapy for patients with metastatic brain tumors.
REFERENCES
[1] https://www.mdanderson.org/cancer-types/brain-metastases.html.
[2] Brachman D, et al. A prospective trial of resection plus surgically targeted radiation therapy for brain metastasis. Poster presented at: SNO 2020 Virtual Conference on Brain Metastases; August 14, 2020.
[3] Weinberg J, et al. A randomized, multicenter phase III trial of surgery plus stereotactic radiosurgery (SRS) compared with surgery plus permanently implanted collagen tile brachytherapy (CTBT) for resectable metastatic brain tumors-protocol in progress. Poster presented at: SNO 2020 Virtual Conference on Brain Metastases; August 14, 2020.
Back To Top