Cleveland Clinic Treats First Patient with Radiofrequency Ablation for Thyroid Nodules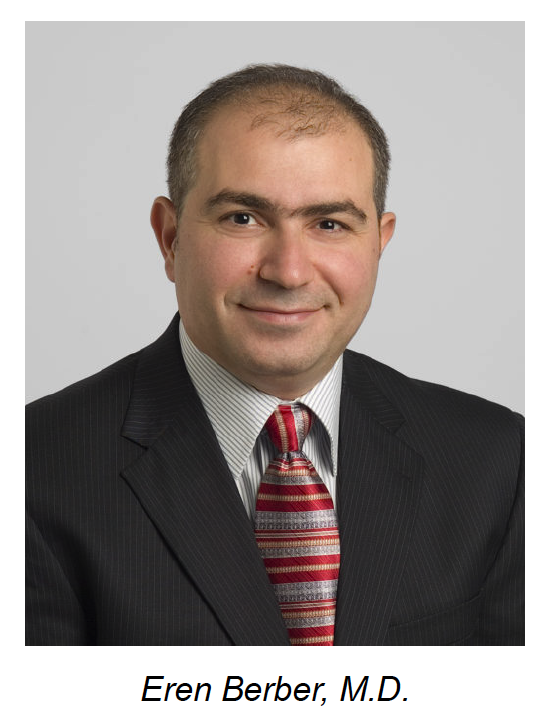 The first patient has been treated at the Cleveland Clinic Marymount Hospital for benign thyroid nodules using radiofrequency ablation technology.
Eren Berber, MD, endocrine surgeon with Cleveland Clinic's Endocrinology and Metabolism Institute, and vice chair of the Department of Endocrine Surgery, led the team that successfully treated the patient. Benign thyroid nodules can cause troublesome symptoms, such as neck pain or pressure, difficulty swallowing or breathing.
"Most thyroid nodules, which are abnormal growths of thyroid tissue, are removed surgically. In selected patients, radiofrequency ablation technology provides an alternative option to remove large thyroid nodules that are benign but can cause symptoms," said Dr. Berber.
The procedure involves putting a special needle into the thyroid nodule under ultrasound guidance and running energy to create heat that can treat and shrink the nodule. The procedure can be performed with local anesthesia in a surgical setting. After the procedure, the endocrine team monitors the nodule every three to six months with ultrasound.
At this time, this minimally invasive procedure is offered to selected patients with benign thyroid nodules – not with thyroid cancer.
According to the Endocrine Society, thyroid nodules are very common. Most thyroid nodules are benign, but they can progressively grow and lead to cosmetic concerns, or cause symptoms, including difficulty swallowing or breathing, neck pressure and pain.
The thyroid nodule radiofrequency ablation procedure requires experience with thyroid ultrasound, thyroid biopsies, and ablation technology. Cleveland Clinic's endocrine surgeons do their own ultrasounds, perform biopsies and have a high-volume of ablation surgeries for other organs, such as the liver and the adrenal glands. Cleveland Clinic was the first hospital in the world to use a latest ablation technology to destroy large liver tumors.