ARRS Announces Recipients of 2022 Scholarships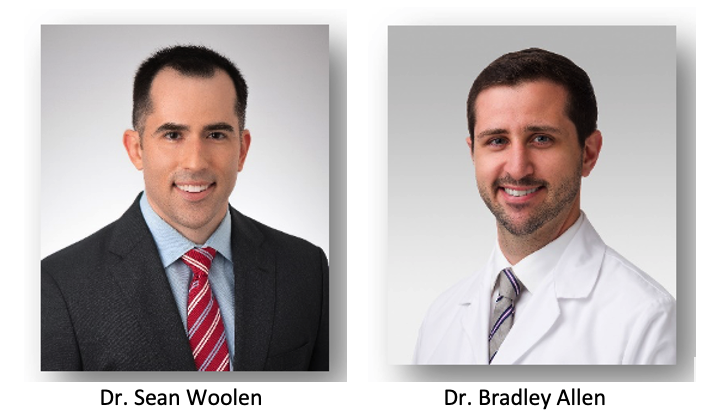 The American Roentgen Ray Society (ARRS) has awarded two 2022 ARRS Scholarships to Sean Woolen, MD, MS, of the University of California, San Francisco (UCSF) and Bradley Allen, MD, MS, of Northwestern University. Both Drs. Woolen and Allen will be formally recognized as 2022 ARRS Scholars during the opening ceremony of the ARRS Annual Meeting in New Orleans, LA on Sunday, May 1, 2022.
Provided by ARRS' own The Roentgen Fund, the ARRS Scholarship supports early-career faculty members pursuing radiological research that promises to change how medical imaging is practiced. A two-year grant totaling $180,000, the ARRS Scholarship aims to advance emerging scholars, as well as prepare them for positions of leadership.
An assistant professor of radiology at the University of California, San Francisco (UCSF) specializing in abdominal imaging and ultrasound, Dr. Woolen also serves as director of clinical prostate MRI, patient experience leader on the Quality and Safety Committee, and a member of the Health Equity Task Force Council. Recipient of a master's degree in biology from Purdue University and a medical doctorate from Indiana University School of Medicine, he completed postgraduate training at Indiana University School of Medicine (intern), Michigan Medicine (diagnostic radiology resident), and UCSF (abdominal imaging and ultrasound fellow). Woolen has received numerous honors for his research, including awards for Quality Investigator and Best Radiology Research Article from the University of Michigan, a Young Investigator Award from the Society for Advanced Body Imaging, a Radiological Society of North America Travel Award, and a citation for Student Excellence in Radiology from Indiana University. Focusing on health care policy and improving the practice of radiology, currently, he is leading UCSF's collaboration with Siemens Healthineers to develop a sustainable radiology program by monitoring energy consumption of imaging devices. The data gathered and strategies developed have the potential to decrease the carbon footprints of radiology departments across the globe.
Dr. Allen is an assistant professor in Northwestern University's department of radiology and chief of cardiovascular and thoracic imaging at Northwestern Memorial Hospital. In his clinical practice, Allen uses radiography, CT, and MRI to diagnose diseases of the cardiovascular system and chest, while enjoying teaching residents and fellows in these subspecialties. As a clinical leader, he is particularly interested in imaging approaches and clinical tools that enhance efficiency and improve the imaging experience for patients, technologists, and interpreting physicians. Allen's research focuses primarily on the use of cardiovascular MRI to improve diagnosis and risk stratification of cardiovascular disease—specifically, the clinical translation of 4D flow MRI hemodynamic assessment and advanced myocardial tissue characterization. His work is supported by multiple funding agencies, including the American Heart Association and National Institutes of Health.