2019 ATS: Dynamic digital radiology technology enhances dyspnea diagnoses
By Staff News Brief
Dynamic digital radiography (DDR) technology may help radiologists better assess undifferentiated dyspnea, according to research presented in a scientific session at the American Thoracic Society's annual meeting held in Dallas in May. A multidisciplinary team of clinicians conducted a study of 43 patients presenting to Mount Sinai St. Luke's Chest Clinic in New York City with undiagnosed shortage of breath. that compared the results of DDR with digital chest radiographs and pulmonary function testing (PFT).
"Dyspnea is a common complaint involving a complex interaction of pathological processes, and with different underlying causes that can make it difficult to pinpoint the patient's condition. Compared with chest radiography, DDR allows a more comprehensive and yet streamlined assessment by incorporating a visual evaluation of pulmonary function and pulmonary mechanics into the digital chest radiograph itself," said Mary M. O'Sullivan, MD, associate professor of pulmonary medicine at the Icahn School of Medicine Mount Sinai. "Diagnostic modalities employed for evaluation of a patient must be quick, accurate, and cost-effective."
Dr. O'Sullivan, co-investigator Stephen I. Zink, MD, assistant clinical professor of diagnostic, molecular, and interventional radiology at the Icahn School of Medicine, and colleagues are currently studying DDR to augment traditional diagnostic tests. DDR, developed by Konica Minolta Healthcare Americas, captures sequential radiographs in a single exam to observe the dynamic interaction of anatomical structures, such as soft tissue and bone, with physiological changes over time. DDR is an enhanced technology embedded in a standard digital radiography system that acquires up to 15 sequential radiographs per second for up to 20 seconds of physiological movement. This results in 300 x-rays with a radiation dose between 0.3 to 1.0 mGy.
For their study, each patient had a digital chest radiograph, a dynamic X-ray, and a pulmonary function test. Dr. O'Sullivan said that dynamic X-rays were obtained with patients instructed to take two normal breaths, immediately followed by a forced breath inspiratory and expiratory maneuver. A pulmonologist and a radiologist together compared the clinical results of the three examinations.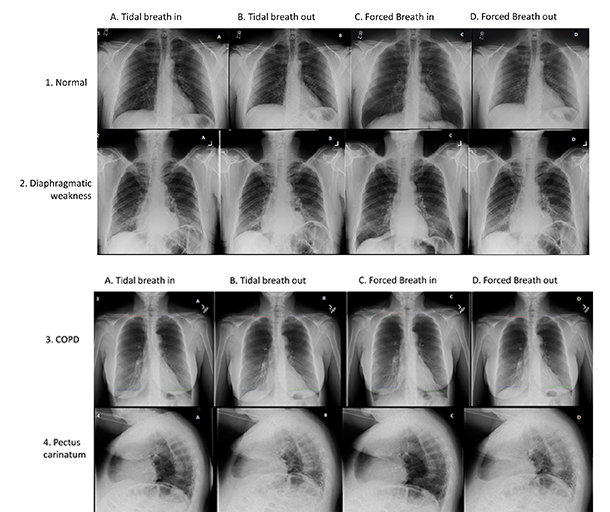 Images courtesy of Dr. Mary O'Sullivan and Mount Sinai/St. Luke's Hospital.
The following abnormalities became more apparent or were newly recognized by DDR technology:
16 diaphragm abnormalities; six were minimally or not visible on chest radiograph and 10 were visible but better defined;
Eight cases of chronic obstructive pulmonary disease (COPD) for which the severity of the disease were determined by measuring the ratio of diaphragm excursion in tidal breath versus forced breath;
Two cases of COPD not seen at all on chest radiograph;
Three cases of skeletal abnormality with pulmonary function different than expected on chest radiograph;
Four cases of neurologic disease, including newly identified ALS and post-polio syndrome, diaphragm weakness in HTLV-1 myelopathy and diaphragm dyscoordination in Charcot Marie Tooth disease.
Another major finding was identifying the importance of tidal breathing in understanding dyspnea. "Tidal breathing is where the patient lives," Dr. O'Sullivan told Applied Radiology. "Standard evaluations such as digital chest X-ray, computed tomography (CT), and pulmonary function testing are performed looking at the forced breathe. DDR uncovers abnormalities occurring during the tidal breathe and for the first time, allows a visual display of pulmonary reserve by showing worsening severity as tidal excursion approaches forced excursion."
"With improved clarity and less radiation than fluoroscopy or CT, and a more integrated assessment than ultrasound can provide, dynamic X-ray fosters a contextual understanding of not only dyspnea but also other pathophysiologic abnormalities of the entire chest that might contribute to it, said Dr. O'Sullivan. "It allows for an earlier and more comprehensive understanding of the etiology of dyspnea and the streamlining of tests. In the small sample of our study, we identified five issues that were better understood."
Dr. O'Sullivan said that she and her colleagues are planning to continue their research with larger populations.The Icahn School of Medicine and Konica Minolta Healthcare Americas formed a partnership in 2017 to study the impact of DDR in the assessment of dyspnea and pulmonary diseases, including asthma and COPD.
Back To Top
---
2019 ATS: Dynamic digital radiology technology enhances dyspnea diagnoses. Appl Radiol.
By
Staff News Brief
|
June 14, 2019
About the Author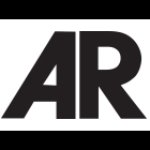 Staff News Brief