NVIDIA brings privacy-preserving AI to hospitals
By Staff News Brief
Gaining access to the huge volumes of data required to train AI models while protecting patient privacy is a key issue for healthcare facilities.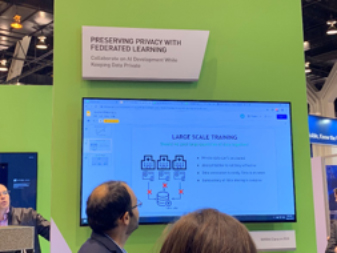 Attendees review NVIDIA's Clara™ Federated Learning
platform (Clara FL)
NVIDIA is addressing this challenge with NVIDIA Clara™ Federated Learning (Clara FL), which uses distributed training across multiple hospitals to develop robust AI models without sharing personal data.
"In an environment in which healthcare data has to be protected and we want to enable the rapid development of AI algorithms, this is an incredible path forward to collaboratively learn from data without sharing it. I believe this is a brand-new framework for developing AI in healthcare," said Kimberly Powell, vice president of healthcare for NVIDIA.
Clara FL is a reference application for distributed, collaborative AI model training that preserves patient privacy. Running on NVIDIA NGC-Ready for Edge servers from global system manufacturers, these distributed client systems can perform deep learning training locally and collaborate to train a more accurate global model.
The Clara FL application is packaged into a Helm chart to simplify deployment on Kubernetes infrastructure. The NVIDIA EGX platform securely provisions the federated server and the collaborating clients, delivering everything required to begin a federated learning project, including application containers and the initial AI model.
Participating hospitals label their own patient data using the NVIDIA Clara AI-Assisted Annotation SDK integrated into medical viewers. Using pre-trained models and transfer learning techniques, NVIDIA AI assists radiologists in labeling, reducing the time for complex 3D studies from hours to minutes.
NVIDIA EGX servers at participating hospitals train the global model on their local data. The local training results are shared back to the federated learning server over a secure link. This approach preserves privacy by only sharing partial model weights and no patient records in order to build a new global model through federated averaging.
The process repeats until the AI model reaches its desired accuracy. This distributed approach delivers exceptional performance in deep learning while keeping patient data secure and private.
"We don't push the entire model out because there could be patient data inside that full model. So we're taking patient privacy to the next level by sharing only partial bits of that model," said Powell.
NVIDIA has already inked deals with the American College of Radiology (ACR), MGH and BWH Center for Clinical Data Science, and UCLA Health to pilot the Clara FL technology. ACR is piloting NVIDIA Clara FL in its AI-LAB, a national platform for medical imaging, which will allow the ACR's 38,000 medical imaging members to securely build, share, adapt and validate AI models.
"NVIDIA Clara and our intelligent edge computing is what's powering the next generation of smart hospitals," said Powell.
RSNA Booth: 10939 in the AI Showcase
Back To Top
---
NVIDIA brings privacy-preserving AI to hospitals. Appl Radiol.
By
Staff News Brief
|
December 02, 2019
About the Author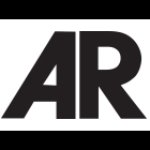 Staff News Brief