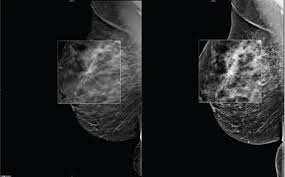 Kheiron Medical Technologies has introduced its Mia IQ software device and RSViP scheduling tool for breast screening in the US. The company also announced a collaboration with Stanford University to design functional proof-of-concept deep learning models to solve clinical problems in novel ways, starting with Non-Hodgkin's Lymphoma (NHL).
Mia IQ is powered by artificial intelligence and machine learning to retrospectively review mammograms to identify potential discrepancies in breast positioning and compression, which are critical components of breast cancer detection according to the FDA. Mia IQ is compatible with FFDM mammography images and will be available for 2D synthetic mammography images in the near future.
Mia IQ is part of the Mia suite of AI-enabled solutions for the entire breast-screening pathway, which is regulatory cleared for use in the UK and Europe. Mia IQ is being introduced to breast screening clinics in the U.S. as a training and audit tool, which enables them to retrospectively review mammograms to identify potential discrepancies in breast positioning and compression. Based on these learnings, clinics can tailor and enhance their technologist training programs, and ensure they are meeting standards established by the FDA's Mammography Quality Standards Act (MQSA) EQUIP (Enhancing Quality Using the Inspection Program) initiative.
"In using Mia IQ, we've seen that it can dramatically improve the image quality and positioning for every mammogram, giving women a better fighting chance against breast cancer," comments Dr. Randy Hicks, CEO of Regional Medical Imaging. "Our initial pilot with Mia IQ has shown that it holds tremendous potential to enhance breast screening accuracy while supporting our continuous quality improvement and training efforts."
Kheiron developed Mia IQ in consultation with LRCB, the Dutch expert center for screening, which oversees one of the most respected breast screening programs in the world. Mia IQ was designed to lay the foundation for breast screening programs by providing radiologists with the best possible diagnostic quality images. It works by reading mammography images and providing a detailed technical assessment of breast positioning, compression and image quality. These outputs can be used to inform training and continuous performance improvement for radiographers.
RSViP is a new artificial intelligence-enabled tool that helps breast screening programs optimize scheduling for women who are at risk for potentially developing breast cancer. Based on initial internal research, RSViP has been shown to flag higher risk women for screening. Earlier screening contributes directly to significantly earlier detection rates, which in turn leads to improved survivorship and a lower cost of care.
"Clinical research has shown that delays in breast cancer diagnosis can lead to worse outcomes, including the risk of the cancer metastasizing, decreased survivorship, and increased treatment costs," comments Peter Kecskemethy, Kheiron's Chief Executive Officer. "At Kheiron, our goal in bringing RSViP to the breast screening community is to leverage the power of AI to identify those women who should be scheduled for their mammograms first, based on her prior mammogram, allowing those women who would benefit most to be moved to the front of the line."
RSViP works by analyzing images from each woman's prior screening and assessing each case based on AI-detected signals of suspected lesions and the potential to develop breast cancer using machine learning insights. With an unbiased assessment for every unscreened woman, RSViP generates an actionable list that the breast screening scheduler can use to book appointments for women who may be most at risk of developing breast cancer. Women who are flagged by RSViP generally are considered to have risks present in some form in their previous mammogram in order to be detected and prioritized by the RSViP AI algorithm.
Kheiron also announced it will collaborate with Stanford University by leveraging its existing technologies and expertise along with the collective expertise of the Stanford Center for Artificial Intelligence in Medicine & Imaging (AIMI Center) to expand into new imaging modalities and cancer types, such as NHL. The endeavor will be referred to as 'The Kaplan Project' in honor of Stanford's former radiation oncology leader, Dr. Henry Kaplan, who in the 1960s developed some of the earliest treatments for lymphoma. The Kaplan Project aligns to the AIMI center's mission, where interdisciplinary expertise is the foundation to help solve clinically important problems in medicine using AI.
"Projects like this one are so exciting because they capitalize on collaborations not only between clinicians and data scientists, but also between academics and industry," said Dr. Curt Langlotz, Director of the AIMI Center.
The purpose of staging lymphoma is to quantify the extent of disease, guide decisions around therapy, and provide a baseline prior to treatment. For oncological radiologists, the tasks of staging and evaluating post-treatment response on PET/CT scan images is manual and time-consuming.
The Kaplan Project will seek to apply Kheiron's deep learning technology to FDG-PET/CT images of lymphoma patients to enhance two key radiologist outcomes: improving radiologist efficiency and improving radiologist accuracy.
Our project aims to improve a time-consuming and mostly qualitative process, the longitudinal assessment of whole-body FDG-PET/CT scans, using deep learning to augment imaging specialists," said Dr. Guido A. Davidzon, Clinical Associate Professor at Stanford University. "The overarching goal is to reduce the time needed to evaluate a PET scan, and by improving our throughput, ultimately increase patient access to a well-established noninvasive diagnostic imaging tool used by oncologists in the care of cancer."
Back To Top