Zen radiology

Over the years, I have worked with a large number of incredibly gifted, almost supernaturally good radiologists, and I'd like to think(okay, fervently hope) I have learned from them all. My observation about all of the really good ones – not one has been prone to hyperexcitability. The calm, precise method of dissecting a case, detailing pertinent positive and negative findings, and feeling the aura that (to them) seems to exude from a study. Many got excited after the diagnosis was known (and they were right), but the period of the image review is a very Zen thing. I'm thinking that some Zen instruction should be a part of radiology training.
I would start with breathing exercises in the reading room. Preferably in the ED reading area. How better to work on the ability to become at one with the films than with people yelling and threatening to call the administration, etc., because you're slowing down the works? In, out. Contemplate your navel…
Proper posture is key, and radiologists (myself included) are notorious for their poor posture while slumping at a workstation,avoiding carpal tunnel from keyboards, bad chairs, or monitors that are just not at the right height for anyone. We will obviously have to learn to read from pillows on the floor, with monitors on the walls in front of us. Full lotus for the flexible young folk. And, to review films with the radiologist YOU HAVE TO DO THE SAME. No exception. We're running a calm place around here. Get with the program.
We can burn incense. Anytime we want. I may go for the cinnamon bun variety.
Chanting can help get one to a proper level of meditation. Okay then, if the radiologists are a chantin', don't come knockin'.I think my mantra will be "gado." I like those gongs, too. I am thinking that we could notify staff of the lunch hour, and that no one is in the reading room by having a fellow or resident bang that thing. Very ceremonial.
We will obviously have to make some changes in conferences. We will leave the fact and observation-based teaching for self-instruction in the privacy of your own home. My conferences will be more along the lines of "how does this CT make you feel?"How would it make you feel to hear someone tell you to "close your eyes, and be the radiograph"? "Be the MR, young apprentice."
Okay. I have already heard you. You don't like quiet. You like slumping in the chair, and a pillow on the floor is not for you. Chanting? Not going to happen in your shop. You want more coffee and a high level of tension. Well, I didn't say this was for everyone. Me? I think I'm going to work on finding some good green tea. Mahalo.
Back To Top
---
Zen radiology. Appl Radiol.
About the Author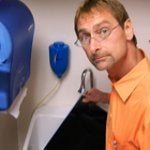 Dr. Phillips is a Professor of Radiology, Director of Head and Neck Imaging, at Weill Cornell Medical College, NewYork-Presbyterian Hospital, New York, NY. He is a member of the Applied Radiology Editorial Advisory Board.