USgHIFU Effective for Breast Fibroadenomas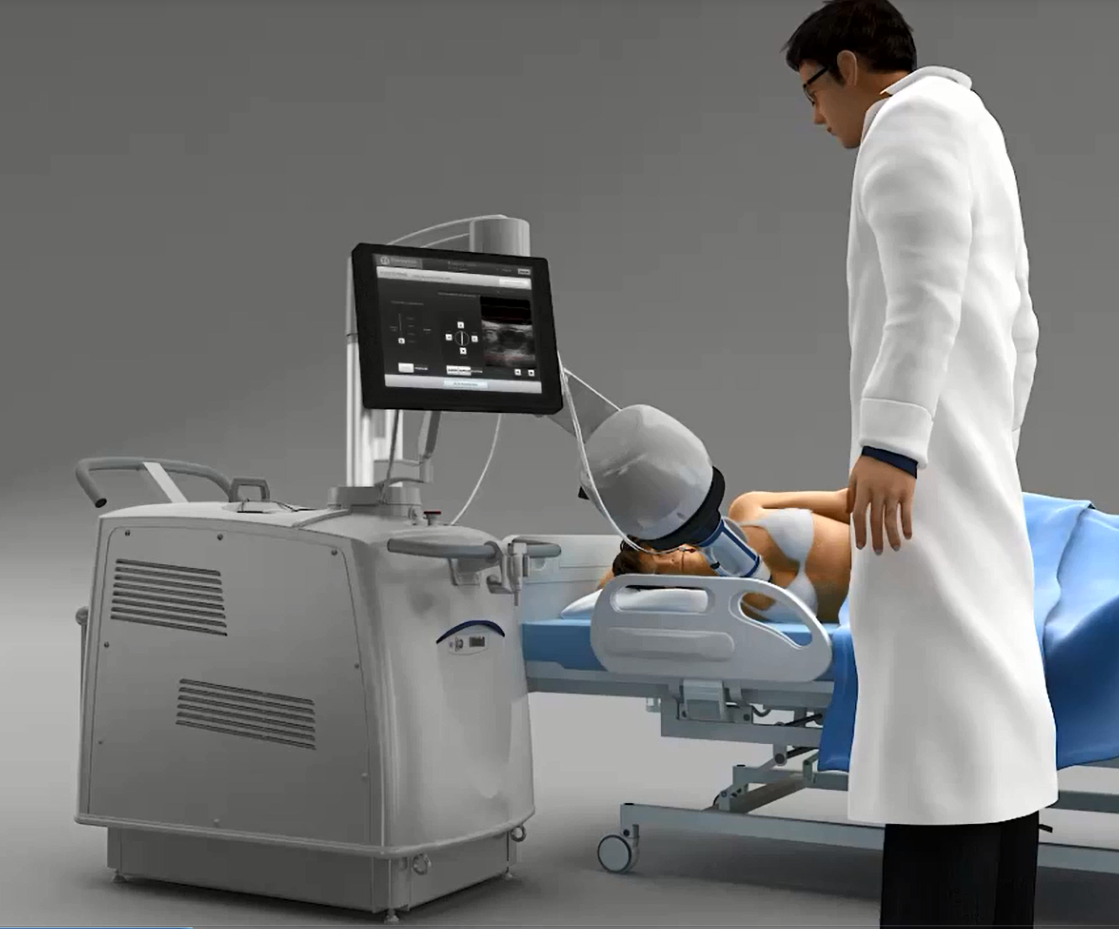 Patient positioning for treatment.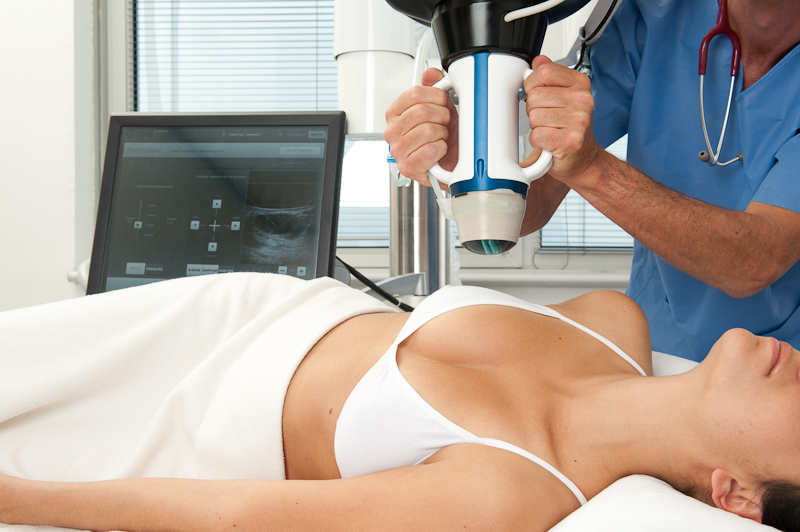 Visualization and treatment head (VTU) positioning.
Both images courtesy Theraclion.
Ultrasound-guided high-intensity focused ultrasound (USgHIFU) is a safe and effective treatment for breast fibroadenomas, according to researchers from the University of Virginia Health System in Charlottesville. Their small feasibility and safety study of 20 women with palpable breast fibroadenomas, published in the December 2019 issue of the Journal of Breast Imaging, has now sparked a large, multicenter clinical trial in the United States and Europe to determine if the results apply to a broader group of women.1
Fibroadenomas are benign stromal tumors that can cause physical deformity and discomfort. Treatment options include surgical excision, cryoablation, or frequent observational follow-up.
As a noninvasive treatment that focuses only on tissue in the treatment zone and shrinks fibroadenomas without scarring or other cosmetic effects, USgHIFU is a superior treatment options, argue the study's authors.
Subjects were predominantly women between the ages of 20 and 52 years with fibroadenomas 1 cm or greater in the largest dimension, and between 0.3 cc and 10.0 cc in volume. Three-fourths of the women had a history of benign breast masses or lesions, including fibroadenomas. All but three patients said they were experiencing anxiety about the health of their breasts, and many were experiencing breast pain.
Principal investigator David R Brenin, MD, FACS, and colleagues reported that procedures lasted between 16 and 81 minutes, with a mean of 43 minutes. The number of treated sites ranged between 8 and 103, with a mean of 34. The maximum power range was 28 to 47 watts.
The patients were followed for 12 months. Ninety days post-procedure, fibroadenoma volume was reduced by a median 39%, and masses were palpable in 17 patients. At 6 months, mass volume was reduced by a median 51%, with only 3 patients having palpable masses. At the 12-month follow-up, the mean reduction in volume was 65.5% on ultrasound, and the mass was no longer palpable in 80% of subjects.
Patient-reported pain also dramatically declined following the procedure, with no pain experienced by any of the women 12 weeks later. A breast surgeon using the Harvard Breast Cosmesis Scoring Criteria rated cosmesis for all patients as "excellent" at the 12-month follow-up visit.
The most commonly reported adverse event was mild-to-moderate pain during and for a few weeks after treatment by 36% of patients; 24% experienced breast edema and 21% breast ecchymosis, which resolved at 90 days.
Patient satisfaction levels were excellent, and most patients said they would recommend the USgHIFU treatment to others. Only two patients said they would not elect the procedure to treat future fibroadenomas.
Dr. Brenin is principal investigator of a new and larger, multi-center clinical trial using USgHIFU to assess volume reduction, pain, and anxiety of 100 patients with breast fibroadenomas.2 In addition to the University of Virginia Health System, hospitals recruiting patients include Bellevue Hospital Center and New York Columbia University Medical Center in New York City as well as several sites in Europe.
References
Brenin DR, Patrie J, Nguyen J, et al. Treatment of breast fibroadenoma with ultrasound-guided high-intensity focused ultrasound ablation: A feasibility study. J Breast Imaging. 2019;1: 4:316-323. doi:10.1093/jbi/wbz050.
Brenin D. Treatment of breast fibroadenoma targeted tissue with HIFU (HIFU-003). Clinical

er

. Identifier: NCT03044054. Accessed January 10, 2020.