US-guided fine-needle aspiration biopsy of pediatric thyroid nodules appropriate for children
By
Ultrasound-guided fine-needle aspiration biopsy (US-FNAB) is frequently used to characterize thyroid nodules as benign or malignant lesions in adults, but its use in children is not. While the incidence of thyroid nodules in children is low, individual nodules in children are more likely to be malignant. Therefore, it is critically important to accurately characterize such nodules. This may be difficult because the imaging characteristics of both benign and malignant thyroid nodules in children can overlap. US-FNAB and cytopathologic assessment could provide additional diagnostic information.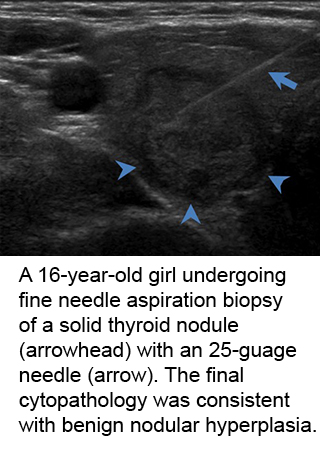 Researchers at the University of Michigan Health System in Ann Arbor decided to assess the diagnostic utility of US-FNAB in pediatric patients who had this procedure at the hospital's radiology department between 2005 and 2013. Their analysis of 70 children, published in the March issue Pediatric Radiology, determined that the procedure allowed cytopathological evaluation, and that cytopathology results had a high degree of correlation with surgical pathology findings. Additionally although conscious sedation was used for the majority of the procedures, diagnostic rates were comparable for the patients who were not sedated.
The US-FNAB procedure was preformed for 86 thyroid nodules. Of these, 78 (or 90.7%) were deemed diagnostic, and 69 were benign. Nine of the 78 diagnostic nodules, or 11.5%, were classified as malignant or suspicious for malignancy by cytopathology.
Microcalcifications and coarse calcifications were associated with malignancy. None of the benign nodules had microcalcifications. In this study, nodules with microcalcifications had approximately 114 times increased risk of being malignant, and those with coarse calcifications had 19.4 times increased risk. Both benign and malignant nodules had similar dimensions (a range of 0.6 – 4.7 cm for benign and 1.1-3.0 cm for malignant, and an identical mean maximum dimension of 2.1 cm.
Ethan A. Smith, MD, assistant professor in the division of pediatric radiology at C.S. Mott Children's Hospital in Ann Arbor, and co-authors reported that 27 of 29 surgically resected nodules had concordant diagnoses. None of the US-FNAB procedures were false positive or false negative for malignancy.
Based on their analysis, the authors suggest that the use of US-FNAB is a feasible procedure to perform on pediatric patients. It showed high diagnostic accuracy, and there were no post-procedural complications. They stated that US-FNAB has the potential to play a crucial role in the assessment of pediatric thyroid nodules, because it has the potential to eliminate the need for additional – and unnecessary – testing or unnecessary surgical procedures.
REFERENCE
Moudgil P, Vellody R, Heider A, et al. Ultrasound-guided fine-needle aspiration biopsy of pediatric thyroid nodules. Pediatr Radiol. 2016 46(3):365-371.
Back To Top
---
US-guided fine-needle aspiration biopsy of pediatric thyroid nodules appropriate for children. Appl Radiol.
By
Staff News Brief
|
April 27, 2016
About the Author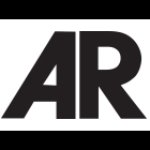 Staff News Brief