Technology and Industry: RSNA 2007 review -- Part 2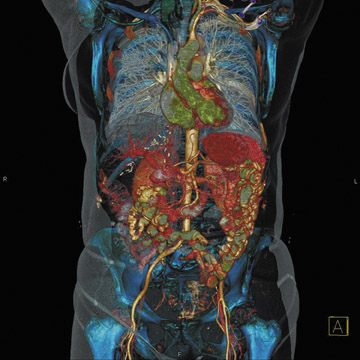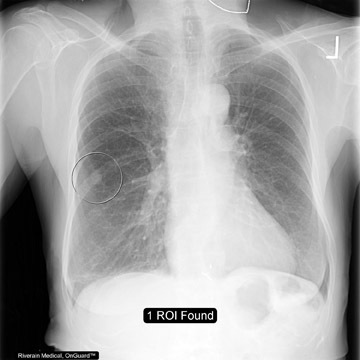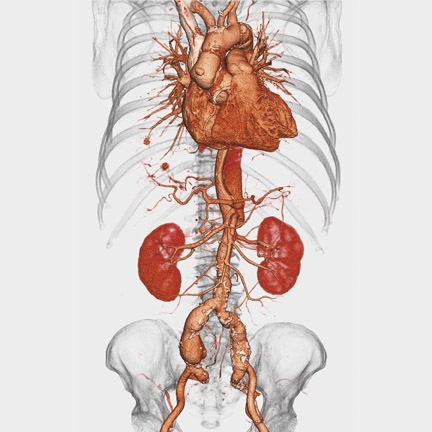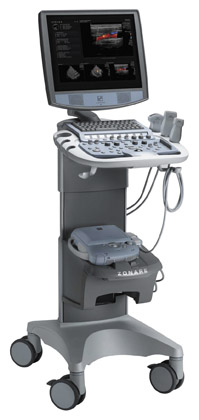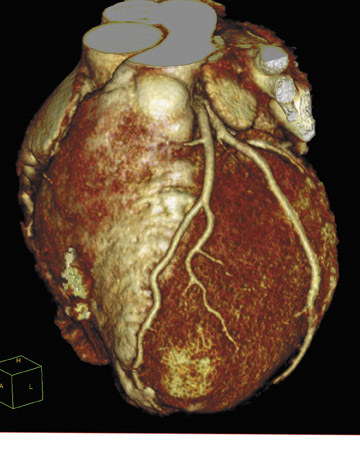 This is the second part of Applied Radiology 's coverage of the 93 rd Scientific Assembly and Annual Meeting of the Radiological Society of North America (RSNA), which was held in Chicago, IL, from November 25 to 30, 2007. More than 700 exhibitors showcased radiology products at that meeting. In this issue, we provide a brief overview of more of these new technologies.
Siemens Medical Solutions
Siemens Medical Solutions (Malvern, PA) previewed a new Adaptive Scanner, the SOMATOM Definition AS, as a work-in-progress at RSNA 2007.
The Definition AS computed tomography (CT) system, which will be available in 40-, 64- and 128-slice versions, features a 200-cm scan range, a 78-cm gantry bore, and the ability to add a high-capacity 650-lb patient table. According to the company, the system is able to "adapt to each patient's clinical situation and to address functional imaging specific to the organ being imaged." This allows the system to perform phase-contrast CT studies and whole-organ perfusion studies (Figure 1).
"A SOMATOM Definition CT scanner transforms itself into a stroke unit, a noninvasive cath lab, a therapy management tool for cancer patients, or an interventional suite-all according to the need of the individual patient," said Bernd Montag, President, Siemens Medical Solutions, CT Division.
The system also features the company's Adaptive Dose Shield technology, which is designed to dynamically block any unnecessary radiation dose before and after the spiral scan.
Siemens also showcased its integrated software solutions, including the thin-client solution, syngo WebSpace, which allows CT users to perform remote reading and review. According to the company, WebSpace provides real-time access to CT data, from the office, from home, or while traveling. The company now offers it in a 3-license package for smaller facilities.
Siemens also previewed its next generation of interventional imaging systems. The new Artis zee line features the Artis zeego with a multiaxis C-arm that uses robotic technology to provide virtually unrestricted C-arm positioning. According to the company, this new arm technology makes it possible to position the rotation center anywhere in a sphere around the patient. This arm design allows the physician to perform complex scanning movements such as tilted table scans in the peripherals and supports advanced 3-dimensional (3D) imaging techniques, including cross-sectional imaging through Siemens' syngo DynaCT. The company also notes that the system addresses neurointerventional needs by offering views of the skull and the neck and expanded views of the spine.
The company also showcased recent enhancements to the 3D imaging capabilities of the entire Artis zee line. The syngo iPilot was designed to provide 3D road mapping by superimposing 3D reconstructions onto live 2-dimensional (2D) fluoroscopy images, 2D roadmaps, or digital subtraction angiography as well as providing real-time updates of C-arm and table movements, zoom, and source-to-image distance changes. The syngo iGuide was developed to help bring needle procedures back from the CT scanner into the interventional suite by providing improved fluoroscopy image quality.
The Artis zee systems are available in floor-mounted, ceiling-mounted, multipurpose, biplane, and biplane twin configurations, as well as the multiaxis Artis zeego.
Aurora Imaging Technology
Aurora Imaging Technology Inc. (North Andover, MA) showcased the Aurora 1.5T Dedicated Breast Magnetic Resonance Imaging (MRI) System with Bilateral 3D SpiralRODEO and introduced the new AuroraBIOPSY technology.
As its name indicates, the Aurora 1.5T Dedicated Breast MRI System was designed expressly for breast imaging, starting with a contoured, massage-style table. Its proprietary transmit-and-receive radiofrequency (RF) coils allow the system to provide an elliptical, homogeneous field of view over a 36 × 44-cm area for full coverage of both breasts, the chest wall, and the axillae in a single scan. Its precision gradient has a distortion of <1 mm over 44 cm.
The system's Bilateral 3D SpiralRODEO feature was designed to improve acquisition efficiency, increase resolution, and decrease scan time while maintaining fat and ductal tissue suppression. The AuroraCAD (computer-aided detection) software facilitates the presentation of simultaneous axial, sagittal, and coronal views using multiplanar reconstruction, allowing for side-by-side comparison of a variety of image types such as pre- and postcontrast images, subtractions, 3D projection images, and enhancement curves.
The company's newest feature is the AuroraBIOPSY. It was designed to provide the system with fully integrated interventional functionality for core or vacuum-assisted biopsy. The new scanner software provides 3 coordinates for the location of the lesion and moves the needle holder to the correct position. This automation eliminates the need for the user to perform manual calculations and count grid squares. "I can simply click on the lesion displayed on the monitor, click on the marker, and the integrated stereotactic guidance system directs the needle to precisely where it needs to be, ready for the biopsy procedure," explained Rebecca G. Stough, MD, Clinical Director, Breast MRI of Oklahoma LLC, and Radiologic Director, Mercy Women's Center, Oklahoma City, OK.
"Aurora is dedicated to providing superior diagnostic breast imaging tools," said Olivia Ho Cheng, President and CEO. "AuroraBIOPSY certainly adds to Aurora's complete technology offering as the breast center solution for interventional procedures."
Konica Minolta Medical Imaging
Konica Minolta Medical Imaging USA, Inc. (Wayne, NJ) introduced several new products at RSNA 2007, including an integrated digital radiography system for physicians' offices, a digital imaging suite, and new Quality Control (QC) software.
The new ImagePilot CR System (Figure 2) is a digital radiography solution designed to provide computed radiography (CR) acquisition, patient registration, image viewing, and storage in a single system for physicians' clinics performing as few as 8 diagnostic procedures a day. The system is composed of a single-bay Nano CR Reader and an Imaging Station, which can be used to send DICOM images to a remotely located radiologist for diagnostic reading. The system also features the company's proprietary AutoPilot Image Processing technology, designed to simplify the image acquisition process to a single button push.
"AutoPilot Image Processing is based on a simple but revolutionary discovery that bone has the most stable X-ray response," said Eunice K. Lin, Marketing and Product Planning Manager at Konica Minolta. "Therefore, by establishing the density value of the anatomy around a fixed bone density, the entire image can be processed with one universal algorithm. This patented technology eliminates the need for the user to select and define algorithms for each body part and orientation, and results in a CR system that is very simple for the physician's office staff to learn and operate."
The company also introduced the REGIUS Digital Imaging Suite. In an effort to combine the versatility of a CR system with the throughput of digital radiography (DR), the new imaging suite consists of the REGIUS 370 Digital Radiography, a float-top table, the Nano CR system, and a control station with the company's Hybrid image processing algorithms to control both.
"Combining CR and DR solutions overcomes the problem associated with designing an all-DR room, which can be both cost-prohibitive and impractical," explained Lin. "Therefore, utilizing an upright DR system to handle most of the exams, and a CR system to handle all the table and portable exams, optimizes both clinical efficiency and capital expenditure. It also adds a level of redundancy to maintain uninterrupted departmental operation."
Konica also launched its Simple Check QC program for the Xpress, IQue, and Nano CR systems. Designed to detect changes in readers and plates and to ensure consistent system performance, Simple Check QC includes a lightweight phantom and automated software. With this software, users are able to complete a QC test in 2 exposures with color-coded PASS/FAIL results automatically calculated and displayed at the conclusion of the test. Additional graphic displays provide historical performance trends and trouble-shooting procedures to help the technologist adjust parameters or perform calibrations. The system also allows for the exportation of appropriate multiformat test results for documentation and conformance to com- pliance programs.
ZONARE Medical Systems
ZONARE Medical Systems (Mountain View, CA) highlighted a new generation of its Convertible Ultrasound platform, the z.one ultra system (Figure 3), at RSNA 2007. Using the Zone Sonography technology, the new z.one ultra system features enhancements in software, hardware, and transducer technology, including a new multitransducer port and multitransducer connector for the scan engine.
The obstetrical calculation software that was added to the system in 2007 includes Nuchal Translucency (NT) and nasal bone length measurements as well as cerebellar diameter, humeral, radius, ulnar, and fetal fibula measurements. The company also added DVD burner archive capability.
The company has added the ability to switch transducers on the cart-based system with the touch of a button. Also, 2 new transducers were previewed: the new 14-5 MHz linear array transducer (with an aperture of 55 mm and virtual apex capability) and the C9-3 curved array transducer for high-frequency obstetrical and pediatric imaging.
Merge Technologies Inc.
Merge Technologies Inc., d.b.a. Merge Healthcare (Milwaukee, WI) introduced a new teleradiology software application, Merge TeleRead, and an offshore consult prereading service, Consult PreRead, at RSNA 2007.
The Consult PreRead service provides a preread preliminary report prepared and revised by 2 radiologists located in India. The report includes references to prior studies, relevant patient clinical information, and measurements of relevant and incidental pathology, along with associated key images.
According to the company, the program was designed to improve the efficiency of the reading radiologists in the United States by providing an additional level of quality control and, in essence, creating a system by which each study has been triple-read before it returns to the referring physician.
This new service is powered by the Merge TeleRead solution, which provides remote physicians with access to current studies and prior studies, as well as current and historic patient data.
Studies to be sent for Consult PreReads are placed in a teleradiology worklist located within the Fusion Radiology Information System (RIS) worklists. The Merge TeleRead module manages the transmission of the images and accompanying information to the U.S.-based Merge RIS/PACS Teleradiology data center for distribution to the company's remote reading centers. Once the studies reach the offshore reading site, the Consult PreRead process involves prescreening, reviewing historical patient information, reviewing prior studies, selection of key images, measurements, annotations, and generation of a detailed report.
"Our Merge reading staff in Pune, India, includes highly qualified and experienced radiologist consultants," said Mukul Mutatkar, MD, Merge's India-based Medical Director and Chief Consultant Radiologist. "Each diagnostic study is reviewed independently by 2 radiologists before transmission of the in-depth reading and marked key images."
The finished Consult PreRead report and key images are returned to the U.S. and appear in the designated radiologist's worklist queue within minutes of the completion of the Consult PreRead in India. The U.S.-licensed radiologist at the customer site then can perform a complete final read and issue a signed report to the referring physician.
The company plans to first offer its teleradiology services to existing Merge Healthcare Fusion RIS and Fusion RIS/PACS customers, but intends to offer these services to users of non-Merge RIS and RIS/PACS systems in the near future.
Philips Medical Systems
Philips Medical Systems, NA (Bothell, WA) introduced several innovations in CT technology and a new reading room concept at RSNA 2007.
At the center of the CT products featured was the company's new 265-slice scanner, the Brilliance iCT. Designed to capture the entire heart in 2 beats (Figure 4), the system provides a gantry rotation that is said to be 22% faster than current systems.
Philips also featured its Essence technology, which is now available on the Brilliance 64 CT system as well as the iCT. According to the company, this scalable platform provides a Smart Focal Spot X-ray tube, which is designed to enhance spatial resolution by improving sampling density; Nano-Panel detector design to enable fast, low-dose examinations; and RapidView Reconstruction for high temporal resolution through adaptive, rate-responsive techniques to freeze patient motion.
The company also featured the Brilliance Everywhere thin-client solution designed to bring advance visualization to any networked PC.
In the area of CT colonography, Philips introduced the Perspective-Filet View software. This package, which was designed to help prevent blind spots within the folds of the colon, allows the user to take acquired CT scans of the colon and unfold the images to display the colon in a linear 3D manner similar to a pathology dissection. The software provides a 420˚ circular view of the colon at any given point along an automatically calculated centerline through all segments. If a suspicious irregularity is detected, secondary windows display multiplanar cuts. Reference views are available to help the user differentiate real findings and artifacts.
The company also featured the Philips Reading Room 20/20 Concept. This concept was designed to place the radiologist at the center of a collaborative disease management process and enhance the data flow between radiologists and other caregivers with an emphasis on the role of clinical information technology solutions. It includes the company's "ambient" concepts in lighting, information technology, and user interface and design.
Philips also showcased its Ambient Experience suite, which features advanced medical technology, sophisticated lighting, and consumer-friendly electronics designed to create a soothing and pleasing environment for hospital patients of all ages. "It's been more than 2 years since we installed Philips' Ambient Experience in our pediatric CT suite," said John Anasto, DO, Chairman, Department of Radiology, Advocate Lutheran General Hospital (Park Ridge, IL). "In that time, we have achieved a 16% reduction in the rate of sedation for children under the age of 18, and a 28% reduction for children under the age of 4."
Swissray International
Swissray International, Inc. (East Brunswick, NJ) showcased its entire ddR line of X-ray systems and previewed a new portable detector at RSNA 2007.
Among the systems featured at the meeting was the recently reintroduced ddR Compact Plus. This imaging solution features a motorized X-ray tube rotation system that allows for off-detector imaging on cassette-based media for patients who cannot be transferred to the imaging table.
Like the ddR Compact, this system also includes the company's proprietary APS (Automated Positioning System) that allows the user to choose all exposure and image processing parameters via touch-screen selections. The system's robotics then position the detector by remote control while an integrated video camera monitors the patient to ensure proper positioning.
Swissray also showed a work-in-progress-the new ddR Portable Detector, designed mainly for use in the Emergency Department. It weighs 11 lbs and features a 14 × 17-inch (35 × 43 cm) active imaging area. The system provides 3.5 lp/mm spatial resolution and can be used to image patients who are lying on a stretcher or seated in a wheelchair.
Covidien Imaging Solutions
At RSNA 2007, Covidien Imaging Solutions (St. Louis, MO) highlighted its Ultraject plastic prefilled power-injector syringes for contrast media. According to the company, the use of these prefilled syringes helps minimize both the risk of misadministration of contrast due to improperly labeled syringes and the risk of contamination of the contrast media during transfer. The use of prefilled syringes also eliminates the need for glass vials or bottles and the concomitant risk of broken glass and puncture wounds.
The company also announced that it recently entered into a license agreement with the University of New South Wales (Sydney, Australia) to develop a radiolabeled molecular imaging agent for evaluating the efficacy of cancer treatment. Under the terms of the agreement, Covidien will have product development and commercialization rights to the apoptosis technology developed by Philip Hogg, PhD, of the Lowy Cancer Research Centre in Sydney. Hogg has developed a family of molecules that he says "are uniquely designed to attach to proteins inside cells undergoing apoptosis driven by chemotherapy." The company notes that this technology may
take years to develop, but "it has potential for broad applications across a wide array of solid-tumor cancers."