Siemens Introduces Designated Cardiovascular Ultrasound System at ESC 2023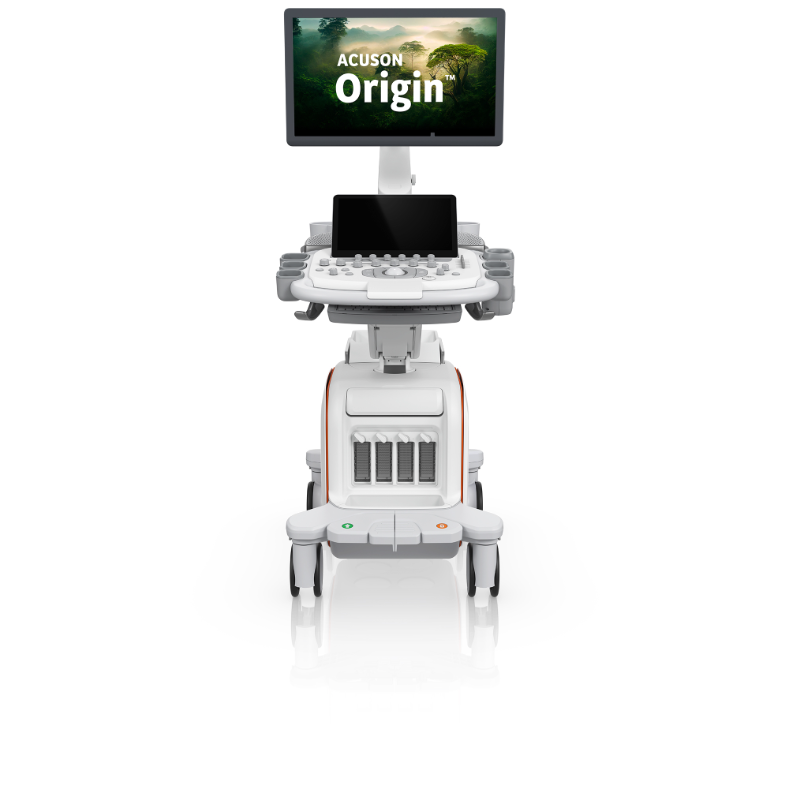 Siemens Healthineers announces the launch of the Acuson Origin, a dedicated cardiovascular ultrasound system with new, robust artificial intelligence (AI) features at this year's annual meeting of the European Society of Cardiology (ESC), Aug. 25-28 in Amsterdam. Designed to improve patient outcomes and help physicians perform minimally invasive cardiac procedures more efficiently, the Acuson Origin addresses the entire continuum of cardiovascular patient care, including diagnostic, structural heart, electrophysiological, and pediatric procedures. The system is not commercially available in the European Union.
The number and complexity of cardiovascular disease patients is growing rapidly worldwide. For example, heart failure is expected to increase 46% from 2012 to 2030. Also, structural heart interventions are projected to grow at a compound annual rate of 9.15%, driven by novel therapies for left atrial appendage closure and devices designed to treat patients with tricuspid regurgitation. To address these and other diagnostic and interventional cases at a time when acute shortages of clinicians and other ultrasound users persist, healthcare institutions require powerful new cardiovascular tools. The Acuson Origin is designed to minimize the cognitive and ergonomic workload of cardiac exams and procedures, potentially allowing for greater consistency, reproducibility, and efficiency for the user.
"Siemens Healthineers is committed to shaping the future of ultrasound imaging by empowering healthcare professionals with the latest cutting-edge tools," said Ajay Gannerkote, president of Ultrasound, Siemens Healthineers. "The Acuson Origin is the latest example of that steadfast commitment, with its vast array of new AI features and its potential to enhance diagnostic accuracy, elevate patient care, and revolutionize the way we approach cardiovascular imaging."
The system's most distinguishing innovation is its suite of AI-powered features for measurements, view recognition, and imaging assistance. These AI features build on the company's rich history of AI innovation that dates back to the late 1990s, its holding of more than 900 AI-related patent families, and its portfolio of more than 80 products with AI elements. The Acuson Origin's AI features have been trained on the world's largest cardiac image database and can save the user time on diagnostic echocardiography procedures by providing automated measurements that are accurate and reproducible. More than 500 AI-powered measurements on transthoracic and transesophageal echocardiography are designed to enhance cardiovascular workflows and reduce variability.
The system also delivers automated contouring and quantification of all four cardiac chambers without the need for an ECG via the 2D and 4D HeartAI features. Leveraging the latest advancements in AI, 2D HeartAI opens up auto tracking on contrast images, distinguishing the Acuson Origin as the only commercially available system with this capability. 4D HeartAI is a dual modality advancement for 4D auto contouring of all four chambers in 4D TTE and both ventricles in 4D TEE, averaging up to five beats with or without ECG. Additionally, the system is the first in the industry to provide real-time cardiac view recognition. AI Assist, a new, AI-driven feature specific to transthoracic echocardiography, recognizes cardiac structures the moment the transducer makes contact with the chest wall. The initial implementation of this cardiac view classification feature is Color and Spectral Doppler placement.
The Acuson Origin is lightweight and easy to maneuver. Its ergonomic console is designed to require less repetitive motion, and its most frequently used controls are positioned closest to the user's hand.